News about the environment can often be distressing, and this year was no exception. Despite increasing efforts to mitigate the worst effects of climate change, greenhouse gas emissions (GHG) reached an all-time high of 58 gigatonnes this year. Many countries, especially those in the Global South, have also been hit by record-breaking natural disasters, such as a flood in Pakistan that inundated one-third of the country in September.
Nevertheless, there are plenty of environmental achievements this year worth celebrating, and Eco-Business looks back at nine of the most significant ones.
UN Plastics Treaty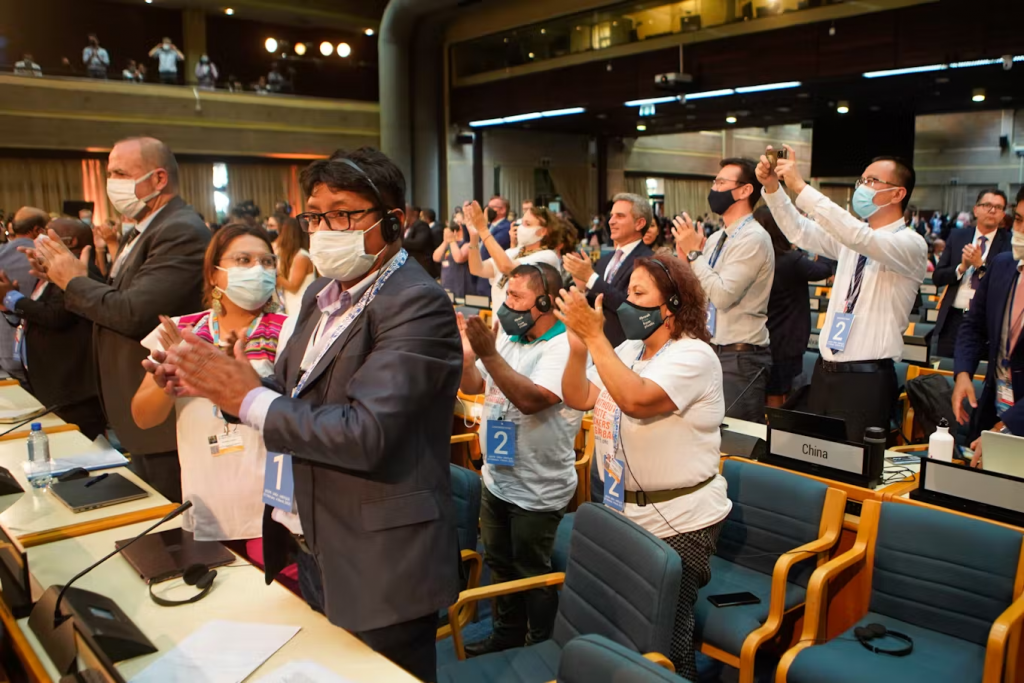 Earlier this March, representatives from more than 160 UN member-states endorsed a historic resolution at the UN Environment Assembly in Nairobi to end plastic pollution and forge a legally binding agreement that will address the full lifecycle of plastic waste by 2024. 
Negotiations began during the UN Environment Programme meeting held in Uruguay earlier this month, but considerable differences in opinion have arisen between members of the High Ambition Coalition like the host country, EU members, Switzerland and Ghana, which wanted a treaty based on mandatory global measures, and countries like Saudi Arabia and the United States, which wanted country-driven pledges instead.
Nevertheless, many say the discussions demonstrated a greater understanding about the complexity and severity of plastic pollution.
"Plastics are not being seen as just a marine litter issue anymore. People are discussing plastic as a material made of chemicals," explained Vito Buonsante, policy adviser for the International Pollutants Elimination Network. "There has been a narrative shift."
Youth at COP27 
Ugandan climate activist Vanessa Nakate takes part in the Fridays for Future strike alongside other interntional climate activists during the COP27 climate summit in Sharm el-Sheikh. Image: REUTERS/Emilie Madi.
There was no let up of "youth-washing" the COP27 climate summit this year, but many of the barriers that previously prevented youth climate leaders from being represented and included in the climate negotiations have been lowered. For example, Sharm el-Sheikh saw the establishment of the Youth Envoy, the first youth-led Climate Forum and the first Youth Pavillion.
One of the headline youth speakers, Ayisha Siddiqa from Pakistan, reiterated the importance of providing a space and platform specifically for the youth.
"This is for the youth, organised by us. Unlike [the] government and business areas, there's no corporate branding everywhere… For me, the stakes are so high that I can't just give up hope for change," she said.
Fusion in the future?
The target chamber of the Lawrence Livermore National Laboratory's (LLNL) National Ignition Facility, where 192 laser beams delivered more than 2 million joules of ultraviolet energy to a tiny fuel pellet to create fusion ignition on 5 December 2022. Image: LLNL/Damien Jemison.
Since the 1950s, scientists have repeatedly tried and failed to replicate the process of nuclear fusion, which is how stars like the Sun produce their energy. However, earlier this month, physicists at the Lawrence Livermore National Laboratory (LLNL) in California managed to produce a fusion reaction with net energy gain for the first time ever. Though experts estimate that the technology is still decades away from widespread adoption, this achievement could displace traditional energy sources like fossil fuels for good and produce potentially endless zero-carbon energy with less radioactive waste.
"The pursuit of fusion ignition… is one of the most significant scientific challenges ever tackled by humanity, and achieving it is a triumph of science, engineering, and most of all, people," declared LLNL director Dr Kim Budil.
Brazil's regime change
Luiz Inácio Lula da Silva, better known as Lula, campaigning in Belford Roxo. Image: Wikimedia Commons. 
Jair Bolsonaro was the President of Brazil for only three years, but his administration has caused irreparable damage to the country's environment by weakening environmental legislation, slashing budgets for scientific and environmental agencies and threatening Indigenous peoples' rights. Under his rule, 34,000 square kilometres, or an area larger than the size of Belgium – has been removed from the Amazon rainforest.
In October, Bolsonaro lost the presidency to Luiz Inácio Lula da Silva, better known as Lula, by 1.8 per cent of the vote, but has yet to concede. Nevertheless, Lula's strong stance against deforestation has brought new hope to environmentalists worldwide.
"There is no climate security for the world without a protected Amazon [rainforest]. We will spare no efforts to achieve zero deforestation and the degradation of our biomes by 2030. The fight against climate change will have the highest profile in the structure of my next government," the president-elect promised in a speech at COP27. "Brazil is back."
Australia turns a shade greener
Leader of Australia's Labor Party Anthony Albanese (right) with his partner Jodie Haydon (left) addressing his supporters after former prime minister Scott Morrison conceded defeat in the country's general election in Sydney, Australia on 21 May 2022. Image: REUTERS/Jaimi Joy.
Climate change was one of the most hotly debated issues during the Australian general election this May and tipped the scales in favour of a coalition between the Labor Party, Green Party and climate-focused independent candidates, ending nine years of rule under a coal and fossil-fuel friendly Liberal administration.
"This was the climate change election for Australia," said Ben Oquist, executive director of independent think tank Australia Institute. "A decade of electoral frustration spilled over into a wave of support for candidates that supported stronger climate action."
Although Labor has not ruled out the approval of new coal and fossil fuel projects, it has passed a bill to set into law Australia's pledge under the Paris Accord to cut GHG emissions by 43 per cent from 2005 levels by 2030 in September this year.
Many Australians have taken the issue into their own hands as well. In October, the state of Victoria announced its ambitious goal of reaching 95 per cent renewable energy by 2035. The following month, shareholders of Australia's largest power producer AGL Energy defied the board and elected all four directors proposed by the company's top shareholder, tech billionaire Mike Cannon-Brookes, who publicly expressed his wish to end the country's dependence on coal.
New solar landmark for India
Reena Ben works on a solar-powered sewing machine to stitch clothes in her one-room house in India's first round-the-clock solar-powered village in Modhera, India. Image: REUTERS/Sunil Kataria.
Almost a thousand years ago, the Sun Temple of Gujarat was constructed in Modhera. A millennium later, Modhera continues to draw power from the sun as India's first fully solar-powered village.
With financial and technical assistance from the Indian government, Modhera villagers like 42-year old widow Gadvi Kailashben were able to install solar panels on their houses, save on electricity bills and lighten their household expenditure.
"[Previously], I had to pay close to 2,000 rupees for electricity [a month]. However, with the installation of the solar [panels], my electricity bill is now zero. Everything from the refrigerator to the washing machine now runs on solar in my house… I can now use that money for daily household expenses and for the education of my children," she said.
Biden's Inflation Reduction Act
United States President Joe Biden signs the Inflation Reduction Act of 2022 during a ceremony at the White House in Washington D.C. on 16 August 2022. Image: REUTERS/Leah Millis.
"We're going to fight for environmental justice and create clean energy jobs and apprenticeships in frontline [and] fence-line communities that have been smothered by the legacy of pollution," Biden announced during the passage of the Inflation Reduction Act.
The Inflation Reduction Act, which authorised US$369 billion for climate and clean energy projects, is the largest ever climate investment package signed into law in the US. Included within the legislation is a nationwide programme to reduce methane emissions, US$135 billion of clean energy tax credits to accelerate renewable energy adoption, tax incentives to jumpstart electric vehicle adoption and US$60 billion in assistance for communities impacted by environmental pollution.
While European Union members say the Act may disadvantage their companies by denying US tax credits for foreign-made renewable energy tech components, Biden has said that the Act is open to adjustment. Overall, many independent analysts say the legislation will cut US GHG emissions by 40 per cent by 2030, and make clean energy more affordable to the general public.
Chouinard gives Patagonia away
Yvon Chouinard, founder of outdoor apparel brand Patagonia at his desk. Image: Patagonia/Campbell Brewer.
Seeing himself in a list of billionaire profiles kickstarted Patagonia founder Yvon Chouinard's decision to give away his company for environmental causes.
"I was in Forbes magazine listed as a billionaire, which really, really pissed me off," Chouinard recounted to the press. "I don't have US$1 billion in the bank. I don't drive Lexuses."
In August, Chouinard irrevocably committed the company's voting stock into the newly-established Patagonia Purpose Trust, which will be overseen by family members and their advisers to ensure that the outdoor apparel company continues to follow its socially responsible principles and fulfil its promise of giving away its profits to environmental causes, which amount to nearly US$100 million a year.
More controversial however was the donation of Patagonia's common stock, which comprised the remaining 98 per cent of its overall shares, to the Holdfast Collective, a 501(c)(4) charity which allows it to make unlimited political donations.
Protecting wildlife at COP19
Abba Sonko and the Senegalese delegation at the CITES COP19 conference. Image: International Institute for Sustainable Development/Diego Noguera.
While appraisals of COP27 have been mixed, this year's World Wildlife Conference held in Panama in November was considered to be largely successful. Representatives from more than 160 governments reached a record number of 365 decisions and adopted 46 out of the 52 proposals put forward.
As a result, over 500 species of flora and fauna, including 150 species of trees, 160 species of amphibians and over 100 species of sharks and rays such as the scalloped hammerhead shark will be protected under the regulations set by the Convention on International Trade in Endangered Species (CITES).
All eyes are now on whether the world can agree to protect 30 per cent of the Earth's ecosystems by 2030 – a key agenda in an ongoing United Nations biodiversity conference.
Source: This article is third party content extracted from Eco-Business.
Author: https://www.eco-business.com/about/profile/39823/