Alpha Petroleum, Energean UK and Orsted agree to explore the repurposing of a UK Southern North Sea
gas platform as a potential compensation measure for offshore wind.
The provision of artificial nesting sites is considered a viable compensation measure for the potential impact
of offshore wind development on certain seabird species, including the black-legged kittiwake (kittiwake).
Kittiwake have been observed readily utilising man-made structures and Orsted's recent offshore surveys
of platforms in the North Sea have shown large numbers of nests on a number of platforms.
Orsted engaged extensively with installation owners in the Southern North Sea to identify candidate
platforms, while undertaking its own survey to confirm the distribution of nesting kittiwake colonies across
gas facilities in the area. The surveys also assessed the suitability of the platforms to provide compensation
while taking into account their respective decommissioning timeframes and the willingness of platform
owners and operators to consider adapting plans to facilitate innovative repurposing.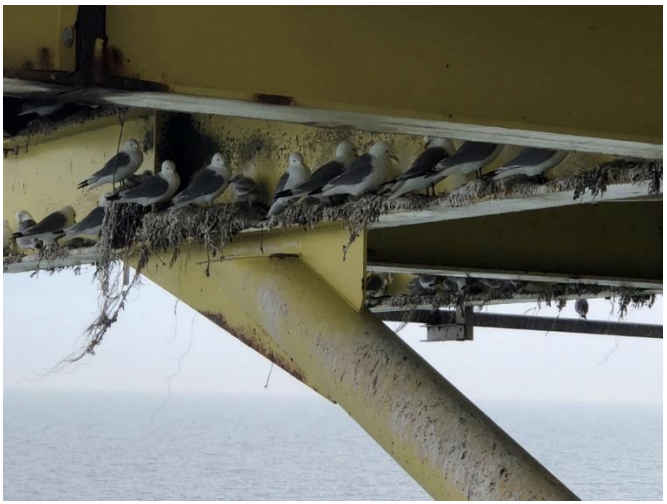 The Wenlock platform has an established kittiwake colony with around 69 apparently occupied nests
counted in the June 2022 survey – an increase on past counts. The platform is nearing the end of its economic producing life and is scheduled for the plugging and abandonment of wells from 2023. Following decommissioning, this nesting site would no longer be available, but the repurposing
of the platform, with the topside design developed to attract further nesting kittiwake, presents
an opportunity to preserve and increase this colony for many future breeding seasons ahead.
Fiona Goodfellow, Energean UK country Manager, commented: "Environmental, Social and Governance
(ESG) is at the heart of Energean operations and we are delighted to have partnered with like-minded
organisations on this project. It is particularly pleasing to work towards a positive and lasting legacy from our UKCS operations. The Wenlock platform has already established itself as a new seabird nesting site and
we are very excited to see plans progressing which may assist this valuable kittiwake population to prosper
and grow long into the future."
About Alpha Petroleum
Alpha Petroleum Resources Limited is a privately owned upstream oil and gas operator, focusing on
operated appraisal, development and production activities in the UK sector of the North Sea. Alpha was
established in 2000, acquired its first three licences in 2001, was appointed as a Production Operator in
2002 and achieved first production from its Helvellyn gas field in early 2004. Three further gas fields –
Kilmar, Wenlock and Garrow – were brought on stream in the period 2005-2007. In addition to maximising
production from its gas fields Alpha has been focusing on the development of the Cheviot project and
looking for opportunities to expand the current portfolio.
For further information visit:
www.alphapetroleum.com
About Energean
Established in 2007, Energean is a London Premium Listed FTSE 250 and Tel Aviv Listed TA-35 E&P company with operations in eight countries across the Mediterranean and UK North Sea. Since IPO, Energean has grown to become the leading independent, gas-focused E&P company in the Eastern Mediterranean, with a strong production and development growth profile. The Company explores and invests in new ideas, concepts and solutions to produce and develop energy efficiently, at low cost and with a low carbon footprint.
For further information please visit https://www.energean.com/
About Orsted
The Orsted vision is a world that runs entirely on green energy. Orsted develops, constructs and operates
offshore and onshore wind farms, solar farms, energy storage facilities, and bioenergy plants, and provides
energy products to its customers. Globally, Orsted is the market leader in offshore wind and it is constructing the world's biggest offshore wind farms off the East Coast of the UK. Its UK offshore wind farms generate enough clean electricity for over 4.4 million UK homes. Orsted ranks #1 energy company in
Corporate Knights' 2022 index of the Global 100 most sustainable corporations in the world. Headquartered in Denmark, Orsted employs 7,016 people, including over 1,100 in the UK
Visit orsted.co.uk or follow us on Facebook, LinkedIn, Instagram and Twitter.
Source: Press release