UAE-based Think Upcycle collaborated with Living Business to promote local artists – while diverting furniture from landfill and giving back to society and the environment in the process
A unique piece of art that also reduces your carbon footprint? That's the proposition that Think Upcycle, a UAE-based marketplace for pre-loved quality household goods, offers UAE consumers. In the process, local designers and artisans are given a platform to showcase their work and reach new buyers.
"Eighty-eight per cent of the people who live in the UAE are from somewhere else," says CEO Nadeem Khan. This high percentage of expatriates results in a high turnover of furniture waste as new people set up homes and others leave the country each year. "Eight-five per cent of the bulky waste that goes to the landfill is furniture," Khan adds.
He says Think Upcycle was started in 2019 as a two-sided marketplace based on a circular economy to tackle this problem of wasted furniture and offer a high-quality, affordable alternative to buying new furniture through upcycling and restoration.
The brand caters to a rising appetite for sustainability. A BCG study last year found that a large share of consumers across the six GCC nations are adjusting their behaviour in light of environmental considerations: 56 per cent of respondents said they feel strongly about the need to adopt a sustainable lifestyle. Consumers say environmental sustainability among the most important socioeconomic challenges, and, depending on the country, about 80-95 per cent said they are willing to start or are already taking action in response to climate change, the study reported. Last year, Think Upcycle partnered with the Living Business programme to accelerate its circular economy goals. The Living Business programme, in collaboration with HSBC Bank, supports enterprises through one-on-one strategic guidance on transitioning to more sustainable operations.
Creating jobs in the circular economy
Following recommendations from the Global Living Business team, Think Upcycle launched CoCreate, a programme to attract top artisans from across the country and demonstrate the potential of upcycling.
In line with a commonly developed strategy, the Global Living team introduced Think Upcycle to four leading artists at World Art Dubai, the art and education fair. The artists are Guddi Bajan, Sana Merchant, Minal Srivastava and Sarah Shoushan.
"The plan was ambitious: many designs were selected and then eventually presented at the UK Pavilion at the Expo 2020 Dubai as a grand finale," Khan says. "After showcasing our upcycled furniture at Expo 2020, our CoCreate programme just took off."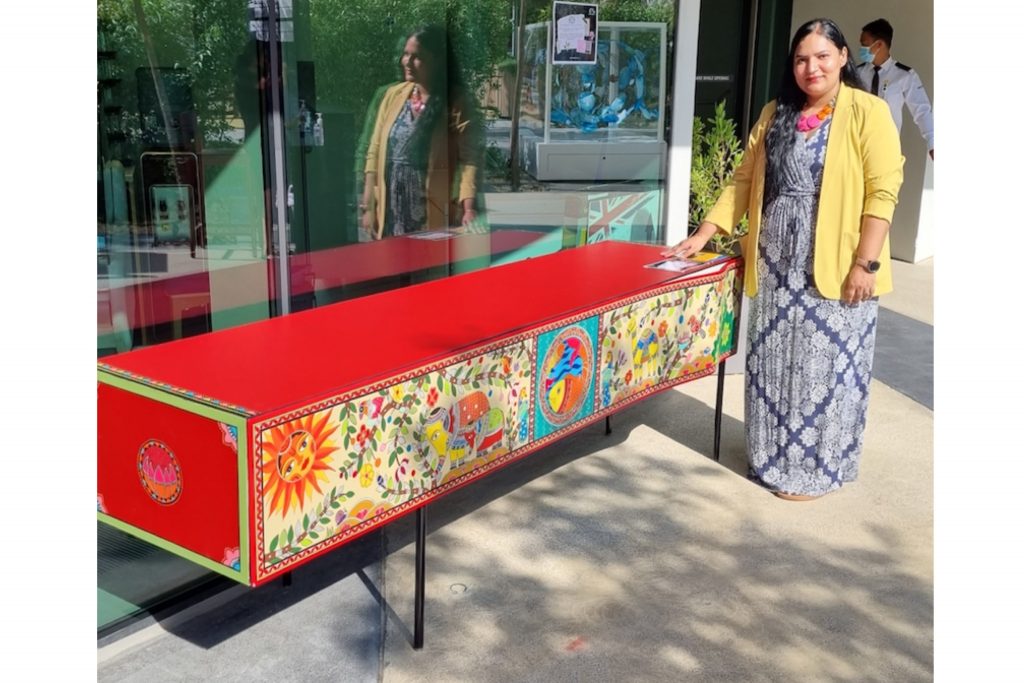 CoCreate programme empowers potential entrepreneurs and offers them easy ways to develop a side hustle and sell their products. "Think Upcycle takes care of everything, so upcyclers don't have to leave their house or workshop," he says.
To date, Think Upcycle has attracted over 30 upcyclers, created 100 jobs, and delivered affordable art pieces to the world's most prestigious residences, including the Burj Khalifa.
Consumers benefit from a sustainable and usable art at accessible price points. An original Briggs and Jones bar cabinet, for example, can go for about AED15,000 without a custom job, Khan says. "We have an upcycled piece with crystals and resin work by a top artist for AED3499. Not only is this more cost-effective but it offers customers the choice of commissioning a piece that suits their own style on a fraction of the cost."
Diverting waste from landfill
Most importantly, the project helped saved over 3,000 products from ending up in landfill – or the equivalent of about 200 shipping containers. That's a recycling rate of 95 per cent, he says.
"We expect that we will be able to increase the percentage of reuse to 98 per cent in 2022," Khan says. "We have started breaking particle wood and using it as a wood filler. Now we're moving towards making a Think Upcycle upcycled furniture range to further reduce waste."
Think Upcycle also runs several other sustainability initiatives, Khan says. Its business model gives 20 per cent cashback to the original owner for not dumping unwanted furniture. The company has partnered with charities and social cause partners to encourage residents to give unwanted furniture, and it donates 20 per cent of sales to support worldwide initiatives.
The use of canvas bags has cut its plastic use by 50 per cent, and its staff returns plastic wrappers to industrial plastic collectors.
Finally, the company is taking the message to more people. "We teamed up with Domestika to develop artistic potential by offering upcycling courses. On Think Upcycle Courses, residents can learn, create, and be able to sell via our marketplace."
Overall, recycling helps reduce the release of carbon into the atmosphere while increasing carbon sequestration in forest and soil, mitigating the threat of global climate change and offsetting the energy lost to entropy, according to John Ikerd, Professor Emeritus at the University of Missouri and author of Sustainable Capitalism.
As Khan says, "There are numerous advantages, the most significant of which is that purchasing second-hand products reduces one's carbon footprint by 82 per cent. Buying used is the most environmentally responsible option."