The Zayed Sustainability Prize, the UAE's global award for recognising excellence in sustainability, has called small and medium enterprises, non-profit organisations and high schools to submit entries before the May 2, 2023 deadline.
Submissions will be accepted through the Prize's online portal. Entries have been invited in one of the five categories of Heath, Food, Energy, Water and Global High Schools.
The Prize's 2023 award cycle received a record-breaking 4,538 applications from 152 countries, marking a 13% increase in submissions compared to the previous cycle.
Sustainable solutions
Commenting, Dr Sultan Ahmed Al Jaber, UAE Minister of Industry and Advanced Technology and Director General of the Zayed Sustainability Prize, said: "This year, the Prize celebrates 15 years of honouring the legacy of the UAE's Founding Father, Sheikh Zayed, and accelerating sustainable development and humanitarian impact around the world. Since 2008, the Prize has, through the visionary leadership of the UAE, facilitated the delivery of sustainable solutions to vulnerable communities, improving access to reliable and affordable energy, safe drinking water, nutritious food and quality healthcare for millions. These efforts directly support the UAE's broader aims to encourage international collaboration and build a sustainable and prosperous global economy."
Dr Al Jaber added: "Importantly, the Prize has prioritised youth and empowers young people to lead in sustainable development. Through the Global High Schools category, the Prize provides opportunities for young people to build their skills in sustainability and leadership and encourages them to take an active role in supporting their communities and driving climate action."
"The Zayed Sustainability Prize helps organisations and schools scale their solutions, enabling them to realise even greater impact and catalyse positive, transformational change. To date, the Prize has impacted the lives of over 378 million people around the world, including in Vietnam, Nepal, Sudan, Ethiopia, Maldives and Tuvalu."
Prize money
The Prize's $3 million fund rewards winners $600,000 in each category. The Global High Schools category is split into six world regions, with each school able to claim up to $100,000 to start or further expand their project. The six world regions of the Global High Schools category are The Americas, Europe & Central Asia, Middle East & North Africa, Sub-Saharan Africa, South Asia, and East Asia & Pacific.
Inspired by the sustainability and humanitarian legacy of the UAE's Founding Father, Sheikh Zayed bin Sultan Al Nahyan, the Prize has, to date, recognised a total of 106 winners whose solutions or student-led school projects have positively transformed the lives of millions.
While the submission forms vary per category, core elements of each entry lie in the innovative, impactful and inspirational ways in which the proposed technology, applications and solutions aim to improve wellbeing and sustainability.
Improving access
For the Health, Food, Energy, and Water categories, organisations should demonstrate that they are improving access to essential products or services and have a long-term vision for better living and working conditions. For the Global High Schools category, their projects should be student–led, with emphasis placed on the students being actively involved in the planning, implementation, and monitoring processes.
The Zayed Sustainability Prize has a three-stage evaluation process, beginning with the due diligence conducted on all submissions to ensure that they meet the Prize's evaluation criteria. This identifies the qualified entries and results in the selection of eligible candidates.
Following this, evaluations are undertaken by a Selection Committee consisting of category-specific panels of independent international experts. From this shortlist of candidates, the finalists are chosen and then sent to the Prize Jury who unanimously elect the winners, across all five categories.
Winners of the 2024 Zayed Sustainability Prize will be announced at an Awards Ceremony during the COP28 Climate Summit.
Over the last few years, companies have jumped into the climate fray with gusto, announcing net-zero commitments and speaking ardently about doing their part.
But talk is cheap, and decarbonization is difficult. While a third of the world's largest companies have net zero goals, only 7 percent of those companies are on-track to meeting them. The rest are, intentionally or not, greenwashing.
Late last year, a United Nations-sponsored panel took aim at greenwashing, creating a framework for what a credible net-zero emissions plan looks like. The report, "Integrity Matters: Net zero commitments by businesses, financial institutions, cities and regions," outlines the best thinking of 17 climate experts from around the world. 
The outcome is 10 recommendations that could be used as a rubric for how seriously a company is taking its climate pledges and, hopefully, bring more integrity and trust to climate commitments across the board. 
The main recommendations are that businesses should set science-based targets that are in line with limiting global warming to 1.5 degrees Celsius, and that they should develop plans to achieve net zero emissions by no later than 2050. In order to achieve this, businesses should take a holistic approach that addresses all of their emissions, including those from their operations, supply chains, and products.
Businesses need to take immediate action to reduce their emissions. This includes implementing energy efficiency measures, switching to renewable energy sources, and investing in low-carbon technologies. The panel also recommends that businesses engage with their suppliers and customers to encourage them to take similar actions.
Businesses should disclose their emissions, set targets, and provide transparent and verifiable information about their progress towards achieving net zero.
Businesses should invest in carbon sequestration and negative emissions technologies, such as reforestation, afforestation, and soil carbon sequestration, to remove and store carbon from the atmosphere.
In order to achieve net zero emissions by 2050, businesses will also need to innovate and develop new products, services, and business models that are low-carbon. This includes developing new technologies and processes that reduce emissions, as well as investing in research and development to create new products and services that are more sustainable.
The report also recommends that businesses work with governments and other stakeholders to develop and implement policies and regulations that support the transition to a low-carbon economy. This includes working with governments to develop carbon pricing mechanisms, such as carbon taxes and cap-and-trade systems, as well as supporting policies and regulations that encourage the development and deployment of low-carbon technologies.
In short, there is a lot that can and needs to be done and not very much time to do it. Procrastination is not an option for the planet or for the viability of individual businesses.
With multiple forces acting against global food security, researchers in Singapore have been innovating. Read their solutions that help combat food waste and obesity, while improving health and sustainable food production.
The global food crisis marches closer. Droughts and floods caused by climate change are threatening our ability to produce enough food for a growing global population. According to Intergovernmental Panel on Climate Change estimates, crop yields could fall by up to 25 percent by 2050.
Aside from this impact, the COVID-19 pandemic has disrupted supply chains which has also impacted food security. This has led to shortages in all manner of foodstuff from poultry to palm oil, as well as escalating food prices.
Geopolitical tensions and conflicts add to this growing food insecurity by limiting access to energy, creating rising inflation and debt.
At the same time, almost one-third – 1.3 billion tonnes – of the food produced for human consumption is wasted or lost every year, according to the United Nations. And all the while obesity rates are alarmingly high: 1.9 billion adults are overweight or obese according to the World Health Organization.
Against this backdrop, NTU researchers have devised innovative solutions so that we can provide for a sustainable future. They support the university's commitment to mitigating our impact on the environment, which is one of four 'humanity's grand challenges' that NTU has identified and seeks to address through its NTU 2025 strategic plan.
Fermenting food waste to produce food
Edible by-products from food manufacturing are a potential resource that can be tapped to sustainably increase food supply, reduce obesity and reduce food waste. Two such by-products are okara, the insoluble remains of soybeans from the production of soy milk and beancurd, and brewer's spent grain, consisting of residual barley pulp from the beer industry.
Consisting mainly of soybean fibre, okara is rich in protein and nutrients such as carbohydrates. About 1.4 billion tonnes of okara is produced around the world each year, mostly by Asian countries, including Japan, Korea, China and Singapore.
Similarly, brewer's spent grain is high in protein and fibre. Beer is the fifth most consumed beverage across the globe, the production of which creates approximately 39 million tonnes of spent grain each year.
With the help of microorganisms such as bacteria and fungi, the nutritional profile of okara and brewer's spent grain can be increased.
Okara
In a study published in LWT – Food Science and Technology in December 2021, okara fermented with a mixed culture of the fungus Aspergillus oryzae and the bacterium Bacillus subtilis, commonly used to make soy sauce, was found to have the best total dietary fibre profile and highest content of phenolics – compounds with antioxidant properties.
"Fermentation is a way to repurpose okara, a major food manufacturing side stream that is often discarded, and transform it into a highly nutritious food," said Dr Ken Lee, senior lecturer at NTU's School of Chemistry, Chemical Engineering and Biotechnology, who led the study.
Dr Lee's research has also shown that fermented okara can be used to combat obesity. In a collaboration with Waseda University in Japan, okara from Sing Ghee Beancurd Manufacturer, a leading producer of beancurd in Singapore, was fermented with the fungi Aspergillus oryzae and Aspergillus sojae, which are used to make soy sauce and miso. The findings of the study showed that after three weeks, rats that were fed a diet supplemented with the fermented okara gained the least weight, compared to rats given normal and high fat diets. They also had less visceral and subcutaneous fat and lower triglyceride and cholesterol levels.
Spent grain
Likewise, fermented spent grain can be made into a protein-rich food emulsifier. And, unlike commercial food emulsifiers from egg yolk, this novel emulsifier is derived entirely from plants.
In a study led by Professor William Chen, Director of NTU's Food Science and Technology Programme, the product was made by extracting and drying proteins from the fermented grain.
The resulting plant-based emulsifier can replace dairy and eggs in condiments such as mayonnaise, salad dressings and whipped cream.
Compared to the store-bought version, mayonnaise produced with the plant-based emulsifier contained more protein and higher amounts of some essential amino acids as well as antioxidants.
The mayonnaise prepared with the NTU emulsifier also tasted identical to off-the-shelf mayonnaise, yet had improved texture and spreadability.
"Upcycling food waste such as spent grain for human consumption is an opportunity for enhancing processing efficiency in the food supply chain, as well as potentially promoting a healthier plant-based protein alternative to enrich diets," said Prof Chen.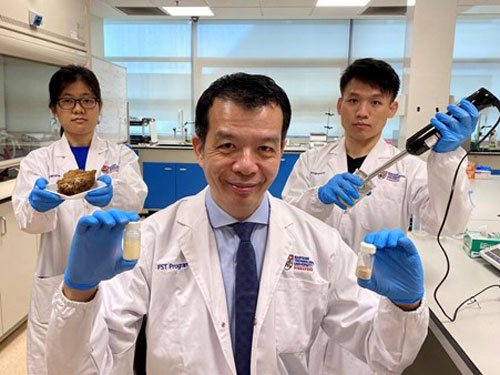 Food from unconventional sources
Besides turning food waste into food, alternative sources of food and ingredients may help to ease pressure on their supplies when they are disrupted. They may also reduce the negative environmental effects created by the conventional manufacture of these food products.
Meaty alternative
Recently, Prof Chen and his team have developed a nutritious fungi-based food product that resembles meat. The fungus Agaricus bisporus used to cultivate the product is the same one that grows button mushrooms. Grown on nutrient-rich common food waste such as soybean skin, wheat stalk and brewers' spent grain, NTU's fungi-based food product tastes more like meat and has a better nutritional content than proteins from peas, chickpeas, wheat gluten and soy.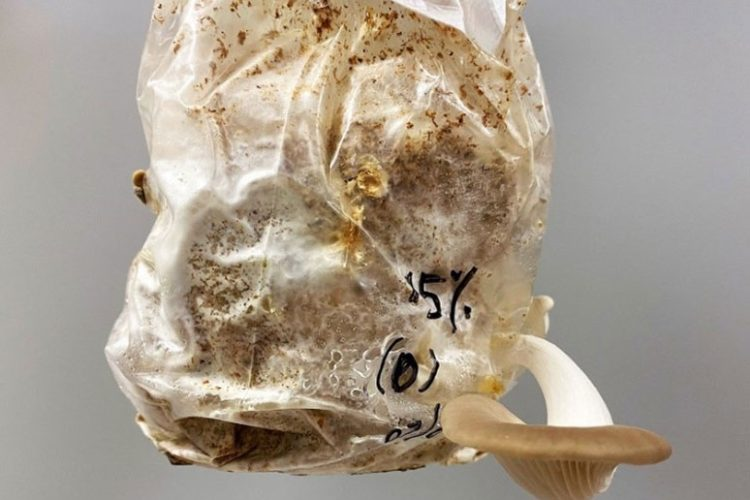 Palm oil is the most widely consumed vegetable oil, found in many food products, ranging from chocolate to cooking oil.
However, the rapid expansion of oil palm plantations has been implicated in massive deforestation in several countries, destroying the habitats of endangered native wildlife.
Earlier this year, disruptions in palm oil production as a result of labour shortages from COVID-19 restrictions also resulted in soaring prices and a shortfall in production.
To alleviate these shortages, edible oils that can replace palm oil are being explored.
Microalga oil
In one study led by Professor Chen, a common microalga Chromochloris zofingiensis was cultivated and edible oils were extracted from it.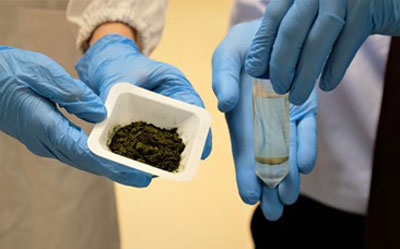 The findings of the research were that oil derived from the microalgae was healthier and more eco-friendly than palm oil. It contains more polyunsaturated fatty acids than palm oil, which can help reduce 'bad' cholesterol levels in blood and lower a person's risk of heart disease and stroke.
The microalgae-produced oil developed in collaboration with scientists from the University of Malaya, Malaysia, also contains fewer saturated fatty acids, which have been linked to stroke and related conditions.
As the microalgae grow, they convert carbon dioxide to biomass relatively quickly. Hence, the scientists say that using microalgae to produce edible oil would also help remove carbon dioxide from the atmosphere, as the microalgae can convert it to biomass and oxygen via photosynthesis.
Prof Chen is currently working with local and international food companies to bring these food innovations from the laboratory to the market and onto our plates. Watch this space.
Source: https://www.newfoodmagazine.com/article/188449/food-solutions-for-a-sustainable-tomorrow/
This article is part of:World Economic Forum Annual Meeting
The world is in a precarious condition due to climate change. Not surprisingly, companies are facing immense pressure from investors and customers to improve their transparency and performance on ESG issues, and many are getting positive feedback for their success. But the current state of environmental, social, and governance (ESG) programmes is not making an adequate difference for climate change fast enough.
Although most businesses have the best intentions, that will not matter in the end unless substantial and demonstrable improvements are made. This starts with setting aggressive, impactful ESG goals. But developing ESG goals and then monitoring and making progress towards them is among the greatest challenges faced by global businesses today. The incoming data sources are complex and divided, leading to insufficient analyses, inconsistent reporting, and unfulfilled promises.
This is where artificial intelligence (AI) can be a game changer for managing ESG efforts and, ultimately, addressing climate change. AI can help move the needle in the right direction by providing comprehensive ESG management solutions, reporting capabilities, and actionable emissions insights for even the biggest enterprise.
The right tools for ESG metrics
Over the past two years, an increasing number of governmental bodies around the globe have enacted laws requiring corporations to report ESG metrics. In 2021, the European Commission adopted a proposal that will require companies to report on social and environmental impacts starting in 2024. The United Kingdom, Hong Kong, Singapore, and China have all updated their environmental and social disclosure guidance. And in August 2022, the US Securities and Exchange Commission proposed regulations to enhance and standardize climate-related disclosures.
But right now, most corporations are not yet prepared to meet these new requirements. They need automated solutions that integrate data and provide the full scope of emissions-tracking features and broader ESG performance management. AI is a big part of such a solution.
AI-powered solutions provide near real-time data fusion, validation and mapping to current standards and frameworks. For systems infused with AI, reporting is no longer a burden, and we can ensure the correct metrics are tracked. This includes Scope 1, 2, and 3 emissions, the last of which is notoriously difficult to track. This does require greater data collection and processing — mostly to track Scope 3 emissions — including the initial training for an AI model. However, once trained, the AI operates as inference that requires minimal computing resources.
And results show that corporations can make a difference simply by adopting a comprehensive tracking system. Those with automated solutions for emissions measurements are 2.2 times more likely to measure emissions comprehensively and 1.9 times more likely to reduce emissions in line with their ambitions.
Improved accountability
It's increasingly clear that consumers and investors are becoming wise to greenwashing and false promises, while organizations are still struggling to implement sustainability solutions that provide meaningful climate action. The need to do so is urgent, for both the planet and to satisfy stakeholders. In research from PwC, almost half of investors surveyed expressed a willingness to divest from companies that aren't taking sufficient action on ESG issues. The demand to succeed is not only external. Recruiters have also noticed that more and more employees favour companies with clear ESG commitments.
Initiatives that provide serious improvement for standardizing and delivering on ESG metrics can be delivered by AI solutions. This extends from ongoing operations all the way to reporting ESG outcomes. For example, AI-based predictive maintenance is how companies like Shell are delivering cleaner, safer, and more sustainable energy from existing assets as well as new renewable assets like wind farms. Shell's investments improve the bottom line and the company's impact on climate change.
Investing in these types of AI solutions isn't just for tracking ESG metrics against goals. It is also about improving overall efficiency within the business, including improving supply chain logistics, demand forecasting, and optimizing sourcing and planning workflows — all of which can reduce emissions and a corporation's impact on the climate.
Using AI to set and achieve better goals
The success of reaching any goal is limited by the target. And when that goal will be scrutinized by investors, customers, and employees — not to mention decide the future of our planet — choosing the right target is critical. We are past the point where companies can set incremental targets in response to growing global ESG pressures. For too long, organizations have been setting ESG goals without taking seriously the importance and challenge of making true, sustained progress.
Forrester reports that almost three-fourths of decision-makers of global enterprises say that they need a solution that allows them to better understand where they might be able to improve their ESG performance. The report also notes: "Firms must improve their internal data practices and find ways to bring more integrity to their ESG data so they can be more comfortable using it to make decisions." That's exactly where AI can help. AI can ingest enormous amounts of data, pull signal from the noise, and provide companies with a realistic roadmap and insights to meet ESG goals that truly make a difference in their bottom line and in their impacts on society and on the planet.
AI allows previously separated data streams to be integrated and reconciled and informs goal setting that takes the complete picture into account. When ESG metrics and financial data are divorced, companies fail to meet emissions goals. Corporations that connect all their relevant data within a unified AI platform — not just ESG and financial data streams — will benefit the most. When corporations can see the entire picture and understand all the ESG metrics, only then will we produce goals that provide meaningful change and avoid the worst effects of climate change.
Source: World Economic Forum https://www.weforum.org/agenda/2023/01/davos23-esg-sustainability-climate-change/
News about the environment can often be distressing, and this year was no exception. Despite increasing efforts to mitigate the worst effects of climate change, greenhouse gas emissions (GHG) reached an all-time high of 58 gigatonnes this year. Many countries, especially those in the Global South, have also been hit by record-breaking natural disasters, such as a flood in Pakistan that inundated one-third of the country in September.
Nevertheless, there are plenty of environmental achievements this year worth celebrating, and Eco-Business looks back at nine of the most significant ones.
UN Plastics Treaty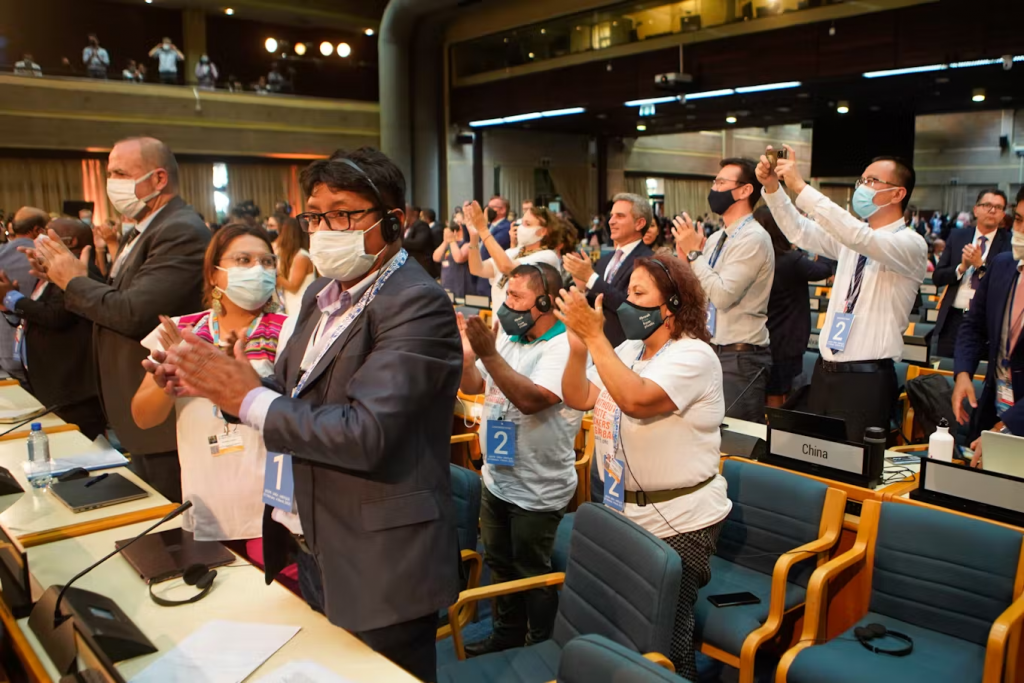 Earlier this March, representatives from more than 160 UN member-states endorsed a historic resolution at the UN Environment Assembly in Nairobi to end plastic pollution and forge a legally binding agreement that will address the full lifecycle of plastic waste by 2024. 
Negotiations began during the UN Environment Programme meeting held in Uruguay earlier this month, but considerable differences in opinion have arisen between members of the High Ambition Coalition like the host country, EU members, Switzerland and Ghana, which wanted a treaty based on mandatory global measures, and countries like Saudi Arabia and the United States, which wanted country-driven pledges instead.
Nevertheless, many say the discussions demonstrated a greater understanding about the complexity and severity of plastic pollution.
"Plastics are not being seen as just a marine litter issue anymore. People are discussing plastic as a material made of chemicals," explained Vito Buonsante, policy adviser for the International Pollutants Elimination Network. "There has been a narrative shift."
Youth at COP27 
Ugandan climate activist Vanessa Nakate takes part in the Fridays for Future strike alongside other interntional climate activists during the COP27 climate summit in Sharm el-Sheikh. Image: REUTERS/Emilie Madi.
There was no let up of "youth-washing" the COP27 climate summit this year, but many of the barriers that previously prevented youth climate leaders from being represented and included in the climate negotiations have been lowered. For example, Sharm el-Sheikh saw the establishment of the Youth Envoy, the first youth-led Climate Forum and the first Youth Pavillion.
One of the headline youth speakers, Ayisha Siddiqa from Pakistan, reiterated the importance of providing a space and platform specifically for the youth.
"This is for the youth, organised by us. Unlike [the] government and business areas, there's no corporate branding everywhere… For me, the stakes are so high that I can't just give up hope for change," she said.
Fusion in the future?
The target chamber of the Lawrence Livermore National Laboratory's (LLNL) National Ignition Facility, where 192 laser beams delivered more than 2 million joules of ultraviolet energy to a tiny fuel pellet to create fusion ignition on 5 December 2022. Image: LLNL/Damien Jemison.
Since the 1950s, scientists have repeatedly tried and failed to replicate the process of nuclear fusion, which is how stars like the Sun produce their energy. However, earlier this month, physicists at the Lawrence Livermore National Laboratory (LLNL) in California managed to produce a fusion reaction with net energy gain for the first time ever. Though experts estimate that the technology is still decades away from widespread adoption, this achievement could displace traditional energy sources like fossil fuels for good and produce potentially endless zero-carbon energy with less radioactive waste.
"The pursuit of fusion ignition… is one of the most significant scientific challenges ever tackled by humanity, and achieving it is a triumph of science, engineering, and most of all, people," declared LLNL director Dr Kim Budil.
Brazil's regime change
Luiz Inácio Lula da Silva, better known as Lula, campaigning in Belford Roxo. Image: Wikimedia Commons. 
Jair Bolsonaro was the President of Brazil for only three years, but his administration has caused irreparable damage to the country's environment by weakening environmental legislation, slashing budgets for scientific and environmental agencies and threatening Indigenous peoples' rights. Under his rule, 34,000 square kilometres, or an area larger than the size of Belgium – has been removed from the Amazon rainforest.
In October, Bolsonaro lost the presidency to Luiz Inácio Lula da Silva, better known as Lula, by 1.8 per cent of the vote, but has yet to concede. Nevertheless, Lula's strong stance against deforestation has brought new hope to environmentalists worldwide.
"There is no climate security for the world without a protected Amazon [rainforest]. We will spare no efforts to achieve zero deforestation and the degradation of our biomes by 2030. The fight against climate change will have the highest profile in the structure of my next government," the president-elect promised in a speech at COP27. "Brazil is back."
Australia turns a shade greener
Leader of Australia's Labor Party Anthony Albanese (right) with his partner Jodie Haydon (left) addressing his supporters after former prime minister Scott Morrison conceded defeat in the country's general election in Sydney, Australia on 21 May 2022. Image: REUTERS/Jaimi Joy.
Climate change was one of the most hotly debated issues during the Australian general election this May and tipped the scales in favour of a coalition between the Labor Party, Green Party and climate-focused independent candidates, ending nine years of rule under a coal and fossil-fuel friendly Liberal administration.
"This was the climate change election for Australia," said Ben Oquist, executive director of independent think tank Australia Institute. "A decade of electoral frustration spilled over into a wave of support for candidates that supported stronger climate action."
Although Labor has not ruled out the approval of new coal and fossil fuel projects, it has passed a bill to set into law Australia's pledge under the Paris Accord to cut GHG emissions by 43 per cent from 2005 levels by 2030 in September this year.
Many Australians have taken the issue into their own hands as well. In October, the state of Victoria announced its ambitious goal of reaching 95 per cent renewable energy by 2035. The following month, shareholders of Australia's largest power producer AGL Energy defied the board and elected all four directors proposed by the company's top shareholder, tech billionaire Mike Cannon-Brookes, who publicly expressed his wish to end the country's dependence on coal.
New solar landmark for India
Reena Ben works on a solar-powered sewing machine to stitch clothes in her one-room house in India's first round-the-clock solar-powered village in Modhera, India. Image: REUTERS/Sunil Kataria.
Almost a thousand years ago, the Sun Temple of Gujarat was constructed in Modhera. A millennium later, Modhera continues to draw power from the sun as India's first fully solar-powered village.
With financial and technical assistance from the Indian government, Modhera villagers like 42-year old widow Gadvi Kailashben were able to install solar panels on their houses, save on electricity bills and lighten their household expenditure.
"[Previously], I had to pay close to 2,000 rupees for electricity [a month]. However, with the installation of the solar [panels], my electricity bill is now zero. Everything from the refrigerator to the washing machine now runs on solar in my house… I can now use that money for daily household expenses and for the education of my children," she said.
Biden's Inflation Reduction Act
United States President Joe Biden signs the Inflation Reduction Act of 2022 during a ceremony at the White House in Washington D.C. on 16 August 2022. Image: REUTERS/Leah Millis.
"We're going to fight for environmental justice and create clean energy jobs and apprenticeships in frontline [and] fence-line communities that have been smothered by the legacy of pollution," Biden announced during the passage of the Inflation Reduction Act.
The Inflation Reduction Act, which authorised US$369 billion for climate and clean energy projects, is the largest ever climate investment package signed into law in the US. Included within the legislation is a nationwide programme to reduce methane emissions, US$135 billion of clean energy tax credits to accelerate renewable energy adoption, tax incentives to jumpstart electric vehicle adoption and US$60 billion in assistance for communities impacted by environmental pollution.
While European Union members say the Act may disadvantage their companies by denying US tax credits for foreign-made renewable energy tech components, Biden has said that the Act is open to adjustment. Overall, many independent analysts say the legislation will cut US GHG emissions by 40 per cent by 2030, and make clean energy more affordable to the general public.
Chouinard gives Patagonia away
Yvon Chouinard, founder of outdoor apparel brand Patagonia at his desk. Image: Patagonia/Campbell Brewer.
Seeing himself in a list of billionaire profiles kickstarted Patagonia founder Yvon Chouinard's decision to give away his company for environmental causes.
"I was in Forbes magazine listed as a billionaire, which really, really pissed me off," Chouinard recounted to the press. "I don't have US$1 billion in the bank. I don't drive Lexuses."
In August, Chouinard irrevocably committed the company's voting stock into the newly-established Patagonia Purpose Trust, which will be overseen by family members and their advisers to ensure that the outdoor apparel company continues to follow its socially responsible principles and fulfil its promise of giving away its profits to environmental causes, which amount to nearly US$100 million a year.
More controversial however was the donation of Patagonia's common stock, which comprised the remaining 98 per cent of its overall shares, to the Holdfast Collective, a 501(c)(4) charity which allows it to make unlimited political donations.
Protecting wildlife at COP19
Abba Sonko and the Senegalese delegation at the CITES COP19 conference. Image: International Institute for Sustainable Development/Diego Noguera.
While appraisals of COP27 have been mixed, this year's World Wildlife Conference held in Panama in November was considered to be largely successful. Representatives from more than 160 governments reached a record number of 365 decisions and adopted 46 out of the 52 proposals put forward.
As a result, over 500 species of flora and fauna, including 150 species of trees, 160 species of amphibians and over 100 species of sharks and rays such as the scalloped hammerhead shark will be protected under the regulations set by the Convention on International Trade in Endangered Species (CITES).
All eyes are now on whether the world can agree to protect 30 per cent of the Earth's ecosystems by 2030 – a key agenda in an ongoing United Nations biodiversity conference.
Source: This article is third party content extracted from Eco-Business.
Author: https://www.eco-business.com/about/profile/39823/
The United Nations Biodiversity Conference (COP15) ended in Montreal, Canada, on 19 December 2022 with a landmark agreement to guide global action on nature through to 2030. Representatives from 188 governments have been gathered in Montreal for the past two weeks for the important summit.
Chaired by China and hosted by Canada, COP 15 resulted in the adoption of the Kunming-Montreal Global Biodiversity Framework (GBF) on the last day of negotiations. The GBF aims to address biodiversity loss, restore ecosystems and protect indigenous rights. The plan includes concrete measures to halt and reverse nature loss, including putting 30 per cent of the planet and 30 per cent of degraded ecosystems under protection by 2030. It also contains proposals to increase finance to developing countries – a major sticking point during talks.
The stakes could not be higher: the planet is experiencing a dangerous decline in nature as a result of human activity. It is experiencing its largest loss of life since the dinosaurs. One million plant and animal species are now threatened with extinction, many within decades.
The Global Biodiversity Framework
The GBF consists of four overarching global goals to protect nature, including: halting human-induced extinction of threatened species and reducing the rate of extinction of all species tenfold by 2050; sustainable use and management of biodiversity to ensure that nature's contributions to people are valued, maintained and enhanced; fair sharing of the benefits from the utilization of genetic resources, and digital sequence information on genetic resources; and that adequate means of implementing the GBF be accessible to all Parties, particularly Least Developed Countries and Small Island Developing States.
United Nations Environment Program (UNEP) Executive Director, Inger Andersen, emphasized that implementation is now key: "Success will be measured by our rapid and consistent progress in implementing what we have agreed to. The entire UN system is geared to support its implementation so we can truly make peace with nature."
The GBF also features 23 targets to achieve by 2030, including:
Effective conservation and management of at least 30 per cent of the world's land, coastal areas and oceans. Currently, 17 percent of land and *8 per cent of marine areas are under protection
Restoration of 30 per cent of terrestrial and marine ecosystems
Reduce to near zero the loss of areas of high biodiversity importance and high ecological integrity
Halving global food waste
Phasing out or reforming subsidies that harm biodiversity by at least $500 billion per year, while scaling up positive incentives for biodiversity conservation and sustainable use
Mobilizing at least $200 billion per year from public and private sources for biodiversity-related funding
Raising international financial flows from developed to developing countries to at least US$ 30 billion per year
Requiring transnational companies and financial institutions to monitor, assess, and transparently disclose risks and impacts on biodiversity through their operations, portfolios, supply and value chains
Finance at the core
Finance played a key role at COP15, with discussions centring on how much money developed countries will send to developing countries to address biodiversity loss. It was requested that the Global Environment Facility set up a Special Trust Fund – the GBF Fund – to support the implementation of the GBF, in order to ensure an adequate, predictable and timely flow of funds.
Countries also approved a series of related agreements to implement the GBF, including on planning, monitoring, reporting and review, which are all vital to ensure progress is made – in the words of the GBF, to ensure that there is not "a further acceleration in the global rate of species extinction, which is already at least tens to hundreds of times higher than it has averaged over the past 10 million years."
Source: https://www.unep.org/news-and-stories/story/cop15-ends-landmark-biodiversity-agreement
Porsche and several partners have started production of a climate neutral "e-fuel" aimed at replacing gasoline in vehicles with traditional internal combustion engines.
The German automaker, owned by Volkswagen, said Tuesday that a pilot plant in Chile started commercial production of the alternative fuel. By mid-decade, Porsche is planning to produce millions of gallons of the e-fuel.
Porsche expects to initially use the fuel in motor sports and at its performance experience centers, followed by other uses in the years to come. Ultimately, the plan is for the fuel to be sold to oil companies and others for distribution to consumers.
E-fuels are a type of synthetic methanol produced by a complex process using water, hydrogen and carbon dioxide. Companies say they enable the nearly CO2-neutral operation of gas-powered engines. Vehicles would still need to use oil to lubricate the engine.
In the pilot phase, Porsche expects to produce around 130,000 liters (34,342 U.S. gallons) of the e-fuel. Plans are to expand that to about 55 million liters (14.5 million U.S. gallons) by mid-decade, and around 550 million liters (145.3 million U.S. gallons) roughly two years later.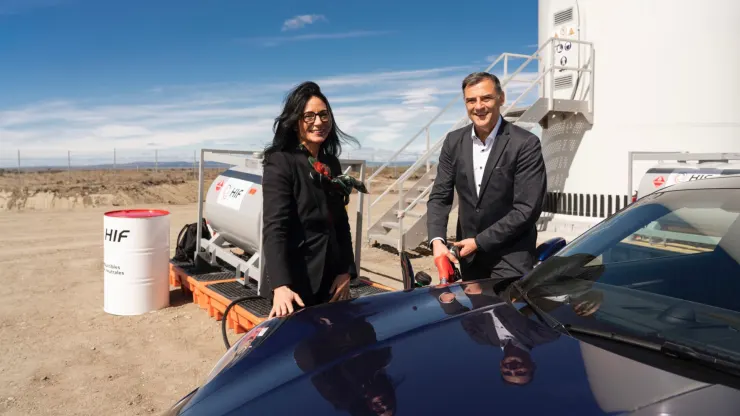 The Chilean plant was initially announced with Porsche in late 2020, when the automaker said it would invest $24 million in the development of the plant and e-fuels. Partners include Chilean operating company Highly Innovative Fuels, Siemens' renewable energy unit and others.
Company officials say e-fuels can act like gasoline, allowing vehicle owners a more environmentally friendly way to drive. They could also use the same fueling infrastructure as gas, compared with the billions of dollars in investments needed to build a network of charging stations for electric vehicles.
But entirely replacing traditional fossil fuels with e-fuels would be difficult and extremely costly. In 2021, about 134.83 billion gallons of finished motor gasoline were consumed in the U.S., an average of about 369 million gallons per day, according to the U.S. Energy Information Administration.
Still, production of such a fuel would allow Porsche and others a way to continue producing vehicles such as Porsche's iconic 911 sports car with a traditional engine alongside, or rather than, a new electric model. While electric vehicles can offer outstanding performance, their driving dynamics differ from traditional engines.
Porsche officials celebrated the beginning of the e-fuel production with the filling of a Porsche 911 with the first synthetic fuel produced at the site.
"The potential of eFuels is huge. There are currently more than 1.3 billion vehicles with combustion engines worldwide. Many of these will be on the roads for decades to come, and eFuels offer the owners of existing cars a nearly carbon-neutral alternative," Michael Steiner, Porsche's director of research and development, said in a release.
Steiner and others reiterated Tuesday that the development of the fuel does not change the company's plans to have 80% of its lineup consist of EVs by 2030.
Source: CNBC/Press Release
HSBC will stop financing new oil and gas fields and will not on board new clients which are investing heavily in exploration.
The bank said its move to end financing, for all and any new fields where a final investment decision was taken after 31 December 2021, is consistent with the IEA's Net‐Zero Emissions (NZE) by 2050 scenario, a timeline it shares.
HSBC said it will no longer provide finance, either through capital markets or lending, for the purpose of new oil and gas fields and related infrastructure. It said it will not start a new relationship with a prospective client that has more than 10pc of its planned oil and gas capital expenditure (capex) in exploration, or has more than 10pc of production volume from ultra-deepwater, shale oil or extra heavy oil projects.
The bank will also demand prospective clients have clear plans for elimination of flaring by 2030 and reduction of methane emissions by 2025 in the EU and OECD countries, and by 2030 for the rest of the world. But HSBC said it will continue to provide finance and other services to existing oil and gas fields, so oil and gas supply can "meet current and future — declining — global demand".
"Our approach is to prioritise real world emission reductions as we support our clients in delivering the energy transition alongside security of supply," HSBC said. "Fundamentally, we will continue to support energy clients that take an active role in the energy transition and who apply relevant robust industry standards."
"Natural gas will play an important role in the energy mix beyond 2050 due to the critical role it plays in a hydrogen economy which is a central component of a net zero energy system," HSBC said, adding that it has "appetite" to finance green or blue hydrogen projects.
The move by HSBC comes after question were raised at the recent UN Cop 27 climate summit about role of the finance sector, and particularly about implementation of pledges made at Cop 26 a year earlier. Non-governmental organisation (NGO) ShareAction said many European banks that had signed up to the IEA-aligned Net Zero Banking Alliance (NZBA), which includes HSBC, were still funding new fossil fuel projects. The NZBA initiative, established last year, has more than 120 banks as signatories, representing nearly 40pc of global banking assets.
HSBC does not disclose how much financing it provides for the oil and gas sector. NGO the Rainforest Action Network put this number at $86.53bn in the 2016-19 period — a figure that includes thermal coal, a sector from which HSBC has begun to withdraw.
HSBC has an interim target to reduce the absolute emissions of activities that come under its wholesale credit and project finance criteria by 34pc by 2030, compared with 2019 levels. This includes emissions from the power sector, and HSBC said today it will not provide new finance for new oil-fired power generation. This also apply for new unabated gas-fired power plants and the conversion of existing coal-to-gas-fired power plants, "unless the client demonstrates to HSBC that the new power plant is part of the client's overall transition plan to achieve abated power generation".
Smart utility metering and optimization
Markus Kick, International Business Development Manager, Phoenix Contact Electronics, Bad Pyrmont, Germany
To successfully implement long-term and sustainable climate strategies, all areas of a manufacturing company - from the raw materials warehouse and the batch house, through individual production and the packaging and warehouse area, all the way to the building itself - must be considered. If this is not done, attempts to reduce greenhouse gases and to comply with directives on the environmental and materiality analysis of a company often fail.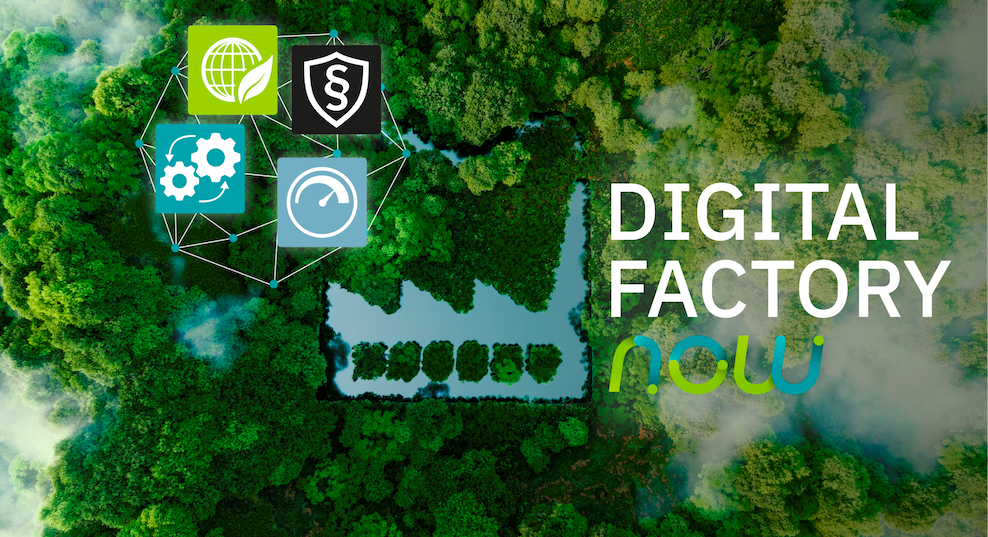 To reduce, optimize, and balance resource outlay, it is necessary for the operators to be able to quickly and easily record the utility consumption of the individual production lines and processing areas right down to the installed sensor, both locally and globally. Different liquid and gaseous utility are used for food production in the existing systems of this hybrid industry - for example, natural gas/air mixtures for heat treatment in the thermal processes in baking and melting processes and in cooling processes. Here, every single cubic meter of natural gas and every liter of water has to be used not just efficiently, but also intelligently and in a manner that conserves resources. Such a methodology must be possible in a continually expanding and interoperable networked production in which it does not matter whether the system is 20 years old or older or whether a new mixing, cutting, or stirring unit with a state-of-the-art communication system - for example, a process and control system - is added later. Equally, it should not matter whether a discrete or process engineering area within the factory is involved.
Generic, scalable, and modular turnkey system
The All Electric Society is the solution for a carbon-neutral world. This vision of the future describes a world in which electrical energy generated from renewable sources is the primary type of energy and is available in sufficient quantities, is fully economical, and is completely carbon-neutral. Industry is taking on a key role in achieving the strived-for climate neutrality, because the solutions being brought forward are enabling the electrification of all other sectors, including building, mobility, energy, and infrastructure. So that the globally important food industry - one of the largest industrial sectors - can achieve the goal of net-zero emissions simply and economically, Phoenix Contact has created the 'Digital Factory now' concept, taking the framework conditions of the All Electric Society into account. This concept provides the industrial sector with a generic, scalable, and modular turnkey system that meets the challenges of digitalization, efficiency, and sustainability in equal measure.
As with many companies in the food industry, the electronics manufacturer Phoenix Contact has the clear goal of operating climate-neutrally by 2030 throughout the entire value-added chain. In terms of the system and application development of the company, this means that the solutions that are provided to users for increasing efficiency in a sustainable production system (among other reasons) are proven beforehand in their own factories and their networks. This is already being done industry-independently and openly in the Digital Factory at the Bad Pyrmont location, for example. This analysis also resulted in the use case utility metering and reporting with our own Proficloud.io cloud solution and the open PLCnext Technology ecosystem'.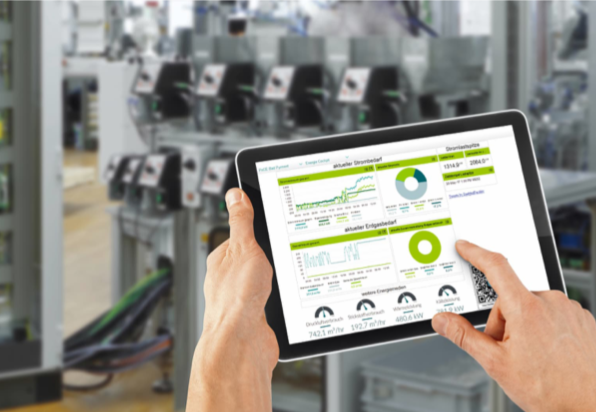 Due to the expansion of the directives on sustainable materiality analysis and social responsibility of the economy, for example to include the CSR definition (Corporate Social Responsibility), the entire industry must act. According to the Statistischen Jahrbuch 2019 (Statistics Annual 2019 – German only – destatis.de), Statistics | Eurostat (europa.eu), more than 45,000 manufacturing companies in Germany and over two million in Europe are affected by this. If those responsible want to manage their operations in an economically desirable, smart, and digital future, it is essential to consider and analyze a factory holistically.
Globally useable solution for all supply media
In particular due to the current economic and global political situation regarding resource scarcity, Phoenix Contact has created a modular digitalization and open solution concept in the context of the 'Digital Factory now'. This includes, among other solutions, ready-made as well as individual control cabinet solutions in accordance with the tool-box principle for every production environment, including potentially explosive areas. The concept can be rolled out via the in-house Proficloud.io global cloud system for one single factory or numerous factories worldwide. In this concept, it does not matter whether natural gas, water, nitrogen, heavy oil, electrical energy, or other utilities are to be recorded. The PLCnext-based IIoT framework enables the seamless control, visualization, and evaluation of consumption and mixing ratios. Furthermore, data can be exchanged securely, openly, and without additional data silos between the field level and the superordinate systems - for example, Enterprise Resource Planning (ERP), Manufacturing Execution System (MES), Distributed Control System (DCS), and the cloud.
Right now, these properties are being used by the operators of natural gas-air heated melting and baking furnaces. The all-important combustion ratio is optimized in parallel in the inventory process with only minimally invasive adjustments, without interfering with the stations, machines, or systems in the CE process. Downtimes are therefore excluded, and expensive external installation costs are avoided. Through the consistent use of free, open machine learning apps via the digital PLCnext Store marketplace, status-based monitoring and diagnostics for each sensor can be integrated into the self-learning system or retrofitted. In this context, it does not matter whether differential pressure transmitters, thermocouples in the oven or in the natural gas system, or the quantity transmitter in the air supply are under consideration. With just a small amount of investment, an economical, sustainable carbon footprint per bread roll, waffle, or cookie can be achieved in parallel operation with high-level time savings and effectiveness increases. In the Phoenix Contact production facility at the Bad Pyrmont location, this approach has increased overall equipment effectiveness by more than 10 percent in just 18 months, based on just three to five percent of the data generated per system. This equates to a factor of 5 compared to conventional automation systems.
Increased protection against unauthorized data access
Energy and utility costs cannot be calculated in the long term. Directives such as the CSR, the rapidly changing climate, and the pressure from large companies in the supply chains are affecting the globally active small and medium-sized operators increasingly often. Furthermore, the European food industry and a large number of other industrial areas are considered to be sectors relevant for network and cybersecurity in accordance with IEC 62443 and the directive on the security of network and information systems, NIS 2.0. This results in higher levels of protection in the classic field and production level through segmented networks. The holistic approach of the 'Digital Factory now' concept provides both local and global solutions and support for facing the significant changes on the global market already mentioned, enabling manufacturing companies to position themselves effectively and cost-effectively step-by-step for the coming years.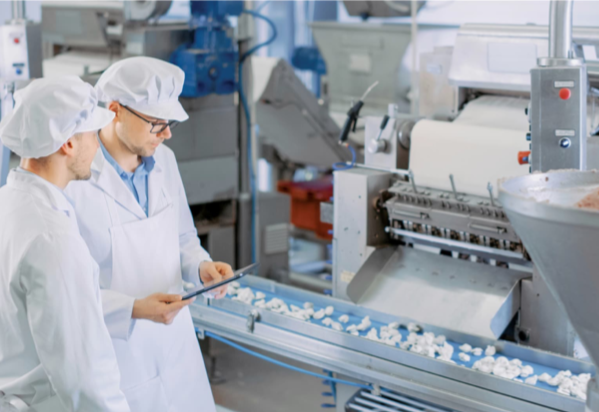 "We are the last generation that has a realistic chance of avoiding a climate catastrophe," says Linus Steinmetz, who has been involved with Fridays for Future since 2018. Particularly for a significant branch of industry such as food manufacturing, Phoenix Contact, with its industry-specific users, can effect a long-term change in the direction of carbon-neutrality. The foundation for this is the high-level innovative power of the All Electric Society mission statement, based on a holistic approach that includes sustainable digitalization in an open automation landscape.

Various component parts of the solution concept
The turnkey hardware, software, and cloud solutions from Phoenix Contact for reducing greenhouse gases contain the following component parts:
Data, cloud-analysis, and automation apps that can be downloaded from the digital PLCnext Store marketplace:

An IIoT framework for the data standardization of system and sensor information

MLnext for cross-platform machine learning

The Smart Production Library, the standardized open automation library

The Proficloud.io cloud system for the analysis of and for reporting on utilities and resources, among other things

Realization of 'smartified' connectivity to all relevant interfaces such as Ethernet IP, Profinet, Profibus, Modbus, and HART, as well as to classic analog interfaces and a wide range of further protocols from the field level right through to the information level with the ability to connect to cloud and database systems
Future-oriented realization in the IEC 62443-certified PLCnext Technology ecosystem through individual control cabinet solutions for:

Cross-factory utilities metering and control

Network segmentation for the field level and data storage as tool-box models.
For more information: https://www.phoenixcontact.com/en-ae/industries/digital-factory/digital-factory-now-fields-of-action
Carbon credits could make a significant contribution to achieving net zero by 2050, but only if participants address issues over limited supply and integrity, the Secretary General of the International Energy Forum (IEF) told a conference.
Trade in voluntary carbon credits could grow 100-fold by 2050 if teething problems are addressed, Joseph McMonigle said in a keynote address to the S&P Global Carbon Markets Conference in Barcelona.
"There is a huge opportunity for voluntary carbon markets, which can only be realized with concerted international efforts. Overall, the market is characterized by low liquidity, scarce financing, inadequate risk-management services, and limited data availability. Building trust in the market is vital to achieving these goals so we must work harder to improve transparency, standardization and stability," he told the audience in Barcelona.
A carbon credit is a permit which allows a country or organization to produce a certain amount of carbon emissions and which can be traded if the full allowance is not used. They come from four categories: avoided nature loss including deforestation; nature-based sequestration, such as reforestation; avoidance or reduction of emissions such as methane from landfills; and technology-based removal of carbon dioxide from the atmosphere like carbon capture, utilization and storage. According to the World Bank, global carbon credit revenue grew 60 percent to $84 billion in 2021.
The Taskforce on Scaling Voluntary Carbon Markets estimates that demand for carbon credits could increase by a factor of 15 or more by 2030 and by a factor of up to 100 by 2050. Management consultant McKinsey issued a report in 2021 that estimates demand in 2030 in the range of 8 to 12 gigatons of CO2 per year of carbon credits.
"It is critical that purchasing a carbon credit can be trusted to bring a real reduction in CO2 emissions," Mr McMonigle told the conference. "The market today lacks transparency and there is a lack of data on how money is spent. The world will need a voluntary carbon market that is large, transparent, verifiable, and environmentally robust."
In 2016, the European Commission found that 85 percent of projects it examined were unlikely to achieve their stated reduction claims. Similar conclusions were found in a 2019 ProPublica investigation and a 2021 study on forest preservation in California.
The second issue is supply of credits, Mr McMonigle said. "The development of projects would have to ramp up at an unprecedented rate," he said, adding that most of the potential supply of avoided nature loss and of nature-based sequestration is concentrated in a small number of countries.
Project and financing risks could reduce the supply of carbon credits to as little as 1 gigaton of CO2 per year by 2030, according to the McKinsey report.
Policy makers need the carbon markets to work better because they are increasingly relying on them to deliver a portion of their promised reductions in greenhouse gas emissions in their nationally determined contributions (NDCs) under the Paris agreement, he told the conference. And companies are seeking higher volumes of carbon credits because their regulators and shareholders are demanding rapid and measurable progress towards net zero goals beyond what they can deliver internally.
Article 6 of the Paris Agreement is central to the development of an effective international market for trading carbon credits, Mr McMonigle said. "It serves as the crucial link between the trade in carbon credits and countries' commitments to reduce greenhouse gas emissions, so it is vital that we see these talks come to a successful conclusion."
Talks at COP27 in Egypt were meant to deliver a breakthrough in implementing Article 6, but differences between the parties remain, and negotiations have been extended into 2023.
"Differences relate to the deadline for transferring emissions reduction projects listed under the Clean Development Mechanism to the new registry, the procedure for moving credits between countries, and the conditions for mandatory cancellations of credits," Mr McMonigle said.
Governments are also looking at how carbon credits can be used to promote clean energy technologies in the developing world, he added. The United States launched an initiative at COP27 to enable companies to earn credits for funding clean energy projects in the developing world. Launched by White House Climate Envoy John Kerry with the Bezos Earth Fund and Rockefeller Foundation, the Energy Transition Accelerator will create a new type of carbon credit for companies that deploy capital to retire unabated coal-fired power and accelerate the buildout of renewables in developing countries.
Governments in emerging markets, and in particular energy producers, have recently embraced carbon credits, Mr McMonigle said.
Saudi Arabia, for example, held its first auction in October, selling 1.4 million tons of high-quality, CORSIA-compliant and Verra-registered carbon credits. Elsewhere in the Middle East, Abu Dhabi Global Market and AirCarbon Exchange are setting up a voluntary carbon market based in the UAE capital, aiming for a launch in January.
Tariq Al Fahaam, RIYADH, 1st December, 2022 (WAM)