For every ton of Portland cement displaced by a Terra product, a 70% reduction in CO2 emissions is achieved.
Today, cement production accounts for 8% of all greenhouse gas emissions worldwide. TerraCO2 replace cement with a climate-friendly, cost-competitive supplementary and alternative cementitious materials that achieve performance parity in their respective categories.
Their 'Opus' products, made with abundant, inexpensive, climate-friendly feedstock, use abundantly available silicate rocks that can be sourced from existing aggregate mines close to any major market. This creates a huge advantage because it works at scale, using existing infrastructure.
Terra products can also drive up to a 90% reduction in NOx emissions.
Concrete is the world's second-most-used material next to water. The production of concrete is 65 times more in volume and 20 times more in mass than steel, its closest competitor. The corresponding CO2 and NOx emissions make supplementing and eventually replacing Portland cement a climate imperative.
The company's supplementary and alternative cementitious materials scale to meet the immense demands of cement demand and finally makes decarbonised cement a viable, affordable alternative for the industry. They use the most abundant silicate rock materials at the Earth's surface, representing 90% of the Earth's rock-based crust and their feedstocks do not emit CO2 or NOx when heated.
Learn more: https://terraco2.com/
Today, consumers are increasing their demand for more sustainability in the products they purchase. This extends to beverage companies, and we don't just mean their packaging. Consumers want to see that companies are concerned about their environmental impact and doing something to curb it – whether that means focusing on better beverage container recycling options, using sustainable agriculture, or restoring clean drinking water to a community after creating their beverages there.
According to the 2022 Deloitte Sustainability and Consumer Behavior Study, "More consumers are also being more proactive in their pursuit of adopting a more sustainable lifestyle, whether by choosing brands that have ethical or environmentally sustainable practices and values, or by no longer purchasing certain products because they have concerns around the brand's ethical or sustainability practices or values."
Since consumer behavior is important for driving trends in industries across the world, including in the beverage sector, it makes sense more companies are turning their eye toward better sustainability practices. As a company, it's vital to assume a proactive approach to reduce impact on the environment – which not only keeps in line with many consumers' desires, but also helps the planet as a whole. But, what if your beverage company doesn't know where to start?
The Starting Point: Collaboration
Companies don't have to go it totally alone anymore. The Beverage Industry Environmental Roundtable (BIER) is a technical coalition formed in 2006. It is made up of leading global beverage companies working together to advance environmental sustainability within the beverage sector. The idea behind this coalition is to act as a common voice among the beverage sector.
BIER members work together to boost environmental sustainability practices across their own companies, as well as influence global environmental policies and standards and implement changes up and down the supply chain from grower to manufacturer to consumer.
By focusing on this, BIER aims to affect sector change through work focused on water stewardship, energy efficiency and climate change, beverage container recycling, sustainable agriculture, and ecosystem services. This has led to developing best practices that help guide the industry toward a better, cleaner, more sustainable future in beverage manufacturing.
Recent BIER Work
Here is a look at some of BIER's recent work.
Benchmarking Study 2021
Without comparison, it's hard to know where beverage companies stand. BIER just completed its 11th global benchmark study, which looked at quantitative and qualitative research of water, energy, and emissions efficiency in the beverage industry.
The 2021 Benchmark study indicated progress across 16 years and nearly 2,000 facilities worldwide. For example, the study showed improvements in water, energy, and emissions intensity rations by 7%, 11%, and 17% respectively from 2015 to 2020. This indicates that the beverage industry hears their consumers, as they are taking a proactive approach to improving their business performance while also mitigating their environmental impacts worldwide.
Learn more about the 2021 Benchmark Study
Greenhouse Gas (GHG) Emissions Sector Guidance
Originally published in July 2019, the Beverage Industry Greenhouse Gas (GHG) Emissions Sector Guidance provides beverage companies with more supplemental help specific to their sector. This extra guidance helps align companies in the beverage sector with global GHG reporting protocols, as well as promotes additional consistency, accuracy, and leadership across the sector.
In early 2022, BIER released the fourth version of this guidance, and it comes with important updates regarding GHG data collection, estimation, and reporting guidelines. BIER makes it a commitment to continue to update this guidance as new standards and protocols become final. That way, the beverage industry can respond as needed to these changes.
Learn more about the Beverage Industry Greenhouse Gas (GHG) Emissions Sector Guidance v 4.2. and download your own copy
Principles Of World Class Water Stewardship
Recognizing that beverage companies are in a unique position to catalyze global water stewardship by engaging with and influencing their many stakeholders, including suppliers, customers, governments, communities, and consumers worldwide, BIER developed Six Principles of World Class Water Stewardship. The principles serve as a common framework to help guide and inspire companies to achieve World Class Water Stewardship and align with the United Nations Sustainable Development Goal #6: ensuring availability and sustainable management of water and sanitation for all.
Learn more by downloading your own copy of the Six Principles of World Class Water Stewardship
Decarbonization Playbook for Small and Medium Suppliers
In response to the interest across the world in decarbonizing and moving toward lower carbon economies, BIER published in 2020 The Facility Decarbonization Playbook to guide beverage manufacturing plants toward systematically decarbonizing their operations. As a continuation of that effort, The Decarbonization Playbook for Small and Medium Suppliers was published in 2022.
Recognizing that small/medium suppliers form a critical component of beverage manufacturers global supply chains and may have less resources, BIER members developed the playbook to support suppliers with their decarbonization strategy.
The guide aims to erase the mystery surrounding the decarbonization process – specifically for small or medium-sized suppliers – by providing straightforward short-term actions these facilities can take to reduce their climate impact significantly.
Learn more and download your own copy of the Decarbonization Playbook for Small and Medium Suppliers
Read more about other BIER resources and projects at https://www.bieroundtable.com/.
Be Part of the Solution
Each BIER member brings demonstrated technical expertise, ambition to collaborate, and shared commitment to shaping the future of environmental sustainability within the beverage sector and supply chain.
If you're part of the beverage industry and want to help advance the sector's environmental sustainability and collaborate to help form more sustainable companies and solutions within the industry, we've saved you a seat at the table.
BIER is facilitated by Antea Group USA.
About Antea Group
Antea®Group is an environment, health, safety, and sustainability consulting firm. By combining strategic thinking and multidisciplinary perspectives with technical expertise, we do more than effectively solve client challenges; we deliver sustainable results for a better future. We work in partnership with and advise many of the world's most sustainable companies to address ESG-business challenges in a way that fits their pace and unique objectives. Our consultants equip organizations to better understand threats, capture opportunities and find their position of strength. Lastly, we maintain a global perspective on ESG issues through, not only our work with multinational clients, but also through our sister organizations in Europe, Asia, and Latin America and as a founding member of the Inogen Alliance.
Source: 3BL Media
Ritz-Carlton JBR grows its own herbs to tackle sustainability crisis and provide fresh ingredients
A Dubai hotel has taken a big step when it comes to sustainably sourcing ingredients at its in-house restaurants – by setting up a vertical hydroponic farm on-site.
Having produce grown on the premises reduces its carbon footprint and transport costs for the buyer.
"We are doing it for two reasons. A chef will always want the freshest and best possible ingredients, and the need to think of sustainability is immense," said the property's executive chef, Tobias Pfister.
"We all need to reduce our carbon footprints. The food is literally grown here and then served on the tables.
"There's no transportation or logistics involved. I can actually go in the morning to the farm and cut the lettuce and have it in a salad bowl that lunchtime."
In vertical farming, crops are grown in layers on top of one another, while hydroponics is the process of growing plants in nutrient-rich liquid instead of soil.
A sustainable strategy
The farm, which is about 40 square metres, is inside a sealed container on the property's grounds in Dubai Marina.
Plants, including lettuce, kale, basil, rosemary and thyme will be grown year-round.
"Sustainability is becoming something that's an important part of the conversation for every hospitality company," said Mr Pfister.
"It's becoming an important trend for every chef."
He also said food security was thrown under the spotlight by the Covid-19 pandemic.
"We all saw how supply chains were interrupted. All industries were impacted, not just hospitality, and it was important to learn lessons from that," he said.
"Companies in this region import a lot of their products, so we saw the importance of coming up with alternatives to help localise these markets."
The Ritz-Carlton's vertical farm was created in collaboration with Green Container Advanced Farming, a hydroponics specialist.
The method is often said to be a solution to the long-standing problem of finding areas to farm in rapidly urbanising areas.
"It has been established in many cities across the world already; it's nothing new," said Mr Pfister.
"When cities keep growing it means space becomes limited and conventional farming methods become unrealistic. This is clearly a way forward."
Vertical farming on the up
US vertical farm company AeroFarms broke ground on a research and development centre in the capital last summer.
The 8,200-square-metre facility is part of a $150 million plan by Abu Dhabi Investment Office to bring cutting-edge technology to the forefront of efforts to improve food security.
At about that time, Sokovo, an agricultural technology company, announced it was building a 92,000-square-metre vertical farm at Dubai Industrial City.
"The significance of this launch is twofold; we are firstly supporting the UAE on its journey to increasing sustainability, while also enabling our guests to eat locally grown produce, which of course, is more environmentally friendly, but also superior in quality, taste and freshness," said Jeroen Elmendorp, general manager of The Ritz-Carlton, Dubai.
"Looking forward, we aim to boost responsible operations, which involves placing sustainability at the heart of all that we do.
"I am confident the launch of our very own hydroponic facility will provide our guests with an incredible culinary experience."
Source: The National News
At the end of March, Dow announced the winners of the 2021 Packaging Innovation Awards in a virtual unveiling ceremony. This edition's highest recognition, the Diamond Award, went to O F Packaging and its Brookfarm curbside recyclable, high-barrier stand-up pouch. Elisabeth Skoda speaks to Romain Cazenave, Packaging EMEA Marketing Director at Dow, and Joe Foster, CEO at Close the Loop Group and O F Packaging, to find out more.
The Packaging Innovation Awards have an over three decades tradition of recognising 'outstanding' packaging projects from around the globe, showcasing the most innovative breakthroughs based on the criteria of sustainability, technological developments, and enhanced user experience.
"The technological advancement criterium is the broadest and can encompass anything from innovative materials, innovative ways to process materials and innovative business models; giving companies the opportunity to showcase their commitment to pushing the industry toward more sustainable solutions," adds Mr. Cazenave.
Sustainability also takes a 360-degree approach and goes beyond using recycled materials.
"If you use 25% recycled materials, but instead of having a thickness of 100 microns you move to 120 microns, you're not actually improving the situation. Your packaging is heavier, and it will take more energy to transport it. It's about using the right amount of material, but not at the expense of performance, food protection or safety."
Finally, the enhanced user experience category features a lot of consumer packaging, but the whole value chain is covered.
"Being user friendly shouldn't mean that it's a nightmare for packaging lines and these don't run at the desired speed. It's about enhancing the experience throughout the lifetime of a product."
Dow provides the logistics for the event, but the winners are determined by a team of independent judges, as Mr. Cazenave points out.
"We make sure everything is well organised, and that the gear box is properly oiled and lubricated, but we don't drive. We just provide a car with a full tank. It's important to us to have the entire value chain and the whole world represented. Entries don't have to use Dow resins or even use plastics at all."
A group of independent judges from seven countries representing more than 300 years of combined industry experience, evaluated 189 submissions from companies all over the world, and packaging projects ranging from food and beverage applications to homecare, and even electronic goods. In addition to the Diamond Award winner, 35 other projects were recognized: nine Diamond finalist winners, 13 Gold awards and 13 Silver recipients.
Packaging Europe's own brand director Tim Sykes has been part of the Packaging Innovation Awards jury for the last four editions, and he praises the judging process and the results it yields.
"I was bitterly disappointed to miss out this January on the in-person deliberations in Houston due to Covid. The PIA is unique in my experience in bringing together a set of global specialists with different fields of expertise in one room, to discuss the merits of hundreds of entries – rigorously, sometimes passionately, and teasing out the nuances of their technical innovation and impact. The competition doesn't just serve to reward the best packaging innovations in the world, but self-consciously seeks to annually spread the wider learnings about good innovation across the industry. Not least through the judges themselves, who without exception come away from the experience enriched, educated, and full of insights to share with their colleagues and networks."
Current trends
With this year's award submissions, Mr. Cazenave observed a focus on sustainability and consumer interaction as well as safety.
"The question is: How do we make sure that a pack moves from recyclable to something that is actually recycled? We saw a lot of debate on what the most efficient way to push people towards recycling packaging is. Little things such as putting 'Recycle me' instead of 'Please recycle me' on the pack can make a difference. Last but not least, there's safety. After two years of Covid, we have seen how important food and product safety really is."
Zooming in on the winning entry
Incorporating these trends, the Award's highest recognition, the Diamond Award, went to O F Packaging and its Brookfarm curbside recyclable, stand-up pouch, a high barrier packaging structure that protects muesli and granola products that can also be recycled through curbside recycling. The Roll 'n' Recycle® packaging was created in close collaboration with their partners PREP Design and Result Group.
The winning entry is made from a monomaterial polymer material with a very thin layer of EVOH. The solution enables consumers to transform the empty, 100% polyethylene flat packaging into a 3D shape, suitable for their recycling bin so it's ready for recycling through existing processes.
"People are sceptical that this monomaterial can be used in a stand-up pouch as it is very soft. But it was re-engineered with a specialised PE material which offers similar criteria and similar protection as other types of multilayer laminated materials," says Mr. Foster.
Numerous challenges had to be overcome when it came to developing a more sustainable pouch for Brookfarm. An initial attempt with compostable material didn't yield the desired results with regards to shelf life, product protection and machinability.
"The multilayer laminate material that Brookfarm used in the past had three layers – polypropylene material, metallised polyester material for the high barrier, and a polyethylene material on the inside for sealability and for the body of the pack. We were able to take these materials out and replace them with a mono structure of specialised polyethylene.
Once the material was determined, the focus turned to making the pack not just recyclable, but to ensuring that it was actually, recycled.
Turning 2D into 3D
"The massive challenge we had initially was to ensure that when the pouch was physically rolled up into a canister or a bottle shape, it was going to remain in that shape when putting it into the curbside bin and into the mechanical recovery facility, the MRF. We conducted tests to ensure that every single packet would actually go through and to ensure that the polyethylene label was actually strong enough for use, and once it's rolled into the canister it stayed there," adds Mr. Foster.
The idea for the special Roll 'n' Recycle® feature, which allows the pack to be more easily recognised in sorting facilities was developed by Prep Design, tackling the challenge of flexible packaging materials being considered soft plastics. They often get misidentified as paper in MRFs, contaminating the paper stream.
"Prep Design had the initial concept, and put the idea across – what would happen if you took a pouch and changed it into a bottle shape? We discussed and worked on the idea for the past two- three years, until we found the right material, adhesives, and pouch to make this a reality.
We conducted a range of tests with MRFs, where we had cameras set up to ensure that the pouches were detected and put in the correct stream – it was a really exciting project," explains Mr. Foster.
Making sure a pack gets recycled correctly is one part of the challenge – but how can it be ensured that consumers do recycle the pack? In Australia, information on how to dispose of packaging has to be provided on every pack by law, so consumers already have some awareness.
"There is a call to action on pack that the pouch is for curbside recycling. When the consumer turns our pouch around, they see the label with really simple instructions, telling them to peel the label back, roll the pouch down and put the label on the top of the pouch in the canister format. We did a couple of test runs to see if the consumers understood it and to see if they could engage with it. Results were very positive. We do feel that consumers want to do their bit."
Beyond the Brookfarm cereal pack, a 'fold, roll and recycle' solution has been rolled out for a pet food brand, as well as another snack food brand and a liquid soap brand.
"We also have more clients interested and ready to go with the program and are hoping that this will be rolled out further in Australia and of course around the world," says Mr. Foster.
Mr. Cazenave congratulates O F Packaging for their systemic approach. "In terms of resource efficiency, flexible packaging is unbeatable, and it's great to see an innovation that fixes the problem of recycling. Currently, some recycling systems and sorting facilities are equipped to deal with flexibles, and others aren't. There is a roadblock between 'recyclable' and 'recycled', and innovation that removes this roadblock by thinking out of the box is fantastic. O F Packaging has gone the extra mile. A packaging manufacturer's job should not be done when they've produced a recyclable packaging solution, but only when they've produced a solution that's recyclable within the current system."
Source: Packaging Europe
The Taco Bell Foundation recognises more than 770 young minds working to pursue higher education and nontraditional paths.
There's a new class of Live Más Scholars! Today, the Taco Bell Foundation announced more than $8 million in scholarships to break down barriers to education for 772 passionate students looking to ignite change in their communities and across the country.
With the help of Taco Bell's Chief Impact Officer, cultural icon Lil Nas X, the Taco Bell Foundation is excited to create a memorable experience for this next generation of leaders.
"I know firsthand what it's like to be a young person with a dream to break convention and change an industry," said Lil Nas X. "It's an honor to support these Live Más Scholars and I am eager to see their next chapters unfold."
To qualify for this year's scholarship program, these students, aged 16-26, submitted a two-minute video describing their passion, a positive change they want to make in the world, and how their education will help them achieve that goal.
Selected from a pool of 8,000 applicants, this year's scholarship recipients include nearly 200 fans of the brand, 150 Taco Bell® Restaurant team members, and 430 renewal winners (both fans and team members who applied to renew a Live Más Scholarship they received in the past). Scholarship awards range from $5,000-$25,000 per student. This year's scholars will also have the opportunity to attend the Live Más Scholarship Summer of Creativity, an in-person conference in San Diego, Calif. bringing together past and present Live Más Scholars to learn, engage and network personally and professionally.
"We are so excited to welcome a new, ambitious class of scholars," said Jennifer Bradbury, Executive Director of the Taco Bell Foundation. "These scholarships are about more than providing funds. It's about creating opportunity, driving passion and fueling the inspiration and ambition of young people across the country."
The Taco Bell Foundation is awarding $2.3 million to Taco Bell Restaurant team members and $5.75 million to other young people nationwide. To raise money for the Live Más Scholarship consumer fund, the Taco Bell Foundation partners with Taco Bell restaurants through the Round Up program. By asking Taco Bell customers to round up their order total to the nearest dollar, the Taco Bell Foundation has raised more than 60 million since 2019.
The Live Más Scholarship is geared toward students with bold ambitions who are community-focused and have their eye on the horizon. Check out the stories from two of the scholars who will be using these funds to reach new heights:
Joel B.: Joel is a medical student at Washington State University and is the co-founder of Hugs for Ghana, a non-profit he founded in honor of his late grandmother who passed away from Malaria that is dedicated to bringing necessary school and medical supplies to children in African countries. As the first Black student at his medical school, he is dedicated to the advancement of fellow minority doctors and impacting communities of color, a cause that he is very vocal about on his "Medical Mythbuster" account, which is currently at nearly 500K followers.
Jasmine B.: Jasmine is a senior at Manchester High School in North Chesterfield, Virginia, where she is a co-captain of her "Lancer Dancers" dance team and a big sister to two younger siblings. Falling in love with reading and writing from a young age, Jasmine pursued her interests further by becoming heavily involved in her high school's Mass Communications Center. In her journey to follow her passions in journalism and mass communications, she won third place statewide for a documentary that she co-directed and edited in the Virginia High School League competition. Currently working as a Taco Bell team member in Midlothian, Virginia, Jasmine plans to attend a four year university majoring in Mass Communications with a minor in Creative Writing to pursue her dream of becoming a broadcast journalist.
New partnerships expand Kohler's longstanding efforts to support students, starting from elementary school through their transition to the workforce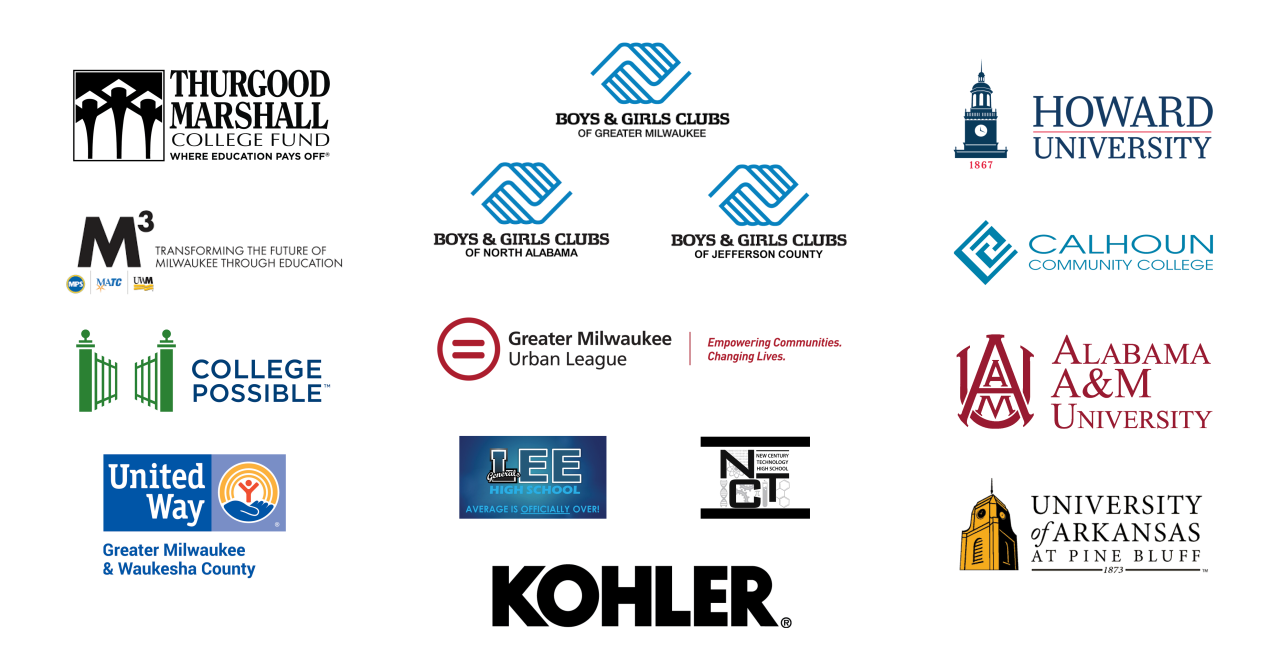 Kohler Co. announces a Community Partnership Program starting with 13 organizations across the country, including Howard University, Thurgood Marshall Scholarship Fund, Boys & Girls Clubs, College Possible and several other community-based programs to help provide educational and workforce preparedness opportunities to students. The goal is to increase access to opportunities and support students from an early age through post-secondary school and as they consider joining the workforce.
The partnerships cover high school and college scholarships, college and workforce readiness support, mentorship and internship opportunities, skills training and financial literacy for people of all backgrounds and financial needs. The partnership program, which aims to impact over 7,000 students annually, includes partnerships with:
Howard University
Thurgood Marshall Scholarship Fund
Boys & Girls Club of Greater Milwaukee
College Possible
M-Cubed
Greater Milwaukee Urban League
United Way of Greater Milwaukee & Waukesha County
Alabama A&M
Boys & Girls Club of Northern Alabama
Lee High / New Century Technology High Schools
Calhoun Community College
University of Arkansas at Pine Bluff
Boys & Girls Club of Jefferson County
"We imagine a future where everyone has the tools to succeed," says Laura Kohler, SVP Human Resources, Sustainability and Stewardship. "We understand how critical education and training are when it comes to opening up opportunities for young people so that they have choices about where they want to take their future, and we are honored to work alongside community partners to make the biggest impact for these young people."
Kohler has been supporting education and workplace readiness initiatives throughout the company's history, more recently including scholarships with college and university partners, funding and implementing high school programming, and supporting initiatives like Outward Bound, Junior Achievement and INSPIRE Sheboygan. These new partnerships build upon a longstanding commitment to strengthen communities and improve people's lives.
For more information regarding Kohler's commitment to communities, education and Believing in Better, please visit https://www.kohlercompany.com/social-impact/
About Kohler Co.
Founded in 1873 and headquartered in Kohler, Wisconsin, Kohler Co. is one of America's oldest and largest privately held companies comprised of more than 40,000 associates. With more than 50 manufacturing locations worldwide, Kohler is a global leader in the design, innovation and manufacture of kitchen and bath products; luxury cabinetry, tile and lighting; engines, generators, and clean energy solutions; and owner/operator of two, five-star hospitality and golf resort destinations in Kohler, Wisconsin, and St. Andrews, Scotland. Kohler's Whistling Straits golf course recently hosted the 43rd Ryder Cup. The company also develops solutions to address pressing issues, such as clean water and sanitation, for underserved communities around the world to enhance the quality of life for current and future generations. For more details, please visit kohlercompany.com.
Media Contacts
Vicki Hafenstein
vicki.hafenstein@kohler.com
Katie Dilyard
Katie.dilyard@ruderfinn.com
Source: 3BL csrwire
In part from converting oat waste into clean energy, two Oatly production facilities in the United States transitioned to using 100% renewable electricity in 2021.
The oat drink company sourced renewable energy certificates (REC) from wind and solar for its facilities in Millville, New Jersey, and Ogden, Utah, as well as from oat fiber residue.
The New Jersey plant used RECs from a local biodogester that receives oat fiber residue from Oatly's oatmilk production. That residue is then combined with other food waste to produce renewable natural gas (RNG) that generated renewable electricity for the local grid.
Oatly then purchased RECs equivalent to the electricity required for the lighting, milling, refrigeration and mixing that produces the oatmilk at the Millville facility, the company says.
At the Utah plant, the company purchased enough RECs from wind and solar sources required to get the electricity needed to run the facility. The RECs are generated from locations in Utah, Idaho, Wyoming, California, Oregon and Washington.
The company says it is also partnering with a local biodigester in that region to repurpose oat fiber residue to produce renewable natural gas.
Using natural products to produce energy is becoming more common, and the EPA says it can increase and diversify energy production. Additionally, it can use existing infrastructure such as pipelines, and be continuously produced using variety of sources such as food, water and livestock, the agency says.
One example of advancing technology: Dubai Creative Group and Power Knot collaborated with Microsoft Dubai to create a solar-powered biodigester that can turn more than 6,000 pounds of food waste a day into energy. Packaging company DS Smith is also investing nearly $9 million to turn wastewater into renewable energy.
Other recent projects include a utility plan in California that is producing RNG by capturing methane at 15 dairy farms, and projects in South Dakota are expected to provide 650 million cubic feet of RNG annually when they are completed in 2024.
Oatly plans to use 100% renewable energy throughout its operations by 2029, from a baseline of 63% in 2019. The company is based in Sweden and its brand is available in more than 20 countries.
Source: https://www.environmentalleader.com/2022/03/oat-waste-turned-into-energy-helps-oatly-facilities-transition-to-100-renewable-electricity/
With 15,000 locations across the U.S., the coffee chain is betting it can convince electric vehicle owners that it's the perfect place to charge up.
By 2030, there could be 26 million electric cars in the U.S., which means we'll need more than 10 times as many EV chargers. Starbucks, with its 15,000 locations across the country, thinks that it could help fill part of the gap.
In a pilot this year, the company is partnering with Volvo and Chargepoint to install EV chargers in its parking lots along a 1,350-mile route from Denver to Seattle, with stops available roughly every 100 miles. "It's one of those charging deserts, so to speak," says Michael Kobori, chief sustainability officer at Starbucks. "There aren't too many charging stations available there."
Charging an electric car is still a fundamentally different experience from pumping gas; EV owners often plug in at home for day-to-day use, but on a longer road trip, chargers aren't always easy to find. With current charging tech, the process also takes longer than traditional fuelling, and sitting at a gas station for 30 minutes or more isn't necessarily appealing.
"This is pairing the idea of electric vehicle charging with the fact that, hey, if you're on a trip, you're gonna stop in in the morning anyway to get your Starbucks, to get your beverage, to get your breakfast," Kobori says. "And as you're sitting there, getting ready for the day and planning out your route and checking out, your car is just charging." While charging times vary depending on the vehicle, Volvo says its electric cars can go from a 20% charge to 90% in 40 minutes.
Volvo and Chargepoint will handle the installation at Starbucks stores in towns like Twin Falls, Idaho, and Uintah, Utah, navigating the fairly involved process of working with local utilities to set up new electrical service. In many areas, the chargers will also help fill a gap for local residents, not just travelers. "This route goes through several of what are literally federal opportunity zones, economically distressed communities," he says. "And so we were also thinking as we looked at this, how do we make sure to bring the charging to those underserved markets so that will open them up as well to electric vehicles."
In the pilot, Starbucks will test usage rates and decide whether it wants to expand the service nationally as part of its larger sustainability plan, which is aiming to eventually make the company "resource positive," including a goal to capture more carbon than it emits.
Source: fastcompany.com
A pilot program that will use a smart system to help optimize the energy use of water heaters by having them run during off peak times is being introduced in California.
The program is called WatterSaver and will be offered by Pacific Gas and Electric Company (PG&E). It will use a system by cloud-based service provider Virtual Peaker. PG&E says integrating Virtual Peaker's cloud-based energy response platform will turn water heaters into smart, secure, networked energy storage assets.
The goal of the program is to provide up to 2.5 megawatts of peak electricity load reduction by the end of 2025. The companies say the effort will also promote further energy efficiency, increase grid reliability and support increased renewable energy generation.
The pilot is expected to be the largest of its kind in the United States, according to the companies, and will optimize water heaters that are compatible for the network system upgrades for 5,000 to 9,000 customers. The program will also offer incentives to customers to heat water when electricity prices are lower.
Water heaters account for nearly 20% of electricity use in a home or building, according to the Department of Energy. Smart systems and products have been introduced in similar high energy service areas, such as an HVAC platform or commercial buildings by Turntide Technologies that offers sustainable fan and cooling systems.
PG&E has been active in offering other energy efficiency programs in northern California. The utility is offering a virtual power plant program to 100 homes in its service area and is backing the 300 megawatt battery storage Moss Landing Energy Storage Facility.
The utility also recently started a program that turns cow manure from dairy farms into renewable natural gas.
PG&E will run the WatterSaver program, which is supported by the California Public Utilities Commission. WatterSaver is being implemented by Energy Solutions in addition to Virtual Peake and the program will run through the end of 2025.
GRAND RAPIDS, Mich., March 3, 2022 /PRNewswire/ — Midwestern retailer Meijer BB #:104887 announced today its involvement in a utility-scale solar project that will make significant strides toward its recently announced carbon reduction goal.
The retailer signed a renewable energy power purchase agreement (VPPA) with developer Duke Energy Sustainable Solutions, which states Meijer will purchase a portion of all energy generated by the project for the first 15 years of operation. The project broke ground in Navarro County, Texas on 1,800 acres of land and is expected to be completed by the end of the year.
"At Meijer, we are motivated to make an impact in the local communities we serve, and beyond, by doing our part and taking the necessary steps to reduce carbon emissions," Meijer President & CEO Rick Keyes said. "Meijer has made significant progress over the years to integrate sustainability into our daily operations. We're committed to these ongoing efforts and a project like this brings us closer to our industry leading sustainability goals."
Each year, the Pisgah Ridge Solar project will generate approximately 200,000 megawatt hours of energy for the first year dedicated to Meijer. This clean energy will account for a reduction of more than 103,000 metric tons of CO2e from the retailer's operations – equal to the amount of greenhouse gas emissions involved with removing more than 20,000 vehicles from the road, or the carbon sequestered from 125,000 acres of U.S. forests.
"Renewable energy assets like the Pisgah Ridge Solar project contribute to a cleaner, stronger economy and help create a more diverse energy infrastructure. We're pleased to be working with Meijer to create jobs, strengthen the local economy and generate cleaner energy, while also helping them address their carbon reduction goal," said Chris Fallon, President of Duke Energy Sustainable Solutions.
This announcement comes on the heels of the recent commitment from Meijer to reduce 50 percent of its absolute carbon emissions by 2025. The renewable solar project with Duke Energy Sustainable Solutions is the first of multiple strategic partnerships that Meijer will form to achieve its carbon reduction goal, which is rooted in the company's mission to be a good neighbor by serving its communities, as well as protecting the planet for tomorrow.
Meijer is building on its longstanding commitment to the environment by integrating sustainability into daily operations, addressing carbon and waste reduction, recycling, offering local and sustainable products and continuing responsible growth.
"We're proud to be part of this project to enable energy creation through a renewable energy source," said Erik Petrovskis, Director of Environmental Compliance and Sustainability at Meijer. "We believe we have a responsibility to improve the world around us because it's the right thing to do."
Schneider Electric, the leading global advisor on corporate renewable energy procurement, supported Meijer in the selection of and negotiations for the solar project.
"As one of the largest Midwest supermarket chains, Meijer has made commitments to reduce their carbon emissions by 2025, and it is an honor for Schneider Electric to advise them on adding renewable energy to their portfolio," said Steve Wilhite, President of Schneider Electric's Sustainability Business. "The need for organizations to take immediate action to decarbonize is at an all-time high, and we are excited to see organizations like Meijer leading the charge to include renewable energy as a part of their long-term strategy."
Source: https://www.producebluebook.com/2022/03/03/meijer-plans-to-reduce-carbon-emissions-with-solar-project/#