As many as 51 young men and women from 18 Arab countries are participating in the fifth edition of the Young Arab Media Leaders Programme, continuing for the second week under the patronage of Sheikh Theyab bin Mohamed bin Zayed Al Nahyan. Chairman of the Arab Youth Center.
The programme includes interactive workshops and practical lectures that discuss a variety of topics and issues, including environmental journalism, climate change, and sustainability at the Dubai Youth Center, the Dubai Press Club, in cooperation with Google, Al-Mashhad TV, the Bloomberg TV, the American University in Dubai, the New Media Academy, Al-Bayan newspaper, Sky News, CNN, and the Emirates News Agency (WAM).
The programme, which is organised by the Arab Youth Center, is one of the largest training functions that focus on practical skills at the level of the Arab world, in partnership with media institutions and academies, and targets outstanding young people in the final stages of university studies or at the beginning of their professional career after graduation, with the aim of enhancing their skills, building their capabilities, enriching their experiences, and raising their competitiveness for the labour market.
Addressing the programme, Mohammed Jalal Al Rayssi, Director-General of the Emirates News Agency (WAM), spoke about the tools and requirements for ensuring success and excellence in the media field. He addressed the issue during a special discussion session on the role of media and youth in Arab cultural work where he focused on the importance of acquiring knowledge and continuous learning, and keeping pace with and adopting modern technological tools and artificial intelligence in the media field, and developing the media skills of young cadres through specialised training courses.
Al Rayssi stressed that the media field in the coming stage will face a major challenge. "AI tools and technologies today enable the preparation of content in smart ways, without human intervention, and it has also become easy to insert false information into content that no one notices, and to spread it widely to have negative effects, which requires us to adopt and keep pace with technology in a positive way and harness it to serve the media and society in the right way."
He added that despite the existing challenges, the current time is ripe for excellence in the field of media, away from the private and directed agendas of some international media institutions, noting the qualified and trained media human resources in the Arab world that can achieve the goals and aspirations of their countries and contribute to the development of their societies".
Al Rayssi touched on the importance of providing meaningful content that benefits society and "serves the process of development and progress in the Arab world, and reflects our true values that we were raised on".
"It's an important matter, especially in a changing world, and there are few countries that are keen to keep these values, and it should be paid attention to, especially in the case of media and electronic wars on values in different countries," he added.
At the end of the  session, Al Rayssi answered the questions of the participants, which focused on the role of national media as a tool for conveying the achievements of the country and its civilisational message. The participants also asked about the preparations for the next session of the World Media Congress.
He affirmed that the national media is keen to perform its developmental role to the fullest possible extent thanks to the support and patronage of the UAE wise leadership. "The media carries a lofty message in introducing the world to the developmental achievements of the country and its vision for the future."
A session titled "The Role of Content in Developing the Tool" was held at the Creative Youth Centre in Dubai. During the session, Saud Al Darbi, Head of the News and Publishing Centre at Dubai Media Incorporated and Editor-in-Chief of Al Bayan newspaper, spoke about the need for media institutions to keep pace with the developments of artificial intelligence tools. He stressed the importance of elevating the content and promoting professionalism of the media message. Hanada Taha Thomure, Director, Zayed University, Zai Arabic Language Research Center, spoke about the importance of the Arabic language in the media. She cited examples of media programmes whose content is in Arabic and the impact they have had on the public. She called on young people to the importance of speaking Arabic and preserving it to safeguard heritage and identity.
Source: Khaleej Times
For deaf children, teachers and scientists, talking about things like "greenhouse gases" or "carbon footprint" used to mean spelling out long, complex scientific terms, letter by letter.
Now they are among 200 environmental science terms that have their own new official signs in British Sign Language (BSL).
The deaf scientists and sign language experts behind the update hope the new vocabulary will make it possible for deaf people to fully participate in discussions about climate change, whether it's in the science lab or classroom.
"We're trying to create the perfect signs that visualise scientific concepts," explains Dr Audrey Cameron.
Dr Cameron, who is profoundly deaf, leads the sign language project at Edinburgh University, which has just added the new terms to the BSL dictionary.
She described how, in her own scientific career, a lack of vocabulary meant she was excluded from important meetings and conversations.
"I was involved in research for 11 years and went to numerous meetings but was never was truly involved because I couldn't understand what people were saying," she told BBC News. "I wanted to talk with people about chemistry and I just wasn't able to."
Glasgow-based biology teacher Liam McMulkin has also been involved in the sign-creation workshops, hosted by the Scottish Sensory Centre. "The beauty of sign language – particularly for science – is that it's a visual language," he explained.
"Some of the concepts are abstract, but sign language can really help children to understand them."
Mr McMulkin used the sign for "photosynthesis" as an example, which uses one flat hand-shape to represent a leaf, while projecting the fingers – like the sun's rays – from other hand.
"When I do this [move the sun hand towards the leaf hand], you can see that the energy is being absorbed by the leaf," he explained.
The science glossary project, funded in part by the Royal Society, has been running since 2007 and has added about 7,000 new signs to BSL.
Describing the process by which signs are developed, Dr Cameron explained: "We take a list of terms from the school curriculum and then work together to come up with something accurate but also visual of the meaning."
The newest signs are themed around biodiversity, ecosystems, the physical environment and pollution. There is an online video video glossary demonstrating the terms.
Missing words
The glossary is designed to support deaf children in schools. And as 13-year-old Melissa, a deaf student at a mainstream school in Glasgow explained: "they really help you understand what's happening."
Melissa showed me the difference between laboriously finger-spelling greenhouse gases (G-R-E-E-N-H-O-U-S-E G-A-S-E-S), and using the new sign that includes moving her closed fists around like gas molecules in the air.
"With the sign I can see something is happening with the gas," she said.
Mr McMulkin, who is Melissa's science teacher and is also profoundly deaf, added that hearing people were "constantly learning and acquiring knowledge" wherever they go, "but deaf people miss out on so much information".
"That's why it's so important to use sign language in science lessons in schools," he said. "It allows deaf children to learn in their natural language."
Dr Cameron also highlighted the value in education of depicting intricate scientific concepts in hand movements – for both hearing and deaf children.
Dr Cameron recalled observing a class in which five-year-olds were learning about how things float or sink. "They were learning about how things that are less dense will float, which is quite complex," she explained. "And the teacher was using the sign for 'density'."
The sign explains that concept by using one closed fist and wrapping the other hand around it – squeezing and releasing to represent different densities.
"I thought – these five-year-olds are not going to get this. But some time after the end of the lesson, they were asked a question about why things float or sink and they all used the sign for density," Dr Cameron said.
"So I've seen how much of an impact this can have. And my passion has just grown as the glossary has grown."
Prof Jeremy Sanders, chair of the Royal Society diversity and inclusion committee, said: "We hope these new signs will inspire and empower the next generation of BSL-using students and allow practising scientists to share their vital work with the world."
Additional reporting by Kate Stephens and Maddie Molloy
Hear more about the mission to create this visual vocabulary on Radio 4's Inside Science on BBC Sounds
Source: Victoria Gill, BBC News
Dubai Food Tech Valley will triple food production in the emirate.
The project launched by Sheikh Mohammed bin Rashid Al Maktoum, Vice President, Prime Minister and Ruler of Dubai in 2021, seeks to create a modern city that sets a global standard for food security and sustainability.
Dubai's focus on sustainable food security
The Food Tech Valley project plays a critical role in the UAE's commitment to adopting sustainable technologies and solutions that combat climate change and protect the environment and natural resources from waste.
By developing advanced technologies for food production and addressing challenges such as water scarcity and arable land shortage, the project supports the entire food value chain. Its success would mark a significant milestone in the UAE's ongoing efforts to enhance its food security and ensure a sustainable future.
Recently, Saeed Mohammed Al Tayer, MD and CEO of DEWA met with Mariam bint Mohammed Almheiri, Minister of Climate Change and the Environment, and Hesham Abdulla Al Qassim, CEO of Wasl Asset Management Group to discuss collaboration to support the Food Tech Valley project.
During the meeting, Al Tayer expressed his confidence that the Food Tech Valley project would be a major step towards achieving sustainable food security and promoting innovation in the food industry while supporting the diversified, knowledge-based economy of Dubai and the UAE. DEWA supports the UAE and world countries' efforts to address hunger within the UN Sustainable Development Goals 2030.
"The UAE's wise leadership places significant importance on enhancing food security on sustainable foundations and finding solutions to national food security challenges," said Almheiri.
She added, "This includes increasing agricultural and food production to reduce import dependence. The Food Tech Valley project plays a vital role in this area.
"It focuses on developing modern technologies for food production, overcoming water scarcity and arable land shortage. The project also supports the entire food value chain and serves as a leading global model for enhancing food security by applying the highest sustainability standards, which in turn supports the UAE's efforts to adopt technologies and solutions that contribute to combating climate change and preserving the environment and natural resources from waste."
First phase of the Food Tech Valley project
In its first phase, the Food Tech Valley project aims to provide elements for urban planning and comprehensive urban development. It also provides various activities for food management based on innovation. The project includes vertical farms, a logistics centre, an R&D centre, and a shopping area.
The first phase of the project, launched in 2021 in partnership between the Ministry of Food and Water Security and Wasl Properties, explored optimal planning for future smart and food-independent cities. Equipped with cutting-edge technologies, the project aims to be a leading global hub for innovation-based food security.
Spotlight on the UAE's role in driving the climate agenda
With the UAE hosting the COP28 conference in November, the Food Tech Valley and other pioneering food projects will be in the global spotlight. Almheiri hoped this would be a starting point for other similar projects worldwide. The Food Tech Valley project aims to attract creative and young minds to shape food's future. The city's vision for this project is to become the trademark and benchmark for food management systems sustainability regionally and globally. Through the collaboration of key players in the UAE's food industry, the Food Tech Valley project hopes to make significant contributions to enhancing food security, promoting innovation, and achieving sustainable development.
Source: Edge
Swansea University has established a low-cost and scalable carbon ink formulation capable of unlocking, for the first time, the potential for perovskite solar cells to be manufactured at scale.
Using slot die coating in a roll-to-roll (R2R) process, academics from the SPECIFIC Innovation and Knowledge Center at Swansea University have established a way to create "fully printable" perovskite photovoltaics (PV), a term often used but, until now, incorrect.
The team searched for an alternative to the gold electrode that is typically applied using an expensive and slow evaporation process after the device has been printed.
Dr. David Beynon, senior research officer at SPECIFIC, said, "The key was identifying the right solvent mix, one which dries as a film without dissolving the underlying layer.
"X-ray diffraction analysis showed carbon electrode ink is capable of this when formulated with an orthogonal solvent system. This innovative layer can be applied continuously and compatibly with the underlying layers at a low temperature and high speed."
The research has been published in Advanced Materials.
Photovoltaic research lead, Professor Trystan Watson, said, "Perovskite solar cells show great promise in the drive towards cleaner, greener energy. The ability to produce a fully working device entirely in-line makes high-volume manufacturing easier and more economical and is a big step towards their commercialization. It unlocks the idea of manufacturing process where a solar ink is added one end and a solar cell emerges from the other."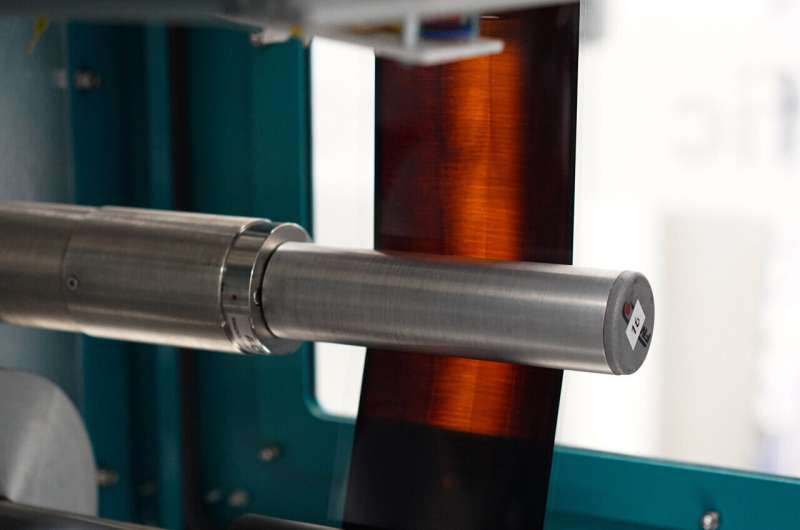 A close-up of a sample of the new fully roll-to-roll (R2R) coated device. © Swansea University
The devices with carbon electrodes provided a similar photovoltaic performance to the conventional evaporated gold electrodes, as part of a small-scale device on a rigid glass substrate, with power conversion efficiencies (PCE) of 13%–14% and the additional benefits of outperforming at higher temperatures and having better long-term stability.
The new fully R2R coated device, which was printed onto a 20-meter-long flexible substrate, produced a stabilized power conversion efficiency of 10.8%.
Dr. Ershad Parvazian, postdoctoral researcher at SPECIFIC, said, "The most important part of this project was coating the carbon entirely, R2R, a new process of working with perovskite photovoltaics, which helps to scale up easier.
"For a few years now, the efficiency of these devices has been increasing, with the expectation that they could be fully printed. This work has proved that."
This new generation of solar cell has significantly benefited from the unique collaborative structure of its creators, a team of Swansea University chemists, materials scientists, and engineers all on-site.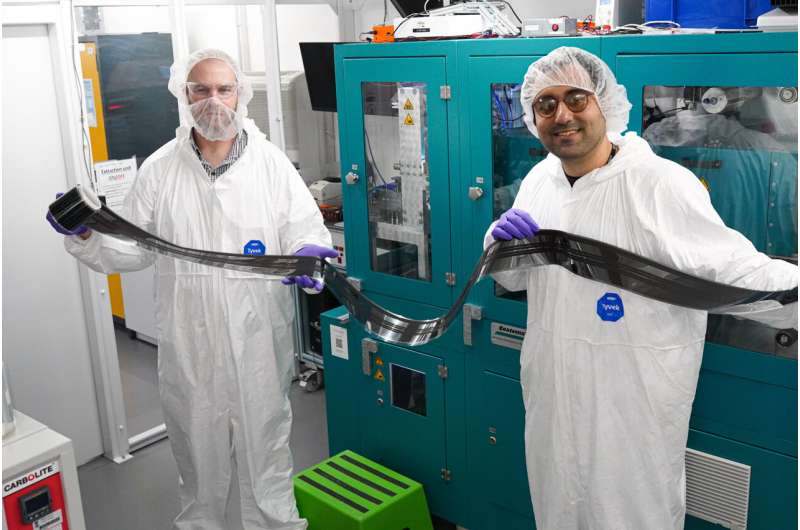 Dr David Beynon (Left) and Dr Ershad Parvazian (Right) holding a sample of the new fully roll-to-roll (R2R) coated device. © Swansea University
In just four years, this innovative method for PV has been designed and made, assessed and analyzed in detail, adapted and improved, making the possibility of printing and installing millions of meters of solar cells across the globe closer than ever.
Professor Watson said, "The next challenge in printed PV for us at Swansea University, is to prove to people that these work.
"In order to achieve this, we need to start making something that really looks like a solar panel. We can then install them on buildings and understand how close we are to delivering on the promise of UK based manufacturing of green renewables."
Source: Tech and Science Post and Ffion White, Swansea University Press Office
A newer, more accurate method for calculating methane emissions from offshore oil and gas production suggests that the United Kingdom severely underestimates its greenhouse gas emissions. Researchers conclude that as much as five times more methane is being leaked from oil and gas production than reported.
Methane is the second most important greenhouse gas after carbon dioxide, contributing about 1 degree Fahrenheit of present-day global warming relative to pre-industrial times. One major source of methane to the atmosphere is the extraction and transport of oil and gas. Countries are obligated to report their greenhouse gas emissions to international bodies such as the United Nations Framework Convention on Climate Change, but recent studies suggest that the current methods for calculating methane emissions rely on outdated and incomplete information and may not accurately represent actual emissions.
A recent study from researchers at Princeton University and Colorado State University finds that the current method for estimating methane emissions from offshore oil and gas production in the United Kingdom systematically and severely underestimates emissions. The study finds that as much as five times more methane is being emitted from oil and gas production in the UK than what the government has reported. The researchers reached this conclusion by critically evaluating the UK's current method of calculating methane emissions, suggesting alternative, peer-review based methods and generating revised emission estimates.
Since many other countries use similar methodologies to calculate methane emissions from oil and gas production, this severe underestimation is likely not confined to the UK alone.
"It is critical to know when, where and how much methane is emitted from each of its sources in order to prioritize emission reductions," said Denise Mauzerall, a co-author and core faculty member of the Center for Policy Research on Energy and the Environment at Princeton University. "We hope our work will facilitate improved emission estimates and reductions not only from the UK but also from other countries producing methane from oil and gas extraction," Mauzerall said.
Due to its climate and indirect health impacts (methane is a precursor for ozone which is an air pollutant that damages human health and crops), methane mitigation has recently become a global policy priority. Its relatively short lifetime of about 12 years and high heat trapping ability per molecule makes reducing methane emissions among the most effective ways to slow the rate of climate warming. As a result, in 2021 countries signed the Global Methane Pledge, committing to reduce methane emissions by at least 30% of 2020 levels by 2030. To track progress, countries compile national emissions data into inventories, such as the UK's National Atmospheric Emissions Inventory (NAEI), which are then reported to international monitoring bodies.
This study focuses on methane leakage associated with discovery, extraction, and production of oil and natural gas. These methane emissions are typically calculated by multiplying the activity level of various processes – namely venting, flaring, processing and combustion activities on production platforms, offshore oil loading, and gas transfer by high-pressure pipelines – by "emission factors," which are standard estimates of the methane emissions associated with each activity.
The researchers found that the emissions factors used in the UK's reporting are either outdated, rely on unpublished or publicly unavailable industry research, or use generic values recommended by the IPCC. Furthermore, these emission factors are usually "static," meaning that they are not sensitive to factors such as environmental conditions and management practices which could affect emissions from various processes. In addition, leakage can occur when the off-shore rigs are idle – an "activity" that does not currently have an associated emission factor.
Noting these shortcomings, Riddick and Mauzerall updated and revised estimation techniques for each process, and, wherever possible, used dynamic rather than static emission factor formulations that account for varying environmental conditions. They also incorporated direct boat-based measurements of methane concentrations around offshore gas platforms in the North Sea collected in summer 2017, documented in a study also led by Riddick and Mauzerall. These updates resulted in a total methane emission estimate more than five times larger than reported emissions.
"Methane emissions from offshore facilities are currently largely uncertain, and because sources on facilities only emit for a short time period, using direct survey methods such as satellite or drones will probably only capture about 25% of the actual emissions," said Stuart Riddick, lead author and research scientist at Colorado State University. "To generate representative baseline emissions across the sector, we need to work with industry to develop practical, effective, and collaborative measurement strategies," Riddick said.
Previous research has shown that reducing leakage across the oil and natural gas supply chain can advance climate and air quality goals while also being economically profitable – a win-win opportunity for industry and climate.
This study adds to a growing base of literature finding that current measurements of anthropogenic methane emission inventories are too low. With the world's first "global stocktake" on progress implementing the Paris Agreement concluding in 2023, the researchers argue that improved measurement of emissions deserves urgent attention.
"We are hopeful that our work will facilitate more accurate emission inventory development and lead to critically important reductions of methane leakage – a win for both industry and the environment," Mauzerall said.
Source: Centre for Policy Research on Energy and the Environment, Princeton University, Glen Chua and Keely Swan
The Research and Innovation Center for Graphene and 2D Materials (RIC-2D) based in Khalifa University of Science and Technology, an internationally top-ranked research-intensive university located in Abu Dhabi, UAE and Zero Carbon Ventures, a company dedicated to bringing carbon-reducing technologies to the Middle East, have joined forces to develop local applications for carbon reduction LOOP technology developed by UK climate tech company, Levidian Nanosystems.
The RIC-2D at Khalifa University and Zero Carbon Ventures have erected a site for the carbon-reducing technology at the Arzanah Complex at the university's Sas Al Nakhl (SAN) Campus, in Abu Dhabi. Research will be conducted on the system's input and outputs, to develop its applications for different waste gas blends, such as those in the oil and gas industry, agriculture, landfill, and wastewater treatment plants.
Levidian's LOOP technology demonstrates the ability to process captured methane as a key tool in the journey to a decarbonised world. Methane is cracked to produce Hydrogen, a fuel of the future, and Graphene which has the potential to impact a broad range of industries.
Earlier this year, Zero Carbon Ventures partnered with Levidian to deploy their innovative LOOP technology in the UAE.
The partners will work together on a project-by-project basis – initially on the LOOP technology, but with a vision to collaborate on other programs in the future.
Dr. Hassan Arafat, Senior Director, RIC-2D said: "RIC-2D is pleased to partner with Zero Carbon to jointly work on local applications for carbon reduction LOOP technology developed by Levidian Nanosystems. The cutting-edge Graphene and Hydrogen production technology installed at Khalifa University's SAN Campus demonstrates our emphasis on bringing world-class innovative Graphene technologies to the UAE and the region. RIC-2D researchers will focus on developing applications for different waste gas blends, such as those in the oil and gas industry, agriculture, landfill, and wastewater treatment plants."
Martin Reynolds, CEO of Zero Carbon Ventures "Methane is one of the worst greenhouse gasses when liberated to the atmosphere. This technology from Levidian is a great example of the kinds of technology we aim to support the development of in the region. We have big plans to deploy it across industry in the UAE, initially, with a particular focus on decarbonizing waste methane from landfill sites. Our partnership with Khalifa University; one of the world's best science and technology research centres, provides us with fantastic validation and support of the goals we have set ourselves. We are looking forward to seeing the results of this amazing work that will inevitably lead to advancements in the country's mission to achieve Net Zero."
The RIC-2D hosted by Khalifa University of Science and Technology is part of a strategic investment by the Government of Abu Dhabi, in the UAE, to advance the scientific development and commercial deployment of technologies derived from graphene and other 2D materials. RIC-2D serves as an integral part of an advanced materials innovation ecosystem being developed in Abu Dhabi.
Alpha Petroleum, Energean UK and Orsted agree to explore the repurposing of a UK Southern North Sea
gas platform as a potential compensation measure for offshore wind.
The provision of artificial nesting sites is considered a viable compensation measure for the potential impact
of offshore wind development on certain seabird species, including the black-legged kittiwake (kittiwake).
Kittiwake have been observed readily utilising man-made structures and Orsted's recent offshore surveys
of platforms in the North Sea have shown large numbers of nests on a number of platforms.
Orsted engaged extensively with installation owners in the Southern North Sea to identify candidate
platforms, while undertaking its own survey to confirm the distribution of nesting kittiwake colonies across
gas facilities in the area. The surveys also assessed the suitability of the platforms to provide compensation
while taking into account their respective decommissioning timeframes and the willingness of platform
owners and operators to consider adapting plans to facilitate innovative repurposing.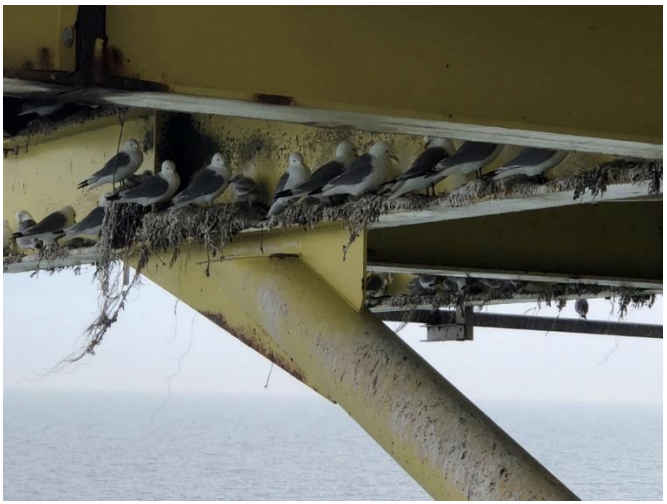 The Wenlock platform has an established kittiwake colony with around 69 apparently occupied nests
counted in the June 2022 survey – an increase on past counts. The platform is nearing the end of its economic producing life and is scheduled for the plugging and abandonment of wells from 2023. Following decommissioning, this nesting site would no longer be available, but the repurposing
of the platform, with the topside design developed to attract further nesting kittiwake, presents
an opportunity to preserve and increase this colony for many future breeding seasons ahead.
Fiona Goodfellow, Energean UK country Manager, commented: "Environmental, Social and Governance
(ESG) is at the heart of Energean operations and we are delighted to have partnered with like-minded
organisations on this project. It is particularly pleasing to work towards a positive and lasting legacy from our UKCS operations. The Wenlock platform has already established itself as a new seabird nesting site and
we are very excited to see plans progressing which may assist this valuable kittiwake population to prosper
and grow long into the future."
About Alpha Petroleum
Alpha Petroleum Resources Limited is a privately owned upstream oil and gas operator, focusing on
operated appraisal, development and production activities in the UK sector of the North Sea. Alpha was
established in 2000, acquired its first three licences in 2001, was appointed as a Production Operator in
2002 and achieved first production from its Helvellyn gas field in early 2004. Three further gas fields –
Kilmar, Wenlock and Garrow – were brought on stream in the period 2005-2007. In addition to maximising
production from its gas fields Alpha has been focusing on the development of the Cheviot project and
looking for opportunities to expand the current portfolio.
For further information visit:
www.alphapetroleum.com
About Energean
Established in 2007, Energean is a London Premium Listed FTSE 250 and Tel Aviv Listed TA-35 E&P company with operations in eight countries across the Mediterranean and UK North Sea. Since IPO, Energean has grown to become the leading independent, gas-focused E&P company in the Eastern Mediterranean, with a strong production and development growth profile. The Company explores and invests in new ideas, concepts and solutions to produce and develop energy efficiently, at low cost and with a low carbon footprint.
For further information please visit https://www.energean.com/
About Orsted
The Orsted vision is a world that runs entirely on green energy. Orsted develops, constructs and operates
offshore and onshore wind farms, solar farms, energy storage facilities, and bioenergy plants, and provides
energy products to its customers. Globally, Orsted is the market leader in offshore wind and it is constructing the world's biggest offshore wind farms off the East Coast of the UK. Its UK offshore wind farms generate enough clean electricity for over 4.4 million UK homes. Orsted ranks #1 energy company in
Corporate Knights' 2022 index of the Global 100 most sustainable corporations in the world. Headquartered in Denmark, Orsted employs 7,016 people, including over 1,100 in the UK
Visit orsted.co.uk or follow us on Facebook, LinkedIn, Instagram and Twitter.
Source: Press release
Plans for the development on Teesside of a huge waste to sustainable aviation fuels (SAF) project by the Saudi Arabian business 'alfanar' have moved forward.
Last year the company secured support from the UK government worth £2.4 million under the green fuels Lighthouse project for its proposed plant in north east England.
Alfanar has plans for a £1 billion Teesside sustainable aviation fuels plant taking in one million tonnes of waste a year. The technology to be used is described as an "innovative waste-to-liquid (WtL) process utilising gasification and Fischer-Tropsch technology to convert household and commercial waste, otherwise destined for landfill or incineration, into approximately 180 MM litres of SAF and naphtha".
Targets
SAF is becoming important within the airline industry as governments, which includes the European Union, are setting targets for the use of SAF in aircraft fuels to reduce the carbon emissions from aircraft.
There is competition to be the front-runners for such projects and earlier this Summer alfanar announced that its Teesside SAF plant had entered the Front-End Engineering and Design stage which could see it producing "green fuel" by 2027.
However, to help ensure the viability of the plant, alfanar said it was calling on the UK government to introduce a "price stability mechanism for early SAF projects".
Contractor for the FEED phase is Worley and the company said of the appointment: "this milestone makes the project the most advanced SAF facility in the UK today, and is due online in 2027."
The plant is to be built in Teesside's net zero industrial cluster and, claimed alfanar, has the potential to utilise the East Coast Cluster's carbon capture and storage (CCS) infrastructure, due to be available from the mid-2020s, to further reduce the SAF's carbon intensity.
alfanar has also said that it is "actively evaluating other UK sites for its second and third SAF plants to be built by 2030 and 2035 respectively, and plans to develop further green projects in the UK and beyond utilising CCS and hydrogen infrastructure".
Potential
Mishal Almutlaq, chief investment officer of alfanar said:"With the third largest aviation network in the world, and with one of the world's largest potential offshore CO2 stores, the UK has the industrial and geological advantages to become a global leader in developing green aviation fuel with the lowest possible emissions using CCS technology. That is why we want to build our first ever SAF plant in the UK by 2027 and two further plants by 2035.
Mr Almutlaq continued: "To deliver net zero aviation, the Government has already established the Jet Zero Council, has announced grant funding for SAF projects, and is consulting on a Jet Zero Strategy. To continue this leadership, and to enable alfanar's first SAF project and other similar early projects to progress, price certainty is also needed. We are therefore today calling on the UK Government to progress the SAF mandate and introduce a price stabilisation mechanism such as a Contract for Difference for SAF."
Greener flying
Aviation Minister Robert Courts MP said: "Aviation will be central to our future growth, so it's essential we deliver greener flying. Thanks to alfanar's investment the UK could be producing cleaner fuel in a few years, not only making us more sustainable, but also creating more jobs and strengthening our economy."
Tees Valley
Mayor of Tees Valley Ben Houchen said: "Whether it be in hydrogen, CCUS, offshore wind or sustainable aviation fuel, Teesside has established itself as a global centre for developing the green technologies that will mean we can achieve our ambitious net zero targets."
Mayor Houchen continued: "This milestone by alfanar is another first, and further strengthens our region's position as the number one place to develop new clean energy tech. alfanar's sustainable aviation fuel plant will create 700 good-quality well paid jobs during construction and 240 full time roles when operational, fuelling our economy whilst reducing the emissions from a huge number of flights."
Fines have been issued for breaches of climate change schemes which are in place to help ensure the UK reaches its target of net zero emissions by 2050.
More than 30 companies have been issued with fines by the Environment Agency as part of efforts to reduce greenhouse gas emissions.
The fines have been issued for breaches of climate change schemes which are in place to help ensure the UK reaches its target of net zero emissions by 2050.
Under the EU Emissions Trading System, firms running power plants and energy companies were fined after under-reporting their emissions for a specific year, while others failed to submit the necessary reports outlining their emissions for a specific year.
Under the Climate Change Agreements scheme, brewing and automotive companies are among those fined after failing to sufficiently reduce their energy use and carbon dioxide emissions – having signed up for a voluntary agreement with the Environment Agency which entitled them to a discount on the Climate Change Levy for doing so.
And under the Energy Savings Opportunity Scheme, firms including those involved in insurance and the manufacture of machinery have been fined for failing to complete audits of the energy used by their business and failing to identify cost-effective energy saving measures.
The fines published in July cover the 2020-21 financial year, with more than £27 million of fines issued to 33 companies for breaches of the European Union Emissions Trading System, CRC Energy Efficiency Scheme, Energy Savings Opportunity Scheme and Fluorinated Greenhouse Gas regime.
Liz Parkes, Deputy Director for Climate Change at the Environment Agency, said:
These schemes are an important part of the nation's efforts to reduce emissions and hit net zero by 2050.

The fines should serve as an important reminder for all organisations to ensure that they are compliant with these schemes and are playing their part in tackling climate change.
The UK is a world leader in the global effort to tackle climate change and was the first major economy to legislate to cut its greenhouse gas emissions to net zero by 2050. The UK has set in law a highly ambitious climate change target, to cut emissions by 78% by 2035 compared with 1990 levels and to net zero by 2050.
Further information:
The Environment Agency is responsible for the enforcement against breaches of the European Union Emissions Trading Scheme (EU ETS), which from 2021 was replaced by the UK Emissions Trading Scheme (UK ETS); the CRC Energy Efficiency Scheme (CRC); Energy Savings Opportunity Scheme (ESOS); Fluorinated Greenhouse Gas regime (F Gas); and Climate Change Agreements (CCA) in England.
EU Emissions Trading Scheme: Qualifying organisations must surrender allowances equivalent to the amount of their emissions for each scheme year. If they fail to surrender sufficient allowances they may be subject to enforcement and receive a civil penalty. The fines levied under the EU Emissions Trading Scheme are mandatory and the Environment Agency has no discretion when taking enforcement or over the size of the penalty.
Energy Savings Opportunity Scheme: Qualifying organisations must carry out  audits of the energy used by their buildings, industrial processes and transport to identify cost-effective energy saving measures. If they fail to complete these audits they can be subject to enforcement and receive a civil penalty.
Climate Change Agreements: These are voluntary agreements between UK industry and the Environment Agency to reduce energy use and carbon dioxide (CO2) emissions. In return, operators receive a discount on the Climate Change Levy (CCL) which is a tax added to electricity and fuel bills. If an operator fails to meet the requirements of their agreement then it may be subject to enforcement and receive a civil penalty.
Source: Environment Agency UK
Burberry announced today that its carbon reduction targets to reach net-zero emissions by 2040 have been approved by the Science Based Targets initiative (SBTi).
Burberry has become the first luxury brand to receive approval from SBTi, which assesses companies climate action and ensures they are in line with the Paris Agreement.
The fashion giant's net-zero ambition for 2040 targets Scope 1, 2 and 3 emissions. Scopes 1 and 2 cover emissions generated from Burberry's own operations, such as electricity and gas in stores, manufacturing hubs and offices. Scope 3 refers to emissions in its extended supply chain, such as energy usage by manufacturing and material sourcing partners.
It aims to reduce Scope 1 and 2 emissions by 95% by 2023, compared to 2017 levels. Scope 3 emissions will be reduced by 46.2% by 2030, compared to 2019 levels.
Caroline Laurie, vice president of corporate responsibility at Burberry, said: "The Science Based Targets initiative (SBTi) plays a critical role in ensuring ambitions set by businesses are in line with the latest climate science and will contribute to tackling the climate emergency. Rooting our commitments in science has always been a priority at Burberry, so we can ensure the steps we are taking will have the necessary impact and bring about lasting change.
"We continue to challenge ourselves to drive measurement, improvement and transparency across our operations and we are committed to continue working with our suppliers and partners to accelerate the adoption of more sustainable practices. We hope this encourages others to do the same."
Source: Drapers Online
---