A newer, more accurate method for calculating methane emissions from offshore oil and gas production suggests that the United Kingdom severely underestimates its greenhouse gas emissions. Researchers conclude that as much as five times more methane is being leaked from oil and gas production than reported.
Methane is the second most important greenhouse gas after carbon dioxide, contributing about 1 degree Fahrenheit of present-day global warming relative to pre-industrial times. One major source of methane to the atmosphere is the extraction and transport of oil and gas. Countries are obligated to report their greenhouse gas emissions to international bodies such as the United Nations Framework Convention on Climate Change, but recent studies suggest that the current methods for calculating methane emissions rely on outdated and incomplete information and may not accurately represent actual emissions.
A recent study from researchers at Princeton University and Colorado State University finds that the current method for estimating methane emissions from offshore oil and gas production in the United Kingdom systematically and severely underestimates emissions. The study finds that as much as five times more methane is being emitted from oil and gas production in the UK than what the government has reported. The researchers reached this conclusion by critically evaluating the UK's current method of calculating methane emissions, suggesting alternative, peer-review based methods and generating revised emission estimates.
Since many other countries use similar methodologies to calculate methane emissions from oil and gas production, this severe underestimation is likely not confined to the UK alone.
"It is critical to know when, where and how much methane is emitted from each of its sources in order to prioritize emission reductions," said Denise Mauzerall, a co-author and core faculty member of the Center for Policy Research on Energy and the Environment at Princeton University. "We hope our work will facilitate improved emission estimates and reductions not only from the UK but also from other countries producing methane from oil and gas extraction," Mauzerall said.
Due to its climate and indirect health impacts (methane is a precursor for ozone which is an air pollutant that damages human health and crops), methane mitigation has recently become a global policy priority. Its relatively short lifetime of about 12 years and high heat trapping ability per molecule makes reducing methane emissions among the most effective ways to slow the rate of climate warming. As a result, in 2021 countries signed the Global Methane Pledge, committing to reduce methane emissions by at least 30% of 2020 levels by 2030. To track progress, countries compile national emissions data into inventories, such as the UK's National Atmospheric Emissions Inventory (NAEI), which are then reported to international monitoring bodies.
This study focuses on methane leakage associated with discovery, extraction, and production of oil and natural gas. These methane emissions are typically calculated by multiplying the activity level of various processes – namely venting, flaring, processing and combustion activities on production platforms, offshore oil loading, and gas transfer by high-pressure pipelines – by "emission factors," which are standard estimates of the methane emissions associated with each activity.
The researchers found that the emissions factors used in the UK's reporting are either outdated, rely on unpublished or publicly unavailable industry research, or use generic values recommended by the IPCC. Furthermore, these emission factors are usually "static," meaning that they are not sensitive to factors such as environmental conditions and management practices which could affect emissions from various processes. In addition, leakage can occur when the off-shore rigs are idle – an "activity" that does not currently have an associated emission factor.
Noting these shortcomings, Riddick and Mauzerall updated and revised estimation techniques for each process, and, wherever possible, used dynamic rather than static emission factor formulations that account for varying environmental conditions. They also incorporated direct boat-based measurements of methane concentrations around offshore gas platforms in the North Sea collected in summer 2017, documented in a study also led by Riddick and Mauzerall. These updates resulted in a total methane emission estimate more than five times larger than reported emissions.
"Methane emissions from offshore facilities are currently largely uncertain, and because sources on facilities only emit for a short time period, using direct survey methods such as satellite or drones will probably only capture about 25% of the actual emissions," said Stuart Riddick, lead author and research scientist at Colorado State University. "To generate representative baseline emissions across the sector, we need to work with industry to develop practical, effective, and collaborative measurement strategies," Riddick said.
Previous research has shown that reducing leakage across the oil and natural gas supply chain can advance climate and air quality goals while also being economically profitable – a win-win opportunity for industry and climate.
This study adds to a growing base of literature finding that current measurements of anthropogenic methane emission inventories are too low. With the world's first "global stocktake" on progress implementing the Paris Agreement concluding in 2023, the researchers argue that improved measurement of emissions deserves urgent attention.
"We are hopeful that our work will facilitate more accurate emission inventory development and lead to critically important reductions of methane leakage – a win for both industry and the environment," Mauzerall said.
Source: Centre for Policy Research on Energy and the Environment, Princeton University, Glen Chua and Keely Swan
The Research and Innovation Center for Graphene and 2D Materials (RIC-2D) based in Khalifa University of Science and Technology, an internationally top-ranked research-intensive university located in Abu Dhabi, UAE and Zero Carbon Ventures, a company dedicated to bringing carbon-reducing technologies to the Middle East, have joined forces to develop local applications for carbon reduction LOOP technology developed by UK climate tech company, Levidian Nanosystems.
The RIC-2D at Khalifa University and Zero Carbon Ventures have erected a site for the carbon-reducing technology at the Arzanah Complex at the university's Sas Al Nakhl (SAN) Campus, in Abu Dhabi. Research will be conducted on the system's input and outputs, to develop its applications for different waste gas blends, such as those in the oil and gas industry, agriculture, landfill, and wastewater treatment plants.
Levidian's LOOP technology demonstrates the ability to process captured methane as a key tool in the journey to a decarbonised world. Methane is cracked to produce Hydrogen, a fuel of the future, and Graphene which has the potential to impact a broad range of industries.
Earlier this year, Zero Carbon Ventures partnered with Levidian to deploy their innovative LOOP technology in the UAE.
The partners will work together on a project-by-project basis – initially on the LOOP technology, but with a vision to collaborate on other programs in the future.
Dr. Hassan Arafat, Senior Director, RIC-2D said: "RIC-2D is pleased to partner with Zero Carbon to jointly work on local applications for carbon reduction LOOP technology developed by Levidian Nanosystems. The cutting-edge Graphene and Hydrogen production technology installed at Khalifa University's SAN Campus demonstrates our emphasis on bringing world-class innovative Graphene technologies to the UAE and the region. RIC-2D researchers will focus on developing applications for different waste gas blends, such as those in the oil and gas industry, agriculture, landfill, and wastewater treatment plants."
Martin Reynolds, CEO of Zero Carbon Ventures "Methane is one of the worst greenhouse gasses when liberated to the atmosphere. This technology from Levidian is a great example of the kinds of technology we aim to support the development of in the region. We have big plans to deploy it across industry in the UAE, initially, with a particular focus on decarbonizing waste methane from landfill sites. Our partnership with Khalifa University; one of the world's best science and technology research centres, provides us with fantastic validation and support of the goals we have set ourselves. We are looking forward to seeing the results of this amazing work that will inevitably lead to advancements in the country's mission to achieve Net Zero."
The RIC-2D hosted by Khalifa University of Science and Technology is part of a strategic investment by the Government of Abu Dhabi, in the UAE, to advance the scientific development and commercial deployment of technologies derived from graphene and other 2D materials. RIC-2D serves as an integral part of an advanced materials innovation ecosystem being developed in Abu Dhabi.
Alpha Petroleum, Energean UK and Orsted agree to explore the repurposing of a UK Southern North Sea
gas platform as a potential compensation measure for offshore wind.
The provision of artificial nesting sites is considered a viable compensation measure for the potential impact
of offshore wind development on certain seabird species, including the black-legged kittiwake (kittiwake).
Kittiwake have been observed readily utilising man-made structures and Orsted's recent offshore surveys
of platforms in the North Sea have shown large numbers of nests on a number of platforms.
Orsted engaged extensively with installation owners in the Southern North Sea to identify candidate
platforms, while undertaking its own survey to confirm the distribution of nesting kittiwake colonies across
gas facilities in the area. The surveys also assessed the suitability of the platforms to provide compensation
while taking into account their respective decommissioning timeframes and the willingness of platform
owners and operators to consider adapting plans to facilitate innovative repurposing.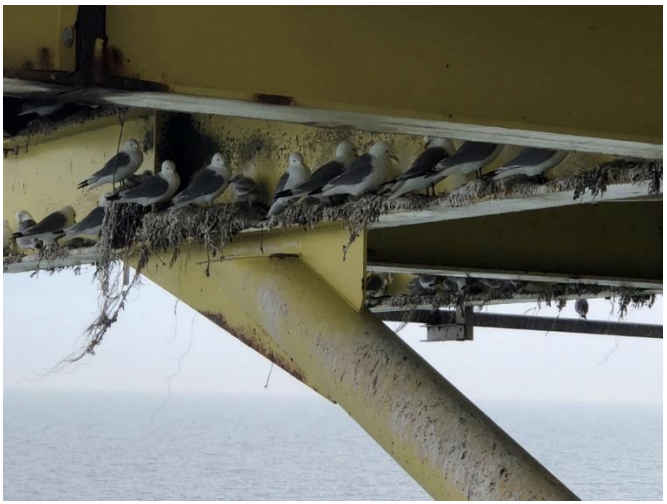 The Wenlock platform has an established kittiwake colony with around 69 apparently occupied nests
counted in the June 2022 survey - an increase on past counts. The platform is nearing the end of its economic producing life and is scheduled for the plugging and abandonment of wells from 2023. Following decommissioning, this nesting site would no longer be available, but the repurposing
of the platform, with the topside design developed to attract further nesting kittiwake, presents
an opportunity to preserve and increase this colony for many future breeding seasons ahead.
Fiona Goodfellow, Energean UK country Manager, commented: "Environmental, Social and Governance
(ESG) is at the heart of Energean operations and we are delighted to have partnered with like-minded
organisations on this project. It is particularly pleasing to work towards a positive and lasting legacy from our UKCS operations. The Wenlock platform has already established itself as a new seabird nesting site and
we are very excited to see plans progressing which may assist this valuable kittiwake population to prosper
and grow long into the future."
About Alpha Petroleum
Alpha Petroleum Resources Limited is a privately owned upstream oil and gas operator, focusing on
operated appraisal, development and production activities in the UK sector of the North Sea. Alpha was
established in 2000, acquired its first three licences in 2001, was appointed as a Production Operator in
2002 and achieved first production from its Helvellyn gas field in early 2004. Three further gas fields –
Kilmar, Wenlock and Garrow – were brought on stream in the period 2005-2007. In addition to maximising
production from its gas fields Alpha has been focusing on the development of the Cheviot project and
looking for opportunities to expand the current portfolio.
For further information visit:
www.alphapetroleum.com
About Energean
Established in 2007, Energean is a London Premium Listed FTSE 250 and Tel Aviv Listed TA-35 E&P company with operations in eight countries across the Mediterranean and UK North Sea. Since IPO, Energean has grown to become the leading independent, gas-focused E&P company in the Eastern Mediterranean, with a strong production and development growth profile. The Company explores and invests in new ideas, concepts and solutions to produce and develop energy efficiently, at low cost and with a low carbon footprint.
For further information please visit https://www.energean.com/
About Orsted
The Orsted vision is a world that runs entirely on green energy. Orsted develops, constructs and operates
offshore and onshore wind farms, solar farms, energy storage facilities, and bioenergy plants, and provides
energy products to its customers. Globally, Orsted is the market leader in offshore wind and it is constructing the world's biggest offshore wind farms off the East Coast of the UK. Its UK offshore wind farms generate enough clean electricity for over 4.4 million UK homes. Orsted ranks #1 energy company in
Corporate Knights' 2022 index of the Global 100 most sustainable corporations in the world. Headquartered in Denmark, Orsted employs 7,016 people, including over 1,100 in the UK
Visit orsted.co.uk or follow us on Facebook, LinkedIn, Instagram and Twitter.
Source: Press release
Plans for the development on Teesside of a huge waste to sustainable aviation fuels (SAF) project by the Saudi Arabian business 'alfanar' have moved forward.
Last year the company secured support from the UK government worth £2.4 million under the green fuels Lighthouse project for its proposed plant in north east England.
Alfanar has plans for a £1 billion Teesside sustainable aviation fuels plant taking in one million tonnes of waste a year. The technology to be used is described as an "innovative waste-to-liquid (WtL) process utilising gasification and Fischer-Tropsch technology to convert household and commercial waste, otherwise destined for landfill or incineration, into approximately 180 MM litres of SAF and naphtha".
Targets
SAF is becoming important within the airline industry as governments, which includes the European Union, are setting targets for the use of SAF in aircraft fuels to reduce the carbon emissions from aircraft.
There is competition to be the front-runners for such projects and earlier this Summer alfanar announced that its Teesside SAF plant had entered the Front-End Engineering and Design stage which could see it producing "green fuel" by 2027.
However, to help ensure the viability of the plant, alfanar said it was calling on the UK government to introduce a "price stability mechanism for early SAF projects".
Contractor for the FEED phase is Worley and the company said of the appointment: "this milestone makes the project the most advanced SAF facility in the UK today, and is due online in 2027."
The plant is to be built in Teesside's net zero industrial cluster and, claimed alfanar, has the potential to utilise the East Coast Cluster's carbon capture and storage (CCS) infrastructure, due to be available from the mid-2020s, to further reduce the SAF's carbon intensity.
alfanar has also said that it is "actively evaluating other UK sites for its second and third SAF plants to be built by 2030 and 2035 respectively, and plans to develop further green projects in the UK and beyond utilising CCS and hydrogen infrastructure".
Potential
Mishal Almutlaq, chief investment officer of alfanar said:"With the third largest aviation network in the world, and with one of the world's largest potential offshore CO2 stores, the UK has the industrial and geological advantages to become a global leader in developing green aviation fuel with the lowest possible emissions using CCS technology. That is why we want to build our first ever SAF plant in the UK by 2027 and two further plants by 2035.
Mr Almutlaq continued: "To deliver net zero aviation, the Government has already established the Jet Zero Council, has announced grant funding for SAF projects, and is consulting on a Jet Zero Strategy. To continue this leadership, and to enable alfanar's first SAF project and other similar early projects to progress, price certainty is also needed. We are therefore today calling on the UK Government to progress the SAF mandate and introduce a price stabilisation mechanism such as a Contract for Difference for SAF."
Greener flying
Aviation Minister Robert Courts MP said: "Aviation will be central to our future growth, so it's essential we deliver greener flying. Thanks to alfanar's investment the UK could be producing cleaner fuel in a few years, not only making us more sustainable, but also creating more jobs and strengthening our economy."
Tees Valley
Mayor of Tees Valley Ben Houchen said: "Whether it be in hydrogen, CCUS, offshore wind or sustainable aviation fuel, Teesside has established itself as a global centre for developing the green technologies that will mean we can achieve our ambitious net zero targets."
Mayor Houchen continued: "This milestone by alfanar is another first, and further strengthens our region's position as the number one place to develop new clean energy tech. alfanar's sustainable aviation fuel plant will create 700 good-quality well paid jobs during construction and 240 full time roles when operational, fuelling our economy whilst reducing the emissions from a huge number of flights."
Fines have been issued for breaches of climate change schemes which are in place to help ensure the UK reaches its target of net zero emissions by 2050.
More than 30 companies have been issued with fines by the Environment Agency as part of efforts to reduce greenhouse gas emissions.
The fines have been issued for breaches of climate change schemes which are in place to help ensure the UK reaches its target of net zero emissions by 2050.
Under the EU Emissions Trading System, firms running power plants and energy companies were fined after under-reporting their emissions for a specific year, while others failed to submit the necessary reports outlining their emissions for a specific year.
Under the Climate Change Agreements scheme, brewing and automotive companies are among those fined after failing to sufficiently reduce their energy use and carbon dioxide emissions – having signed up for a voluntary agreement with the Environment Agency which entitled them to a discount on the Climate Change Levy for doing so.
And under the Energy Savings Opportunity Scheme, firms including those involved in insurance and the manufacture of machinery have been fined for failing to complete audits of the energy used by their business and failing to identify cost-effective energy saving measures.
The fines published in July cover the 2020-21 financial year, with more than £27 million of fines issued to 33 companies for breaches of the European Union Emissions Trading System, CRC Energy Efficiency Scheme, Energy Savings Opportunity Scheme and Fluorinated Greenhouse Gas regime.
Liz Parkes, Deputy Director for Climate Change at the Environment Agency, said:
These schemes are an important part of the nation's efforts to reduce emissions and hit net zero by 2050.

The fines should serve as an important reminder for all organisations to ensure that they are compliant with these schemes and are playing their part in tackling climate change.
The UK is a world leader in the global effort to tackle climate change and was the first major economy to legislate to cut its greenhouse gas emissions to net zero by 2050. The UK has set in law a highly ambitious climate change target, to cut emissions by 78% by 2035 compared with 1990 levels and to net zero by 2050.
Further information:
The Environment Agency is responsible for the enforcement against breaches of the European Union Emissions Trading Scheme (EU ETS), which from 2021 was replaced by the UK Emissions Trading Scheme (UK ETS); the CRC Energy Efficiency Scheme (CRC); Energy Savings Opportunity Scheme (ESOS); Fluorinated Greenhouse Gas regime (F Gas); and Climate Change Agreements (CCA) in England.
EU Emissions Trading Scheme: Qualifying organisations must surrender allowances equivalent to the amount of their emissions for each scheme year. If they fail to surrender sufficient allowances they may be subject to enforcement and receive a civil penalty. The fines levied under the EU Emissions Trading Scheme are mandatory and the Environment Agency has no discretion when taking enforcement or over the size of the penalty.
Energy Savings Opportunity Scheme: Qualifying organisations must carry out  audits of the energy used by their buildings, industrial processes and transport to identify cost-effective energy saving measures. If they fail to complete these audits they can be subject to enforcement and receive a civil penalty.
Climate Change Agreements: These are voluntary agreements between UK industry and the Environment Agency to reduce energy use and carbon dioxide (CO2) emissions. In return, operators receive a discount on the Climate Change Levy (CCL) which is a tax added to electricity and fuel bills. If an operator fails to meet the requirements of their agreement then it may be subject to enforcement and receive a civil penalty.
Source: Environment Agency UK
Burberry announced today that its carbon reduction targets to reach net-zero emissions by 2040 have been approved by the Science Based Targets initiative (SBTi).
Burberry has become the first luxury brand to receive approval from SBTi, which assesses companies climate action and ensures they are in line with the Paris Agreement.
The fashion giant's net-zero ambition for 2040 targets Scope 1, 2 and 3 emissions. Scopes 1 and 2 cover emissions generated from Burberry's own operations, such as electricity and gas in stores, manufacturing hubs and offices. Scope 3 refers to emissions in its extended supply chain, such as energy usage by manufacturing and material sourcing partners.
It aims to reduce Scope 1 and 2 emissions by 95% by 2023, compared to 2017 levels. Scope 3 emissions will be reduced by 46.2% by 2030, compared to 2019 levels.
Caroline Laurie, vice president of corporate responsibility at Burberry, said: "The Science Based Targets initiative (SBTi) plays a critical role in ensuring ambitions set by businesses are in line with the latest climate science and will contribute to tackling the climate emergency. Rooting our commitments in science has always been a priority at Burberry, so we can ensure the steps we are taking will have the necessary impact and bring about lasting change.
"We continue to challenge ourselves to drive measurement, improvement and transparency across our operations and we are committed to continue working with our suppliers and partners to accelerate the adoption of more sustainable practices. We hope this encourages others to do the same."
Source: Drapers Online
---
Shoppers encouraged to trust own judgment as chain removes dates from packaged fruit and vegetables
Waitrose is removing best-before dates from nearly 500 fresh food products in an effort to reduce food waste.
From September, the staff-owned supermarket chain will scrap the dates on packaged fruit and vegetables, including lettuce, cucumber and peppers, to encourage consumers to use their own judgment about when food has gone off.
The move is expected to cut food waste by preventing people from throwing away products that are still edible, the retailer says.
The government-backed Waste Resources Action Programme (Wrap) estimates that removing dates on fresh fruit and veg could save the equivalent of 7m shopping baskets of food from the bin in the UK.
Potatoes are the most wasted food in the UK, followed by bread and milk, according to Wrap.
Best-before dates are intended to indicate food quality rather than safety. In contrast, use-by dates are given for safety and could result in food poisoning if ignored.
Waitrose is the latest to make the move as supermarkets change tactics to reduce food waste for environmental reasons and to reduce costs for shoppers and stores.
Earlier this month, Marks & Spencer axed best-before dates on more than 300 fruit and vegetable products after a successful trial.
Tesco led the way for the high street supermarkets when it got rid of best-before dates on more than 100 fresh food products in 2018.
In January, Morrisons announced plans to remove use-by dates on milk and encourage consumers to use a "sniff test" instead to determine if it is OK to consume.
Other efforts to reduce waste, and the carbon footprint of selling food, include the UK's biggest doorstep milk delivery service, Milk & More, tweaking its systems so that it uses 500,000 fewer bottles a year.
The company is sourcing more durable bottles and reducing friction between them on its filling lines so that each one can be used 15% more, after a steep rise in glass prices.
Marija Rompani, director of sustainability and ethics at the John LewisPartnership, which owns Waitrose, said: "UK households throw away 4.5m tonnes of edible food every year, meaning that all the energy and resources used in food production is wasted.
"By removing best-before dates from our products, we want our customers to use their own judgment to decide whether a product is good to eat or not, which in turn will increase its chances of being eaten and not becoming waste.
"By using up existing fresh food in our homes, we can also save on our weekly household food shop, which is becoming an increasingly pressing concern for many."
Experts at Wrap saybest-before dates on fruit and vegetables are not needed, and also contribute to the climate crisis.
Catherine David, director of collaboration and change at Wrap said: "Best-before dates on fruit and veg are unnecessary and create food waste because they get in the way of people using their judgment when food is still good to eat.
"We are absolutely delighted by this move from Waitrose which will help stop good food ending up in the bin."
Source: The Guardian
Lenovo and Stella McCartney will challenge MA Design students from Central Saint Martins to explore the relationship between fashion and technology during a live brief
One winner from the course will be offered an internship at Stella McCartney
World-leading technology brand, Lenovo is collaborating with iconic fashion designer and conscious luxury pioneer Stella McCartney, and world-renowned art and design college Central Saint Martins University of the Arts London, to help inspire and empower the next generation of designers on sustainable fashion design.
As a powerhouse innovator in all things design-led, Stella will inspire 38 students from the Central Saint Martins MA Design course to channel their desire to change the world for the better and apply their creativity in an eight-week live brief. They will each be tasked to explore the relationship between fashion and technology and create a sustainable solution that pushes the boundaries of where they intersect.
Following the design challenge, one winning student, as chosen by Stella, will be awarded a three-month internship at Stella McCartney in a department of their choice.
The collaboration puts the power for change in the hands of tomorrow's visionaries at Central Saint Martins and empowers them to make a real difference. To help the students unlock their creativity, Lenovo is providing cutting-edge Yoga PCs to each student who takes part.
Stella McCartney commented, "At my fashion house, creativity and technology have always gone hand-in-hand. That's why I am so excited to partner with Lenovo on this incredible project – coming together today so we can empower the creative visionaries of tomorrow at my alma mater, Central Saint Martins. As a progressive luxury brand, Stella McCartney has always looked to the future, and I know that Lenovo is as keen about protecting the planet as I am. Together we are excited to be able to support the next generation of talent in developing something entirely new in sustainable fashion, and I cannot wait to see the results!"
Simon Fraser, Course Director MA Design, Central Saint Martins commented, "Key to the work we do as a course is an understanding that the sustainability and ethicality of production is an urgent challenge to each of our disciplines, ceramics, furniture and jewellery. We are delighted to have the opportunity to test the principles and practices of MA Design with our inspirational alumna Stella McCartney and the forward-thinking team at Lenovo. The students and the staff have embraced this challenge."
Brian Leonard, Vice President of Design Innovation, Lenovo commented, "At Lenovo, we are always striving to create innovative and smarter solutions to build a more sustainable future, which is why collaborating with Stella McCartney and Central Saint Martins felt so right. It's bringing together leaders of three different sectors – fashion, design and technology – all of which all share the same values of delivering meaningful change. Through this partnership we are setting the stage for the future generation of those looking to change the world and we're very excited to see what is created."
Sustainability underpins everything at Lenovo, from new products to its global supply chain. The company has recently outlined its vision to become net-zero by 2050. And by FY 2025/26, 100 percent of Lenovo PCs will contain post-consumer recycled materials and 90 percent of plastic packaging will be made from recycled materials. Lenovo also aims to enable the recycle and reuse of 363 million kilograms of end-of-life products and 136 million kilograms of post-consumer recycled content plastics will be used across the product portfolio.
The students taking part in the brief will each receive the latest Yoga convertible device packed with innovative features to help power their creativity. From streaming, to browsing, to photo and video editing and more, users can experience the real-world performance needed for their biggest breakthroughs on one of Lenovo's thin, light, and fast convertible laptops.
Lenovo also unveiled yesterday the next generation of its premium, ultra-slim Windows 11 Yoga laptops, including the Yoga Slim 7i Pro X enabling creation anywhere, anytime. This laptop was created with sustainability in mind; it's delivered at your doorstep within a recycled cushion and FSC approved paper box, its battery pack is made from 25% recycled content, whilst its 100W adapter is made from 30% recycled content. The Slim 7i Pro X is also EPEAT Silver certified and offers a CO2 Offset service, so consumers will be able to enjoy Lenovo's newest technology, whilst also helping to achieve their sustainability goals.
Source: Lenovo
THE OVO Hydro, a Scottish Event Campus (SEC) venue, has today been announced as the first arena in the world to achieve A Greener Arena (AGA) certification for its commitment to sustainability. AGA takes a holistic approach to sustainability, not only looking at emissions and environmental impacts but also people, inclusion and wellbeing.
The award was officially presented to the OVO Hydro at today's Green Events and Innovations Conference, part of the wider International Live Music Conference (ILMC) being held in London.
AGA is awarded by A Greener Festival (AGF), a not-for-profit company committed to helping events, festivals and venues around the world including Glastonbury, Primavera Sound and Roskilde Festival, to reduce their environmental impact. AGF are pioneers in the event sustainability sector providing independent certification, training and expertise in helping facilitate best practice for over 15 years.
Assessors highlighted the OVO Hydro's commitment to reducing emissions, enhancing local biodiversity, and being an instrument of positive change on the arena tour circuit. They praised the venue's use of 100% renewable electricity, elimination of single use plastic cups at live events saving 2m cups per year, campus wide sustainable food strategy and expansion plans for electric vehicle charging points. The "outstanding" programme for inclusion, health and wellbeing for staff through the dedicated people department was also highlighted.
Title partner OVO Energy supported the venue's goal to achieve 'Greener Arena Certification' through funding of specific carbon-reduction and environmental initiatives. As part of the assessment, AGF will also share actionable recommendations with the OVO Hydro team that are designed to further evolve the venue's ongoing certification assessments in years to come.
Debbie McWilliams, Director of Live Entertainment at SEC, said: "More than ever we are focused on the impact our business has on the planet and are proud to be awarded A Greener Arena certification. Receiving such an accolade is further proof of our commitment to delivering a greener future for our events. Being the first arena in the world to accomplish this is a huge achievement and we hope this paves the way for others to follow. It is a significant milestone on our journey towards net zero by 2030, and a real credit to the team who work so passionately on implementing our sustainability strategy."
James Watts, Head of PR & Sponsorships, OVO Energy said: "We're proud to work with partners who support our commitment to drive progress to zero carbon living. By becoming the world's first arena to achieve the 'A Greener Arena' certification the OVO Hydro is sending a clear signal to the industry that lower-impact live events are possible. We will continue to support the OVO Hydro to further reduce its carbon footprint, so fans and artists alike can perform in a venue that's supporting our collective goal; saving the planet."
As the first arena in the world to achieve the certification, the team at AGF also view today's announcement as a milestone and catalyst for ongoing industry-wide progress and change.
Claire O'Neill, Co-Founder of AGF said: "A Greener Festival was launched in 2007 and since then we've assessed over 1000 events, tours and venues across 5 continents, providing the first and only sustainable event certification including on site assessment of practical implementation and independent verification across 11 categories of event analysis, and the first dedicated arena certification. We're delighted for the team at the OVO Hydro, and we hope that this leads the way for more arenas to get involved in the process."
The milestone supports The SEC's overall sustainability ambitions and adds to the significant moves it has already made towards reducing its carbon footprint and achieving net zero by 2030. Alongside 100% renewable electricity and elimination of single use plastic cups at live events, the campus has implemented a sustainable food strategy where a minimum of 80% of all ingredients are sourced in Scotland as well as reducing food waste to below 1%. The strategy combines working with staff, organisers, partners and visitors to support the net zero journey.
Source: Scottish Business News
Burger King has announced that it will be piloting a new range of reusable and returnable packaging for burgers, sides, and drinks across selected restaurants with the global re-use platform, Loop.
The new range will include a reusable clamshell burger container and cup. Burger King says it will be the first fast-food restaurant in the UK to pilot the reusable clamshell containers for burgers from Loop.
According to Burger King, customers can choose to purchase 10 of its products in Loop reusable packaging. This includes Whopper and Crispy Chicken burgers, with the option to make it a medium meal combo with a reusable cup for soft drinks. The reusable packaging is also available with some six- and nine-piece sides, like Chilli Cheese Bites, Onion Rings, Chicken Fries, and Chicken Nuggets.
To take part in the scheme, Burger King customers will have the option to pay a £1 deposit for a reusable cup or container instead of using single-use packaging. Customers can then return the reusable packaging by scanning its barcode on the Loop app and placing it in a Loop bin, which will be outside select Burger King restaurants where the trials are taking place.
The £1 deposit will be refunded upon return of the cups or containers, Burger King adds, with all reusable packaging then being professionally cleaned using Loop's cleaning system. Each item will apparently be sanitised before it returns to circulation in-store.
The Loop reusable packaging will be trialled at four Burger King restaurants in Ipswich and one in Newmarket from the 26th of April 2022 until the 5th of September 2022. If the trial is successful, Burger King says it will potentially explore rolling out the packaging nationwide on a permanent basis.
Burger King says the reusable packaging is part of its plans to reduce carbon emissions, with a target of a 41% reduction in value chain emissions per restaurant by 2030. The restaurant chain has also pledged to 0% single-use plastic by 2025.
Nicola Pierce, director of commercial planning and ESG at Burger King UK, comments: "We're delighted to unveil a trial range of re-usable and returnable packaging for our restaurants.
"The launch of the new packaging from Burger King UK will include the first-ever reusable and returnable 'clamshell' for burgers and sides in the UK.
"We're excited to see how the trial performs over the next five months and help us reach our goal of eliminating single-use plastic within our restaurants by 2025."
Tom Szaky, founder and CEO of TerraCycle and Loop, adds: "The partnership between Loop and Burger King UK enables customers in selected UK restaurants a simple and convenient way to trial re-usable packaging when ordering their favourite burgers, sides and drinks.
"Consumer demand for more sustainable options is at an all-time high and the customer response to this exciting trial will be used to inform future plans for a long-term reusable and returnable packaging scheme."
Last year, McDonald's partnered with Loop to pilot a returnable coffee cup scheme in six of its UK stores, which were also made available to customers for a £1 deposit refunded upon the return of the cups for cleaning and reuse. 
Source: Packaging Europe