Dubai's Roads and Transport Authority (RTA) has rolled out its 'Zero-Emissions Public Transportation in Dubai 2050' strategy, which makes it the first Middle Eastern agency to develop a long-term strategy for migrating towards Net-Zero Emission Public Transport by 2050. With this strategy, RTA aims to contribute to mitigating climate change and minimise its carbon footprint across three areas: public transportation, buildings and related facilities, and waste management.
The new strategy is aligned with UAE's preparations for COP28 and the UAE Net Zero by 2050 Strategic Initiative, and is a part of RTA's ongoing efforts to advance sustainability maturity levels in roads and transportation and achieve global leadership in sustainable mobility. It seeks to bolster the flexibility of public transport infrastructure and its impact on climate change in line with the UAE Net Zero by 2050 Strategic Initiative, transitioning from pledges to tangible achievements.
Consistent with the goal of the Dubai Economic Agenda D33 to consolidate the emirate's status as one of the world's top urban economies, RTA's new strategy aims to achieve multiple objectives over the coming years. The primary objectives include the decarbonisation of all taxis, limousines, and public buses, designing buildings with near-zero energy consumption, sourcing energy from renewable sources, and eliminating municipal waste by sending zero waste to landfills. The strategy will result in reducing carbon dioxide emissions by 10 million tonnes and realising financial savings worth AED3.3 billion in comparison to current operations.
Mattar Al Tayer, Director-General and Chairman of the Board of Executive Directors, RTA, said, "The new strategy outlines a comprehensive approach to sustainability within RTA. Its primary objective is to enhance sustainability and reduce carbon dioxide emissions. At the same time, it contributes to realising RTA's mission of achieving global leadership in smooth and sustainable mobility through innovative roads and transport services that elevate the customer experience to world-class standards.
"The new strategy encompasses ten initiatives, covering various RTA sectors and agencies, in addition to partnerships with the private sector that contribute to implementing the strategy over five years. The strategy will review, adjust and align future goals with changing circumstances.
"Under the theme 'Zero-Emissions Public Transportation in Dubai 2050', the strategy is aligned with the UAE's commitments to environmental and sustainability goals at global, national and local levels such as the Paris Climate Agreement and the United Nations Sustainable Development Goals. It is also consistent with national strategies such as the UAE Net Zero 2050 Strategic Initiative, The UAE's Green Agenda – 2030, National Climate Change Plan of the UAE 2050 and the UAE Energy Strategy 2050.
"The strategy is also linked to local initiatives, such as Dubai Carbon Abatement Strategy 2030, the Clean Energy Strategy 2050, Dubai Demand Side Management Strategy 2030, the waste management plan in Dubai, Dubai Climate Change Adaptation Strategy, and other relevant strategies, agreements and initiatives," Al Tayer added.
RTA's Board of Executive Directors reflected on various aspects, opportunities, and challenges associated with the new strategy and its implementation. These include the costs of novel green technologies, the distribution of targets and their review over time, the importance of the availability of energy technology providers, particularly for electric buses and hydrogen fuel production stations, and other factors that contribute to the execution of the new strategy.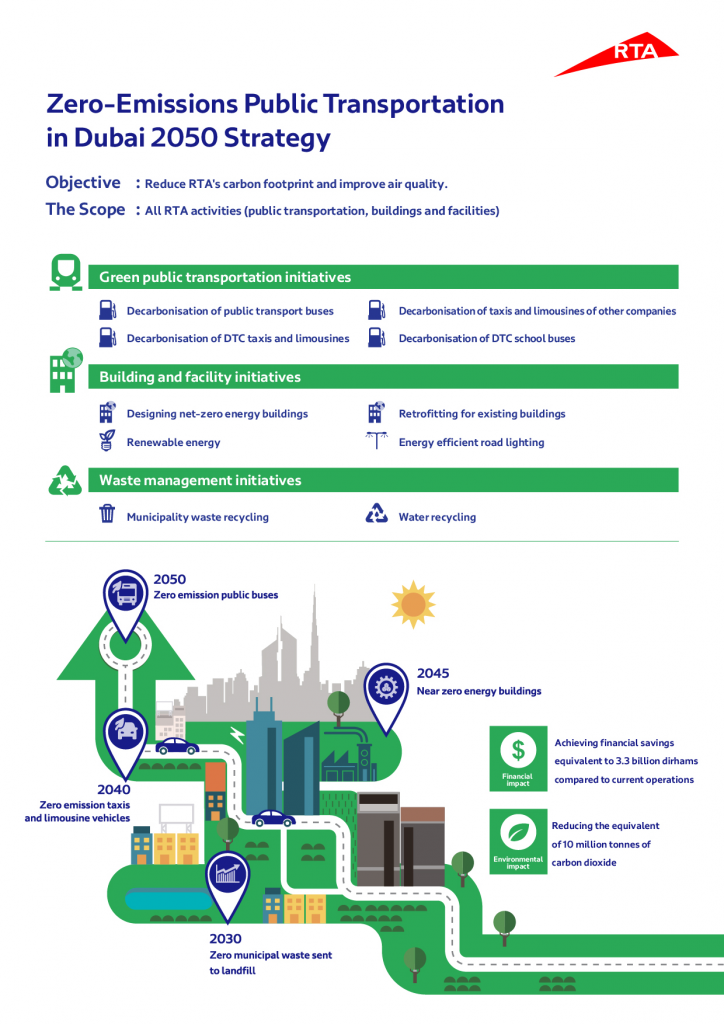 Taxis and buses
The new strategy specifies the target rates to be achieved over the upcoming years to reach net-zero emissions by 2050 in the three categories, namely: green public transportation, buildings and facilities, and waste management. It entails converting 10 percent of public transport buses into electric and hydrogen buses by 2030, which will be expanded to 20 percent in 2035, 40 percent in 2040, 80 percent in 2045, and ultimately 100 percent by 2050. It also encompasses the conversion of 30 percent of taxis and limousines in the emirate to electric and hydrogen vehicles by 2030, which will be increased to 50 percent by 2035 and 100 percent by 2040.
The plan aims to convert 10 percent of DTC's school buses into electric and hydrogen buses by 2030, which will be raised to 30 percent in 2035, 50 percent in 2040, 80 percent in 2045, and 100 percent by 2050.
Buildings and facilities
The strategy entails retrofitting RTA's buildings and facilities with solar cell systems. A total of 24 buildings and facilities will see the installation of solar panels before 2025 and the scope of this will be extended to all other buildings and facilities according to feasibility studies. The goal is to retrofit and upgrade 74 percent of the buildings by 2030, expanding it to 83 percent by 2035, and finally achieving 100 percent by 2045.
New buildings will be near zero energy, starting in 2025.
Existing streetlights will also be retrofitted so that all of them are 100 percent energy efficient, provided the application continues on all new projects.
Waste management
Regarding waste management, programmes will be implemented to reuse and recycle 100 percent of municipal waste by 2030, thus achieving the goal of zero municipal waste to landfills, as well as increasing the use of recycled water in RTA's buildings and facilities to 40 percent by 2050.
Exceptional achievements
RTA has recorded significant accomplishments in sustainability. From 2014 to 2022, its energy and green economy initiatives have contributed to saving electricity by approximately 360 gigawatt-hours, and water savings of 300 million gallons, as well as saving around 88 million litres of gasoline, and 10 million litres of diesel. This is equivalent to avoiding 416,000 tonnes of equivalent emissions, yielding savings of approximately AED420 million.
RTA is the world's first roads and public transportation entity to release a sustainability report adhering to the Global Reporting Initiative (GRI) standards and the international standard: ISAE3000 in 2018. In 2020, RTA also signed the United Nations Global Charter for Sustainable Development. This was achieved after aligning the data in the sustainability reports issued with the UN's goals that address global challenges, including poverty, inequality, climate, environmental degradation, peace, justice, human rights, and combating corruption.
Amjad Saleh, Emirates News Agency (WAM)
DP World cut direct carbon emissions from its global operations by 5 percent last year, according to its latest Environmental Social and Governance (ESG) report, reflecting progress towards its 2040 carbon neutral target.
The ESG report, published today, demonstrates the company's commitment to sustainable business practices, has been developed in accordance with the latest Global Reporting Initiative (GRI) Standards.
Over the course of 2022, DP World has tightened its ESG Governance and Risk Management framework, launched an Executive Sustainability Council to provide strategic guidance on the Group's sustainability strategy and ESG metrics, integrated ESG as a risk into our corporate enterprise risk register, and published its first stand-alone ESG Report c 2021 – a significant milestone for the business.
Maha Al Qattan, Group Chief People and Sustainability Officer, DP World, said, "At DP World, we believe in enabling resilience, and building a smart and sustainable future that generates long-term societal impact. In 2022 we saw continued global headwinds but that challenged us to push new frontiers of collaboration. I'm proud that we have cut our direct carbon emissions by 5 percent, and significantly increased our community contributions. We recognise our impact and are continuing to look at how we use our resources responsibly, on issues from education to WASH infrastructure, in line with our clear roadmap for the future."
DP World has deepened its ties with partners to advance two of its key legacy pillars of Women and Water. Group Chairman and CEO, Sultan Ahmed Bin Sulayem was announced as the Middle East's first HeForShe champion by UN Women on International Women's Day last year and the company entered a 3-year global partnership with WaterAid to deliver water, sanitation, and hygiene (WASH) infrastructure, starting in Mozambique.
DP World also participated in the World Economic Forum (WEF) Annual Meeting in Davos and the United Nations General Assembly (UNGA) signalling its commitment to ESG progress and expanding its network of partners and advocates.
Decarbonisation is a core focus for DP World and the business has already committed to becoming carbon neutral by 2040 and net zero carbon by 2050 in line with the UAE's 2050 net zero.
In November at COP 27, the chairman announced that DP World had joined the Green Shipping Challenge and committed to investing up to US$500 million to cut CO2 emissions by nearly 700,000 tonnes over the next five years. DP World has also entered a strategic partnership with the Maersk McKinney Moller Center for Zero Carbon Shipping and joined the UN Global Compact's Think Lab on Just Transition.
The report also highlighted DP World's total community contributions with a 34 percent increase from 2021, including several new strategic projects including UN Women, the Earth Shot Prize and in response to emergencies in 2022.
These have helped support more than 255,000 women and girls through community projects such as our partnership with Barefoot College International (BCI) to graduate solar engineers from rural Senegal. We also invested US$8.7 million in global education projects.
These efforts have not gone unnoticed in the supply chain industry. DP World has been recognised as the top ESG risk performer by Sustainalytics – a global leader in ESG and Corporate Governance research and ratings – winning the Sustainalytics 2022 Industry and Regional Top-Rated Badge, and achieved an A – (Leadership) rating in the CDP Climate Change submission. 
Source: Tariq Al Fahaam / Amjad Saleh, Emirates News Agency (WAM)
The UAE is taking a leaf out of the Netherlands' book in attempting to persuade young Emiratis to take up farming by using advanced technology – including artificial intelligence – to drum up interest in the agricultural sector.
UAE professors and government officials from the environment and education ministries recently met diplomats, private companies, farmers and academics in the Netherlands to discuss food security before Cop28, which will be held in Dubai this November.
The meetings were part of a series of dialogues to gain knowledge of how the Netherlands has retained its role as the world's second-largest exporter of agricultural produce after the US.
During field visits, experts from the Netherlands explained how AI, using real-time analysis of data, can monitor crop health round-the-clock.
AI systems can also help improve the quality of a harvest and detect disease in plants, with sensors providing detailed information to increase efficiency, forecast temperatures and predict the yield.
Agriculture no longer 'old fashioned'
Leo Marcelis, professor horticulture and product physiology at Wageningen University and Research in the Netherlands, said it was a struggle to capture the attention of young people.
"Students and young people are traditionally not so interested in agriculture because they think it's old-fashioned," he said.
"But when they see new technology, they say, 'Wow, this is innovation.'
"The young take sustainability really seriously and it attracts them to come here to study.
"With international collaboration we can ensure food is produced for people in the whole world in a sustainable way."
Ranked among the world's top agricultural research institutes, the university is known for cutting-edge studies and works with companies using greenhouses to employ technology to reduce water consumption and control the environment so crops can thrive.
Students have the option to study in applied agricultural science colleges or vocational schools that teach agricultural skills. Training and education is also available for farmers.
"We need to make farming attractive for young people. No farmers, no food," said one poster at an education institute.
Change the perception of young people
Oscar Niezen, senior adviser for international projects with the Lentiz Education Group, said it was important that UAE students understand the quality of life farmers could have.
The group organises training programmes for international students in the Netherlands that run from a week to nine months.
Students visit farms for internships and work in greenhouses growing vegetables and flowers.
"They see the life of the grower is comfortable, cool even," Mr Niezen said.'
"They understand it's not dirty. It's good for young people to actually see this because for students all over the world, agriculture has a bad name.
"Young people don't want to be farmers any more.
"But then they see how profitable it can be, that the grower has a nice car and house. Yes, he works hard but it's a good job.
"The technology used in modern greenhouses can help change the perception of young people.
"When they see all this, it comes alive."
Tech for the UAE
The UAE is aiming to become self-sufficient and produce fresh food locally.
Charbel Tarraf, chief of operations and development at the International Centre for Biosaline Agriculture, said that, to achieve this, a strategy was required to build vocational agricultural schools in the UAE to train young people.
The ICBA, based in Dubai, works with more than 50 countries, conducting crucial studies to improve the resilience of trees, irrigation efficiency and crop genome research.
"The UAE is at the start of its agricultural journey, the Netherlands is advanced and so we need to see how to learn from them," he said.
"To have successful agriculture, you need manpower, human capital."
He said sometimes in the Arab world, farmers are not as valued as they should be.
"But when you talk about entrepreneurship, technology that requires skill and bringing this to farms – that will definitely be an incentive for the young."
Elke Neumann, a professor of plant nutrition in United Arab Emirates University's College of Agriculture and Veterinary Medicine, said exchange programmes would build knowledge on both sides.
The UAEU in Al Ain is the only institute in the country that offers higher education programmes in horticulture, food sciences and agribusiness.
UAE citizens make up the majority of about 160 students in specialised agriculture programmes at the university.
"Most students join not because they don't find anything else to study but because they are really truly interested in agriculture," she said.
"More and more students are finding jobs in new private companies."
Over the past few years, the UAE has used technology to produce locally farmed salmon, berries and quinoa.
Vertical farms use a hydroponics system in which plants are grown in nutrient-rich water instead of soil.
Ms Neumann said the task before researchers was to develop unique systems to tackle harsh climate conditions.
"This requires confidence that we can find solutions specifically tailored to UAE requirements," she said.
"We need intrinsically to do something for our country and not always modify a solution that is imported.
"We require a massive expansion of our agri-research capacity and it absolutely can be achieved."
Disease detection
UAEU has joined forces with Khalifa University in Abu Dhabi to develop robotic technology for agriculture.
Irfan Hussain, assistant professor in Khalifa University's mechanical department, is keen to use AI to guard against the spread of diseases in plants.
"This is the future and is much needed for the UAE," he said.
"I do believe we can get the next generation excited because of the tech element and the promise of innovation."
UAE government officials said changing the mindset of local farmers to embrace technology and training was the way forward.
"We are looking to further develop our agricultural sector in terms of local production," said Ahlam Al Mannaei, an agricultural engineer with the Ministry of Climate Change and Environment.
"We will need more education and to develop strong communication with local farmers to shift from traditional farming to modern farms."
Source: Ramola Talwar Badam, The National
As the climate heats up, so does action to move to a cleaner energy future.
The UAE faces intense scrutiny and a towering diplomatic task to run the Cop28 conference in November. The Climate Tech event in Abu Dhabi earlier this month was a step forward in assembling the next suite of environment-friendly technologies.
The gathering saw the launch of the Decarbonisation Technology Challenge, offering a prize of up to $1 million for winners selected from 10 finalists in December.
Many exciting and innovative companies appeared — from known companies to start-ups. Without prejudice to any that aren't mentioned or others that may enter the competition later, some hitherto lesser-known companies span solutions to four of the critical climate challenges.
First, reducing emissions from the oil and gas sector itself — with the Abu Dhabi National Oil Company (Adnoc) one of the event's organisers, highlighting efforts to address the challenge. Fossil fuels still yield 83 per cent of global primary energy and will remain important even to 2050 and beyond, in a world on track for net-zero carbon. The surviving producers will be those that can keep their costs and carbon footprints low.
Companies such as the military and technology group Edge, G42 and AIQ, all based in Abu Dhabi, offer advanced digitalisation and artificial intelligence. Saildrone provides autonomous, solar-powered floating vehicles that collect maritime data, with obvious applications in keeping offshore oil and gas platforms safe and secure.
Second, to find solutions for what are called "hard-to-abate" sectors. The path to decarbonising electricity and ground transport is well understood — solar, wind, nuclear power and battery cars. Of course, these solutions have plenty of room for improvement. But heavy industry, long-distance shipping and air travel, and long-term energy storage need work. They are probably not so much "hard-to-abate", as "feasible to abate with the right technologies".
UK-based Carbon Clean raised $150 million last May, a record round for a point-source carbon capture company. Its modular system is intended to be more efficient and lower-cost, and able to be retrofitted to existing industrial or power plants, trapping their carbon dioxide for reuse or safe disposal.
Dubai-headquartered Enerwhere provides modular, mobile solar power and energy use optimisation for temporary or remote sites such as drilling rigs, tourist resort islands and construction. Commonwealth Fusion Systems secured a remarkable $1.8 billion in funding in November 2021 to advance the limitless energy source that fuels the Sun and the other stars.
Hydrogen is attracting avid attention across the Mena region. Its many advantages come with practical challenges on making and transporting it cost-effectively. Baker Hughes is well-known as an oil services major, but at the event it agreed with Adnoc to work on innovations in this light, clean energy carrier.
US-headquartered Ohmium makes proton exchange membrane electrolysers, which use electricity to split water into hydrogen and oxygen. Efficient, low-cost and long-life electrolysers are essential to bringing versatile hydrogen into the mainstream — as a way of storing electricity over long periods, providing heat and feedstock for heavy industries and a base for synthetic fuels.
Hydrogen is key to decarbonising four sectors — air travel, shipping, steel and fertilisers — which together account for more than 14 per cent of global greenhouse gas emissions.
Third, to build the future clean-energy economy. Here's where the event's other backer, the Ministry of Industry and Advanced Technology, comes in. The US, EU, China and India are pouring hundreds of billions – if not trillions — of dollars into manufacturing future energy materials and equipment. Other countries have to find where they can contribute and compete.
The humble building material cement produces as much as 8 per cent of global emissions and is an important industry in the UAE. Khalifa University showcased cement enhanced with the 2D material graphene, as well as one made from sulphur, a by-product from the petroleum industry.
Several other graphene innovators, such as Levidian and the University of Manchester's Graphene Innovation Engineering Centre, represented the circular carbon economy, which aims to reuse carbon indefinitely rather than releasing it into the air.
On a different track, LanzaTech uses bacteria to make synthetic fuels, chemicals and plastics from captured carbon dioxide.
And fourth, to reverse decades of past pollution. All credible pathways to keeping warming below 1.5°C or even 2°C by 2100 involve sucking huge amounts of carbon dioxide back out of the atmosphere.
1PointFive might one day rival its parent, the US-based Occidental, a leading oil and gas operator in the GCC and elsewhere. The subsidiary is working on a series of direct air capture facilities that remove carbon dioxide from the atmosphere and store it underground, starting with a $1 billion, 1 million tonne per year plant in Texas.
Vesta adds sand made from the mineral olivine to coastlines. This both protects against marine erosion and captures carbon dioxide as the ground-up mineral reacts. This mimics the natural weathering that forms Earth's long-term thermostat, but much faster.
44.01, led by Omani entrepreneur Talal Hasan, has a different twist on the same idea. It injects carbon dioxide and water into olivine-rich rocks, such as those found in the mountains of the UAE and Oman, and some other locations around the world. In January, the company agreed with Adnoc to start a pilot in Fujairah.
Many more technologies and companies were represented at Climate Tech and there is no doubt that others will compete for the prize.
It is essential to be bold and take some chances to get the best ideas operating in the real world on a massive scale.
The far bigger prize is global decarbonisation, which will make winners of the nations and corporations that lead it.
Source: Robin Mills, The National
Abu Dhabi Future Energy Company (Masdar) has nearly doubled its clean energy capacity and CO2 displacement in the space of two years, and is on track to become one of the world's largest renewable energy companies by 2030.
Masdar achieved a clean energy capacity of 20 GW in 2022, generated 18,000 GWh of clean energy and displaced 10 million tonnes of CO2, says Masdar's Sustainability Report, which covers its global operations for 2022 and highlights the launch of a Green Finance Framework, as well as the company's commitment to health and safety, and the achievements for programmes involving women and young people.
In addition to green financing, Masdar's Sustainability Report emphasised the company's commitment to become a global green hydrogen leader with plans to produce up to 1 million tonnes of green hydrogen per annum by 2030.
Green hydrogen
Masdar is focused on meeting green hydrogen demand domestically and internationally by targeting key segments, including aviation, ammonia, steel, maritime, power, refining and heavy-duty transportation.
Masdar is active in more than 40 countries across six continents and has invested, or committed to invest, in worldwide projects with a combined value of more than $30 billion.
The Sustainability Report provides clear evidence of the UAE's commitment to climate action and its credentials as a clean energy champion as it prepares to host COP28 later this year. With significant agreements and projects in the pipeline, Masdar is set to play a major role in the overall success of the UAE's Year of Sustainability in 2023.
Key deals
In 2022, Masdar signed several significant agreements in new and existing markets including Uzbekistan, Azerbaijan, Egypt, Jordan, Kyrgyzstan, Turkmenistan, and Tanzania. The Sharjah Waste-to-Energy project, the first commercial scale waste to energy project in the Middle East was inaugurated in partnership with BEEAH, and work continued on the Al Dhafra Solar Photovoltaic (PV) Independent Power Producer Project, set to be the world's largest single-site solar power plant upon completion.
Masdar has developed a Green Finance Framework to guide all future financing activities – including plans to become an issuer of Green Bonds in the debt capital markets – and to highlight Masdar's significant contribution to sustainability and alignment with best financial industry practices.
Dr Sultan Ahmed Al Jaber, UAE Minister of Industry and Advanced Technology, Chairman of Masdar and COP28 President-Designate, said: "In the past 17 years, Masdar became one of the world's largest renewable energy investors and drivers of the energy transition. Our momentum will see us accelerate global clean energy growth, expand our renewable energy footprint, and play a vital role in delivering the UAE's Net Zero by 2050 strategic initiative.
Impactful year
"Our 2022 report shows just what an impactful year it has been for Masdar and our ESG and sustainability ambitions. As the UAE prepares to host COP28, we are keen to collaborate with all parties to help the world triple renewable energy capacity by 2030 and achieve the goals of the Paris Agreement. As such Masdar will continue to contribute to the advancement of renewable energy and sustainable development around the world."
Mohamed Jameel Al Ramahi Chief Executive Officer, Masdar, said: "2022 was a pivotal year in our legacy of growth. We officially welcomed Adnoc and Taqa as Masdar's shareholders alongside Mubadala, setting out on an ambitious course to grow our clean energy capacity to 100 GW and 1 million tonnes per year of green hydrogen production by 2030.
"Throughout our history, Masdar has proven to be a pioneering force for sustainable change. With a uniquely talented team and a strong network of partners behind us, the future promises to be even brighter for Masdar, the UAE, and the world."
Sustainable financing
Niall Hannigan, Chief Financial Officer, Masdar, said: "Sustainable financing is more in demand than ever. Through our work we are creating opportunities for financial institutions to become part of the green financing agenda and to really put sustainable investments at the core of everything they do.
"Every dollar of debt capital we raise will be deployed into developing green projects across the globe to the highest ESG standards, and a substantial proportion of that deployment will be in developing countries."
Highlighting the increasing role for women in the company, Masdar's Sustainability Report also revealed nearly 25% of all women employed by Masdar are in supervisory roles, and at the youth level, Masdar's Youth 4 Sustainability (Y4S) platform is seeking to reach one million young people by 2030 through its blended learning experience.
Source: Gulf Daily News
Abu Dhabi Waste Management Company (Tadweer) has announced a new initiative aimed at improving waste segregation and promoting recycling practices throughout the Emirate.
To address the challenges of waste segregation, Tadweer's new strategy includes the rollout of new, larger-capacity green recycling containers in defined, central locations. Green recycling containers are designated for recyclable materials only, while black waste containers will be used for all types of non-reusable waste.
Tadweer will assign separate vehicles to collect the green and black receptacles to ensure that waste is properly sorted and processed. Recyclable waste will be transported to Tadweer's recycling facility for further segregation, treatment, and processing.
Residents may dispose of their dry recyclables such as paper, cardboard, pet bottles, aluminum cans, and glass in the newly-deployed green bins. Black bins should be used for single-use plastic products such as straws and plastic bags, food waste, etc. Broken glass or any sharp materials must be safely packed before being disposed of into the black bins.
Additionally, 20 units of larger and more targeted Community Recycling Centres (CRCs) have been deployed in the Abu Dhabi Emirate. Residents may visit the stations where CRCs are placed to dispose more of their recyclables such as textiles, electronic waste, expired medicines, hazardous household waste, and more.
Nat Bryant, COO of Tadweer, said, "We are pleased to launch this new initiative aimed at increasing waste segregation and promoting sustainable recycling practices throughout Abu Dhabi. With the rollout of larger-capacity green recycling containers, we are aiming to encourage responsible waste disposal and help residents adopt more sustainable habits. Our goal is to make Abu Dhabi and Al Ain two of the cleanest and most sustainable cities in the world, and we believe that this new initiative is a step in the right direction."
Tadweer is driving a city-wide awareness campaign to support the new initiative and inform the residents about the new strategy to guarantee the fulfilment and efficiency of the initiative and promote public participation to enhance recycling.
To promote and align with the UAE's Year of Sustainability, Tadweer's new initiative is geared towards encouraging the public to adopt more sustainable habits and build lasting practices that limit the impact on environment to protect and preserve our planet.
Source: Esraa Esmail/ Binsal Abdulkader, Emirates News Agency (WAM)
Abu Dhabi-based manufacturer Monarch Holding and Chinese company EHang Holdings, a leading autonomous aerial vehicle (AAV) technology platform company, have signed a partnership agreement to establish the first facility in the Middle East and North Africa to manufacture and operate sustainable, electric-powered aircraft and drones for passengers and cargo transportation in Abu Dhabi.
The announcement aligns with Abu Dhabi Industrial Strategy's initiatives, including Industry 4.0's innovative technologies, new circular economy regulatory framework, green policies, and incentives to continue its transition towards a smart, circular, and sustainable economy.
The cooperation aims to manufacture sustainable electric aircraft and drones, establish a command-and-control centre to manage urban air mobility autonomously and build infrastructure, vertiports (take-off and landing platforms), and facilities for operating electric aircraft and drones, as well as provide opportunities to qualify and train Emirati talent.
The project contributes to revitalising markets and supporting local products by facilitating the flow of goods and merchandise to sales outlets, ports, and airports, enhancing trade.
The partnership will help establish an advanced infrastructure for vertiports and an autonomous flight management system operated by artificial intelligence, supporting sustainable and electric-powered commercial aircraft and drones, through cooperation with local entities, enabling Abu Dhabi to adopt urban aviation technologies.
The project, which focuses on improving smart and sustainable mobility, will enhance Abu Dhabi's position as the smartest city in the Middle East and North Africa.
Rashed Abdulkarim Al Blooshi, Undersecretary of Abu Dhabi Department of Economic Development (ADDED), said, "Abu Dhabi is focusing on knowledge-based, innovation-driven economic sectors. The Industrial strategy is a major factor in achieving our objectives as its programmes aim to enhance and adopt methods and technologies of industry 4.0, circular economy, talent development, ecosystem enablement, homegrown supply chain, and value chain development.
"This partnership reflects the high level of our infrastructure for advanced and smart industries and developed legislative and regulatory frameworks in the emirate, which provides an attractive environment for innovations and investments in advanced industries and technological transformation. To ensure the best conditions for investors and entrepreneurs, ADDED has launched many initiatives to enhance ease of business and trade, financing, and attracting foreign direct investment."
Hussain Ali Alomaeirah, Founder and Chairman of Monarch Holding, said, "This venture will support the future of the transportation sector in Abu Dhabi in line with the government vision to enhance the fundamentals of the smart city. It provides a new cargo and passenger transportation concept, utilising advanced technologies, artificial intelligence, and sustainable energy with zero carbon emissions.
Monarch is establishing partnerships with the world's best manufacturer of electric aircraft, and a designer and consulting company for urban air mobility, which develops and operates the most advanced UAM systems in the world, he added.
Source: Rola AlGhoul, WAM (Emirates News Agency)
Dubai Municipality announced the completion of its biogas-to-energy project at its Warsan Wastewater Treatment Plant. The project is one of the municipality's renewable energy initiatives that supports its strategic plan to transform its assets into green sustainable assets.
The biogas power facility has the capacity to generate 44,250 MWh of electricity annually. The project's daily power generation capacity of 6MW will cover 50 per cent of the Warsan Wastewater Treatment Plant's entire operational needs.
The municipality completed the project in partnership with the private sector, in line with the directives of the Dubai Government to foster productive private-sector partnerships that generate effective solutions for energy needs. The project will contribute to providing sustainable solutions by utilising alternative energy sources, further reducing annual carbon emissions by 31,000 tonnes, in addition to decreasing the plant's operational cost by Dh320 million over 25 years.
Dawoud Al Hajri, Director-General of Dubai Municipality, said: "The biogas project is one of Dubai Municipality's key initiatives aimed at generating renewable energy from sustainable and clean resources in partnership with the private sector. The project reflects the municipality's commitment to the UN's Sustainable Development Goals, in line with the announcement of 2023 by His Highness Sheikh Mohamed bin Zayed Al Nahyan, President of the UAE, as the 'Year of Sustainability'. The project is also aligned with the UAE Energy Strategy 2050 launched by His Highness Sheikh Mohammed bin Rashid Al Maktoum, Vice-President and Prime Minister of the UAE and Ruler of Dubai."
He added: "By enabling the plant to support itself with the power required for its operations, the initiative serves the major pillars of Dubai Municipality's strategy such as the circular economy and sustainability, in addition to raising the cost-effectiveness of its operations. This reflects the municipality's strategy for implementing innovative and environmentally friendly projects. The plant also embodies the civic body's commitment to implementing projects and adopting solutions that promote sustainability in Dubai and support its vision to be the world's best city to live in."
The Warsan Wastewater Treatment Plant produces 57,000 cubic metres of biogas per day as a result of its treatment procedures. Through the biogas power project, approximately 54,800 cubic metres per day will be used to produce 121 MWh of electricity. The project stands out for having fully automated operations with more than 350 tools that continuously monitor operations 24/7.
The plant is supported by Dubai's extensive sewerage system, whose network connections span more than 3 million metres in length and contain 56 rainwater pumping stations in addition to 110 substations and 13 main pumping stations. The system also contains two wastewater treatment facilities, one in Warsan with a daily capacity of up to 325,000 cubic metres and another in Jebel Ali with a daily capacity of up to 675,000 cubic metres.
Source: Khaleej Times
Saeed Mohammed Al Tayer, MD & CEO of Dubai Electricity and Water Authority (DEWA), welcomed a high-level delegation from Huawei Middle East headed by Steven Yi, President of Huawei Middle East and Central Asia, to promote the strategic partnership between DEWA and Huawei.
The partnership has resulted in significant achievements over the past years in digital transformation, exchanging the best international solutions, experiences and practices, especially in innovation, disruptive technologies, smart grids, digital transformation, automation, cloud platforms, Artificial Intelligence, data security, and big data management, among others.
The cooperation between the two sides aims to develop new technologies and solutions to enhance efficiency and sustainability in the electricity and water sectors, improve user experience and provide more efficient, safe and sustainable services.
The partnership between DEWA and Huawei also includes several future projects such as Big Data Management, Perimeter and ICT Infrastructure Security, Cyber Security, and Information Security, among others. A joint team has been established to launch pilot programmes using the latest technologies to develop new initiatives. These include Research and Development, new services for customers, and ready-to-market or immediately actionable vital initiatives.
Al Tayer highlighted DEWA's plans that are aligned with promising government strategies and plans, including the UAE Strategy for Artificial Intelligence 2031, which aims to develop an integrated system that employs AI in key areas in the UAE; the UAE Strategy for the Fourth Industrial Revolution, to strengthen the UAE's position as a global hub towards achieving a competitive national economy that is based on knowledge, innovation and future technological applications.
During the meeting, Al Tayer discussed the progress of the joint projects between the two sides. These include Moro's green data centres. Moro is a subsidiary of Digital DEWA, the digital arm of DEWA. In February 2023, the world's largest solar-powered data centre, recognised by the Guinness World Records, was inaugurated. The facility is located at the Mohammed bin Rashid Al Maktoum Solar Park, the largest single-site solar park in the world. Using 100% renewable energy, the Uptime TIER III-Certified data centre, has a capacity exceeding 100 megawatts (MW). Its area will exceed 16,000 square metres.
"DEWA represents two of UAE's key priorities, digital transformation and sustainability. The company's investment in ICT infrastructure powered by renewable energy establishes the company not just as a leader in digital transformation in the utility sector but also as a trailblazer in energy transition. We at Huawei are aligned with these objectives and are proud to partner with DEWA in their development of eco-friendly ICT infrastructure. Green and low carbon ICT infrastructure enables each watt to support more computing power and connections enabling DEWA to create new value and deliver first-class customer experience," said Steven Yi.
The green data centre offers digital products and services using Fourth Industrial Revolution technologies, such as cloud services, the Internet of Things (IoT) and AI. It enables global hyper-scalers to access carbon-free computing.
The meeting was attended by Marwan bin Haidar, Executive Vice President of Innovation and the Future at DEWA, Mohammad bin Sulaiman, CEO of Data Hub Integrated Solutions (Moro), and Rashid Alahmedi, Chief Operating Officer of InfraX.
Source: ZAWYA
The Abu Dhabi Waste Management Company (Tadweer) has entered into a strategic partnership with Polygreen, a global leader in circular economy solutions.
Through a Memorandum of Understanding (MoU), the two organisations will work together to explore opportunities to achieve zero waste, circular economy and sustainability in the UAE, Greece, and beyond.
In addition to exchanging knowledge and best practices, they will collaborate on high-profile global events such as COP28, UN events, and Delphi Economic Forum. The partnership will also explore harnessing Polygreen's "Just Go Zero" model in Abu Dhabi, which focuses on engaging with local stakeholders, to achieve zero waste in the Emirate.
The MoU follows the agreement signed last year between the UAE and Greece, during the visit of Kyriakos Mitsotakis, Prime Minister of Greece, to Abu Dhabi. The MoU centres on establishing an investment framework worth 4 billion Euros, between ADQ and both of the Hellenic Development Bank (HDB), the national development bank of Greece, and Hellenic Development Bank of Investments (HDBI).
Ali Al Dhaheri, Chief Executive Officer of Tadweer, said, "We are thrilled to announce our new partnership with Polygreen, which will be instrumental in helping us achieve our shared goal of a sustainable future. This collaboration marks a critical milestone in our journey towards a circular economy and a zero-waste Abu Dhabi. We value the exchange of best practices with international organisations such as Polygreen, to help us identify innovative ways to promote sustainable practices and reduce our environmental footprint."
Athanasios Polychronopoulos, Founder and Chairman of Polygreen, stated, "On this significant day, we are thrilled to witness our vision for a Zero Waste Planet extending beyond our national borders. About a year ago, Polygreen accomplished a remarkable feat by implementing the Just Go Zero initiative, which turned a Greek Island into a zero waste destination. Today, we join forces with Tadweer, to establish a robust circular economy operator in the Middle East, starting with a mission to make Abu Dhabi the first Zero Waste Emirate. This partnership paves the way for the reduction of greenhouse emissions and the transition to sustainable development."
Source: ZAWYA