ABU DHABI, 3rd October, 2022 (WAM) -- Abu Dhabi Waste Management Centre (Tadweer) announced that it has produced more than 1 million tonnes of products recycled from waste materials collected in the Emirate of Abu Dhabi during the first half of 2022. This comes in line with Abu Dhabi's strategy to promote sound waste management and recycling, and its aim to convert waste into environment-friendly products that contribute to the local economy.
During the first half of 2022, the Centre successfully produced around 14,000 tonnes of fertilizer, including plant, animal, mixed, and poultry manure, resulting from recycling green and animal waste. This is in addition to producing more than 1 million tonnes of various sized gravel by recycling demolition and construction waste and producing around 26,000 tonnes of rubber products resulting from recycling tires, all as part of the Centre's efforts to achieve sustainability.
Abdul Mohsin Al Katheeri, Director of Projects and Facilities at Abu Dhabi Waste Management Centre (Tadweer), said, "Since its establishment, the Centre has adopted a comprehensive approach to achieving environmental sustainability by developing an integrated plan for waste management and recycling. This commitment is supported by many programs and initiatives that aim to deal with all types of waste, reduce its amount, reuse it, and encourage the community and organizations to use recycled materials, while taking advantage of the capabilities and advantages that Abu Dhabi enjoys that make it a thriving hub for innovative sustainability solutions."
"The Centre will continue its efforts to enhance the integrated waste management system of the Emirate and adopt the best solutions and the latest technologies for waste management as part of our aim to convert waste into products that can be used in various sectors. This will empower us to realise the UAE's ambitions to achieve a circular economy," he added.
As part of its commitment to providing the best waste collection and transportation services in accordance with the highest international standards, Tadweer distributes containers and provides collection and transportation services for waste of various shapes and sizes throughout the Emirate of Abu Dhabi. This includes residential areas, commercial and industrial areas, roads and streets, parks, mosques, government departments, health and education centres, construction sites, government sanctioned slaughterhouses, public markets, farms, and estates, with the waste being transported to specialised facilities for processing and recycling.
The Centre recycled products amounting to 23 percent of the total waste collected in the specialised facilities during the first half of 2022.
As part of the Centre's efforts to recycle and treat waste, recycled gravel was used in vital national projects such as road pavements, and different rubber products were used as safety floors and rubber tiles for sidewalks in several sectors, including the public sector, the sports sector, the education sector, and landscaping.
Zayed Sustainability Prize, the UAE's pioneering global award for recognising excellence in sustainability, has empowered India-based startup Science for Society (S4S) Technologies to further help farmers and rural women cut down food waste and increase income.
Established in 2008, S4S Technologies recognised that a significant amount of farmers' produce goes to waste because they lack the means to preserve their harvest, do not have the experience to sell it on a wider scale, and lack technical knowledge of modern agricultural practices. To address this challenge, the startup created a novel solution – a solar food dehydrator – to convert food waste into non-perishable food ingredients that can be sold.
"What brought us together was solving the challenges of food wastage, poverty among smallholder farmers and gender inequality among rural women farmers," co-founder Nidhi Pant said while marking the International Day of Awareness of Food Loss and Waste.
Using patented solar conduction dryer technology, farmers could avoid food waste and create a new revenue stream. The technology is electricity-free, delivering sustainable results while avoiding the problems caused by long power cuts.
The company's technology currently saves approximately 22,500 tonnes of produce from getting wasted each year, and avoids 300,000 tonnes of CO2 emissions annually.
"We started by providing technology solutions to farmers to reduce food wastage, but soon realised they are not marketers. Providing market linkage along with technology is necessary to integrate buyback of the processed produce," Pant noted.
PRIZE IMPACTS S4S PROJECTS
Earlier this year, S4S Technologies won the Zayed Sustainability Prize in the 'food' category and received $600,000 to expand the scope and scale of their sustainability solution.
While the startup has received several awards for its environmentally-friendly solutions, winning the Zayed Sustainability Prize has significantly impacted its projects.
"Support from the Zayed Sustainability Prize has helped us expand our farmer-base to include 60,000 smallholder farmers and 1,200 female micro-entrepreneurs. It also helped us strengthen our value chain and farmers' awareness, training, and capacity-building," Pant underlined.
The SME also digitalised its value chain after receiving a $600,000 cash prize. Digital tools have meant better pricing and more guidance on quality standards. And after receiving the Prize fund, S4S Technologies has expanded its product portfolio beyond fruit and vegetables, to pulses, grains, spices, and coconuts.
EMPOWERING RURAL WOMEN
According to official data from the Indian government, rural women workforce in agriculture stands at 33 per cent. S4S Technologies keeps women at the centre of its operations and creates opportunities for them. One example of the company's success is Chayya, a young woman from a remote village on the outskirts of Aurangabad in Maharashtra state, who suffered from a physical disability. She worked hard as a farm labourer, yet her life was difficult and her income barely sufficient.
When S4S Technologies started recruiting local women in her village to work on a food-saving initiative, Chayya's life quickly turned around. She received a better income, higher work standards and gained more dignity in her work and greater respect from society. And seeing her flourish encouraged other village women to join the produce processing work.
"Since I started this journey, the most profound moments have been how our intervention has transformed the lives of our women entrepreneurs. I feel content when I see how our entrepreneurs have become better decision-makers – both at household and community level. With increased income, they can support education for their daughters and no longer need loans from unscrupulous loan-sharks to support the children and elderly," Pant said. "In the next five years, we aim to enable 10,000 more women to become micro-entrepreneurs and increase their profit by 50 to 200 per cent, and to work with three million farmers in reducing post-harvest losses and provide adequate market linkage."
The company aims to save up to 175,000 tonnes of food each year and prevent 1.2 tonnes of CO2 emissions.
"This can be done by preventing food wastage, minimal logistics, and switching to clean energy for food processing. If we stopped wasting food, we could cut global emissions by 8 per cent, free up land and resources, and save enough food to feed two billion hungry people," Pant added.
Source:Zawya
The recycling facility is a regional first, boosting landfill waste diversion in Sharjah while helping lower carbon emissions
BEEAH Recycling, the pioneering waste processing and material recovery business under BEEAH Group, has added a new Solid Recovered Fuel (SRF) facility to its state-of-the-art, integrated waste management complex in Al Sajaa, Sharjah.
The SRF facility will transform commercial residue waste into a high quality alternative green fuel in cement factories, where the fuel will be injected into the kilns during production. The SRF facility is among ten other recycling facilities managed and operated by BEEAH Recycling that have so far contributed to a 76% landfill waste diversion in the emirate, the highest in the Middle East. The addition of the SRF facility is expected to help further increase landfill waste diversion in Sharjah.
Speaking about the new facility, Daker El-Rabaya, CEO of BEEAH Recycling, said: "This recycling facility realised the twin benefit of reducing carbon emissions for the cement production industry, while further increasing the rate of landfill waste diversion. It is a huge leap forward for our recycling business, which has been focused on working towards a circular economy and zero-waste to landfill. Now, we are furthering our impact by producing specialised green, alternative fuels."
"BEEAH Recycling has always aimed to set a new standard for integrated zero waste solutions, pioneering recovery of valuable material from virtually all types of waste in the region. Through advanced recycling techniques, we are shaping a circular economy and demonstrating that it is not only environmentally beneficial but also financially viable. The SRF facility follows a purely commercial model that is fully independent of gate fees," El-Rabaya added.
The SRF Facility's waste processing model is the first of its kind in the region. It produces an alternative green fuel that is high-value, low moisture and low in chlorine content, which is a more sustainable and lower emissions alternative to coal that is typically used in cement production. The SRF facility currently has a production capacity of 85,000 tonnes of alternative green fuel every year, which amounts to 250 tonnes per day. Sharjah Cement, which is located close to BEEAH Recycling's Waste Management Complex, has entered an agreement to receive 73,000 tonnes of alternative green fuel from the SRF facility every year.
Pravinchandra Batavia, CEO of Sharjah Cement, said, "We are excited to enter this agreement with BEEAH Recycling. By using this high-efficiency green alternative to coal, we will be able to meet production targets effectively, and move closer to our sustainability goals while supporting a circular economy and contributing to lower emissions."
Prior to beginning operations, the SRF facility underwent hundreds of tests over two years. Using residue from commercial waste and other BEEAH Recycling facilities, the SRF has already produced hundreds of tonnes of alternative green fuel for trial firing. Tests were also conducted at various international laboratories to verify viability and quality standards.
The SRF facility adds to BEEAH Recycling's existing portfolio of waste processing and material recovery facilities. BEEAH Recycling currently manages and operates the world's third largest Material Recovery Facility (MRF) in the world, a Biomass Facility that turns carbon and cellulose-based waste into fuel for cement factories and paper mills, an Alternative Raw Material (ARM) that processes maritime-related waste, including hazardous effluents, oil spills and ship wreckage, a Metal Recycling Centre (MRC) that isolates metal, plastic and glass from old cars for use in steel mills, and a Tyre Recycling Facility (TRF) that produces a variety of rubber products from old tyres. BEEAH Recycling has also specialised in processing several types of industrial waste. The Commercial and Demolition Waste (CDW) facility produces curb stones and aggregates from highly contaminated construction debris. It also has an Industrial Wastewater Treatment Plant (IWWTP), which recovers clean, irrigation-safe water from 350 m3 of industrial wastewater every day. Additionally, BEEAH Recycling has a specialised medical waste treatment facility through Wekaya, a joint venture with Green Planet and in partnership with public entities.
The SRF facility is BEEAH Recycling's latest effort to minimise waste being diverted to landfill, contribute to the circular economy, and produce lower emission, waste derived alternative fuels. By continually enhancing its waste processing facilities and diversifying into waste derived fuels, BEEAH Recycling is realising zero waste to landfill and creating a sustainable, circular economy model in the UAE, the region, and beyond.
Source: Beeah Group
Deliveroo has launched an initiative to introduce 'responsible rider kit disposal' to support their commitment to reducing waste in landfills. The award-winning delivery service has partnered with UAE-based, licensed recycler, Shredex to implement a green solution which is both eco-friendly and socially responsible. By leveraging Shredex's state-of-the-art technology, Deliveroo's initiative is in line with Dubai's strategic plan for waste management to reduce and completely divert waste from landfill by 2030.
The newly launched recycling initiative by Deliveroo in partnership with Shredex will guarantee that used rider kits are responsibly disposed of to eliminate the potential spread of any underlying health concerns. The initiative also aims to ensure that used kits are not exploited for misrepresentation of the brand in activities that do not align with its values.
The 'responsible rider kit disposal' initiative comes at the back of Deliveroo looking to gain further visibility on the after-life of used rider kits. Ensuring used rider kits do not damage the environment through improper waste disposal, quarterly collections and disposals have been scheduled with Shredex. The by-products of Deliveroo's used rider kits will be repurposed into sustainable reusable materials. Upon collection, the items will be segregated into the categories of recyclable plastic and fabric waste which will be combusted. Certain by-products will also be used as resources to turn metals into ingots, textiles and leather into cushion fillers or refuse derived fuel (RDF) materials, and rubber will be used as resins for asphalts for both road works and building new tyres.
Yazan Aburaqabeh, Head of Operations at Deliveroo said, "Our plan to recycle used rider kits has been in the pipeline for a while with strong efforts to bring not just any solution but one that is sustainable. We're proud to be launching our initiative in partnership with Shredex, a credible partner, to extend the most eco-friendly solution to used rider kits. Deliveroo has and will continue to contribute to the global sustainability movement that the UAE is championing."
Anis El Solh, Managing Director of Shredex said, "We are honoured to be partnering with Deliveroo and helping them take another step towards a greener UAE. Partnerships like these that allow us to make a noteworthy difference, fuel our drive to continue our efforts in helping Dubai achieve its goal for waste management to reduce and completely divert waste from landfills by 2030."
Deliveroo's initiative to responsibly dispose of used rider kits will support the UAE's vision to divert waste from landfills and build a sustainable environment for the residents of the nation. 
Source: Press release
Dubai Electricity and Water Authority (DEWA) has signed a partnership agreement with Dutch startup Desolenator BV, to build a sustainable, carbon-neutral water purification and desalination system based on solar thermal energy. The innovative design is intended to be 100% reliant on solar energy at a target Levelized Cost of potable water production to be less than US$0.02 per litre.
As per the agreement, a pilot water desalination plant has been installed at the Jebel Ali Power Plant and Desalination Complex, with a production capacity of minimum 1,000 litres of potable water per day. The collaboration is part of DEWA's participation in the Dubai Future Accelerators (DFA) programme, one of the initiatives under Dubai Future Foundation. DFA is the largest accelerator programme in the world.
"We are working to achieve the vision of His Highness Sheikh Mohammed bin Rashid Al Maktoum, Vice President and Prime Minister of the UAE and Ruler of Dubai, to make Dubai a global model for clean energy and green economy by adopting the technologies of the Fourth Industrial Revolution and disruptive technologies. DEWA's production capacity of desalinated water is currently 490 MIGD. According to DEWA's strategy, 100% of Dubai's production of desalinated water in 2030 will come from a mixture of clean energy, which combines renewable energy sources and waste heat, which will make Dubai exceed the globally defined target regarding the use of clean energy in water desalination," said HE Saeed Mohammed Al Tayer, MD & CEO of DEWA.
Al Tayer noted that the step is in line with the DEWA's continuous efforts to find proactive, pioneering, sustainable and innovative solutions for water desalination. Such efforts include establishing partnerships with startups utilising research and development to provide potable water using innovative and sustainable solutions. DEWA also provides its technical expertise to assess and analyse new research and development opportunities. The partnership with Desolenator also supports DEWA's efforts to achieve the Dubai Clean Energy Strategy 2050 and the Dubai Net Zero Carbon Emissions Strategy 2050 to provide 100% of Dubai's total production capacity from clean energy sources by 2050.
Al Tayer praised the role of the DFA in supporting constructive public-private partnerships to anticipate and shape the future. Al Tayer noted that DEWA encourages startups to develop innovative solutions in the energy and water sectors. This is part of its vision to become a globally leading sustainable innovative corporation, and its strategy to support innovation as a model for developing practical solutions that contribute to the UN Sustainable Development Goals (SDGs) and global efforts to counter the effects of climate change and global warming.
"We are delighted to have built a fruitful relationship with DEWA, who has been a fantastic partner in supporting the deployment of this plant. To address the global water and climate crisis, we need new forms of collaboration between innovators and organisations. DEWA has shown the vision and support that stands as a great example for the world. Desolenator strives to create partnerships that support futuristic thinking," said William Janssen, CEO of Desolenator.
As part of Think Planet, Radisson Blu Dubai Media City aims to reduce the hotel's negative impact on its environment and the planet. In keeping with this, the hotel has made the momentous change to remove plastic bottles from its property.
Replacing the 0.5l bottles on offer in each room and at the restaurants across the hotel will be 1L glass bottles. These refillable bottles will be used in conjunction with a Purezza water-purifying system, which further reduces the reliance on external water sources. This switch is expected to save at least 95,000 bottles every year.
Sustainability is a key value at Radisson Blu Media City. Protecting our environment and limited natural resources is paramount. This new move is part of a larger sustainability programme across our UAE properties to reduce our footprint while still delivering what our customers expect and deserve.
Speaking on this eco-friendly initiative, James Berry, Cluster General Manager at Radisson Blu Dubai Media City and Park Inn by Radisson Dubai Motor City, said, "At Radisson Blu Media City, we consider our environment and aim to protect it in as much as possible. It's fantastic to see the Purezza system installed, and I'm sure our customers will appreciate this new measure to conserve our most precious resource."
Please get in touch to learn more about our No More Plastic project and sustainability initiatives at Radisson Blu Media City.
RADISSON HOTEL GROUP
Radisson Hotel Group is one of the world's largest hotel groups with nine distinctive hotel brands, and more than 1,600 hotels in operation and under development in 120 countries. The Group's overarching brand promise is Every Moment Matters with a signature Yes I Can! service ethos.
The Radisson Hotel Group portfolio includes Radisson Collection, Radisson Blu, Radisson, Radisson RED, Radisson Individuals, Park Plaza, Park Inn by Radisson, Country Inn & Suites by Radisson, and prizeotel brought together under one commercial umbrella brand Radisson Hotels.
Radisson Rewards is our international rewards program that delivers unique and personalized ways to create memorable moments that matter to our guests. Radisson Rewards offers an exceptional experience for our guests, meeting planners, and travel agents at over 550 hotels in Europe, Middle East, Africa and Asia Pacific.
Radisson Meetings provides tailored solutions for any event or meeting, including hybrid solutions placing guests and their needs at the heart of its offer. Radisson Meetings is built around three strong service commitments: Personal, Professional and Memorable, while delivering on the brilliant basics and being uniquely 100% Carbon Neutral.
The health and safety of guests and team members remain a top priority for Radisson Hotel Group. All properties across the Group's portfolio are subject to stringent health and safety requirements, as outlined in the Radisson Hotels Safety Protocol.
There is significant opportunity for greater energy savings through the use of Universal Buildings in the Middle East, said CRTKL, a global architecture, planning and design firm.
Such buildings can increase resilience, drive sustainability and strengthen communities, said CRTKL in its latest findings on the use of Universal Buildings and their potential positive impact on enhancing sustainability and efficiency of communities, towns and cities.
Universal Buildings, also known as regenerative buildings, are hybridised, adaptive structures that can transition between residential, workplace, hospitality and senior living. They have common building systems and arrangements positioned to meet changing demands.
Uniquely flexible
Universal Buildings enable designers and architects to rethink the concept of the centre core office building, from the floor plates, MEP and columns to technology, the podium and parking structure. These types of buildings deliver some of the most resilient, cost-effective and sustainable solutions. They provide uniquely flexible platforms to adapt programme uses based on changing market needs and demands.
Universal Buildings can have a positive impact on driving greater sustainability. Building reuse almost always yields lower environmental impact than new construction when comparing buildings of similar size and functionality. The range of environmental savings from building reuse varies widely, based on building type, location and levels of energy efficiency. Savings from reuse are between 4 and 46% over new construction when comparing buildings with the same energy performance level. 
By Abha Malpani-Naismith
When you think how the ocean covers more than 70 percent of the surface of our planet, and 40 percent of the world's population (2.4 billion people) lives within 60 miles of the coast, it is baffling to know that in this day of advanced science and technology, billions of people still do not have access to safe drinking water, or for basic hygiene at home, or to water their crops. The need for an innovative solution to solve the water scarcity issue is more urgent than ever, which is why the work of the deep tech startup Manhat feels like an extraordinary breakthrough.
The company's technology is crucial as it is estimated that by 2050, the Middle East and Africa will be home to about 3.4 billion people, propelling the need for increased water supplies, which are already a scarce resource in the region.
Water, water everywhere, yet not a drop to drink
The ongoing lack of access to water is largely because sea water is locked in the form of salty water, relying on desalination to make it usable. Desalination is expensive and has environmental consequences. Only 3 percent of the world's water is freshwater, and two-thirds of that is trapped in glaciers or otherwise unavailable for use. Rising sea levels coupled with erratic rainfall due to global warming are other reasons for water and food scarcity issues.
Although it has a long coastline, 80 percent of the United Arab Emirates' land is desert, making it one of the world's most water-scarce countries.
"The agricultural sector is responsible for two-thirds of all water consumption in the UAE, and we don't have natural fresh bodies of water. We have underground water which is not sufficient for sustaining our economy because it requires purification before usage. At the moment, the UAE depends on desalination, which is energy-intensive, contributes to CO2 emissions and produces brine," explains Dr. Saeed Alhassan Alkhazraji, the founder of Manhat and a winner of the Water Europe Innovation Awards 2022.
Dr. Alhassan added another challenge with desalination: "The waste brine is usually poured back into the oceans, which endangers aquatic life."
A deep tech solution to water scarcity in the UAE
The Emirati-founded deep tech startup has invented a solar water distillation technology that can produce usable water by trapping the lost evaporated water from the ocean. The startup's solution involves placing a large greenhouse construct on the seashore, then relying on solar rays to heat the water so it evaporates (as shown above). After that, the ascending water vapor condenses when it touches the cooler side of the construct, being collected and stored as distilled water, with no waste, brine or emissions.
This is incredible especially when you realize that the water evaporating from the Arabian Gulf is at least 84 cubic miles (350 cubic kilometers) per year, approximately ten times higher than the total desalinated water produced annually in the region, according to Manhat.
"Our technology is patented, and its novelty is its ability to produce water from open water surfaces (such as seas, rivers and lakes)," Dr. Alhassan says. "There is other technology that has been on the market for decades, but it has limitations including being based on land and producing brine. Since our technology is on open water surfaces, we only capture water vapor which doesn't contain any salt, so we don't have to deal with brine which is harmful to aquatic life."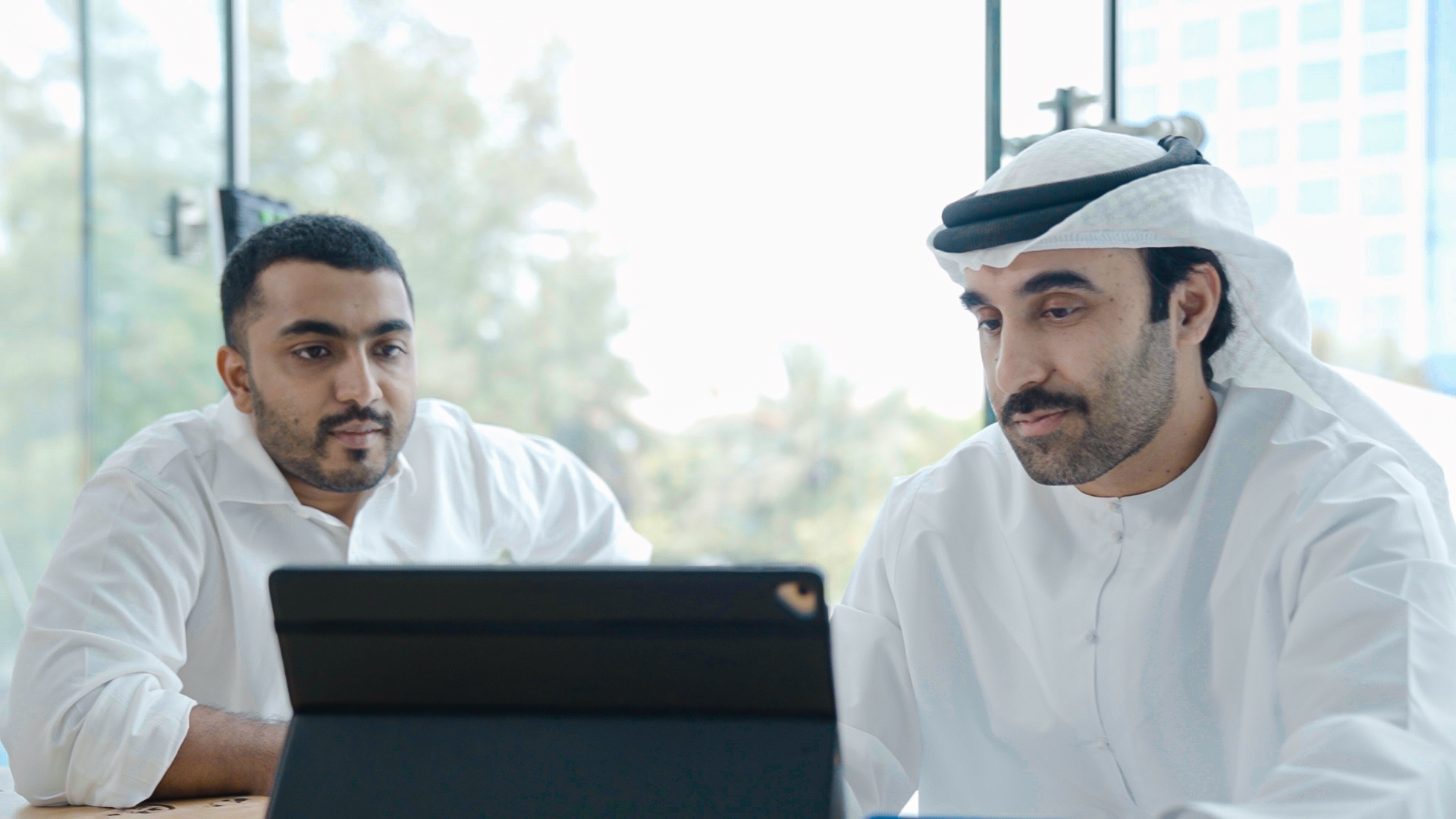 Manhat has tested various prototypes of its technology both anchored and floating. Both have been deployed around Abu Dhabi in collaboration with Abu Dhabi Ports and the developer group Alreem Island. Anchored devices have been installed into the concrete walls of the corniche [Abu Dhabi's waterfront], whereas floating devices have been deployed on water surfaces. "We have been able to showcase the water production process without using any electricity, hence, zero carbon dioxide emissions."
Water producing technology that integrates with floating farm solutions
The startup is also building floating farm solutions that integrate with their water distillation technology.
"Once you can produce water sustainably, it opens the door for solving both water scarcity and food security, because availability of water is a prerequisite to agricultural activities on a large scale," Dr. Alhassan continues. "Our technology mimics the natural water cycle with zero carbon footprint or brine rejection. The water can be immediately used to irrigate crops which will benefit coastal countries and mitigate the looming threat of rising sea levels due to climate change."
Tackling the issue of food security, the Abu Dhabi government's economic accelerator program, Ghadan 21, is focused on agriculture technology. Once fully deployed, the ag tech financial package is forecast to contribute $449.3 million to GDP, create 2,900 new jobs and contribute to the emirate's goal of increasing domestic food production by 40 percent.
"We are the only water technology that can be integrated to provide floating farm solutions," Dr. Alhassan says. "There are very few floating farms around the world and they all depend on grid water, either groundwater or water from desalination plants, which negatively impacts the environment."
Currently in seed stage, Manhat is working towards funding its groundbreaking deep tech pilot. "Our next goal is to launch a pilot floating farm to grow mushrooms and generate revenue," he concludes. "We expect the pilot project to be constructed and evaluated over 12 to 18 months. After this evaluation period, we will expand our technology to cover other crops including wheat and rice. In five years, we would have technology to grow different crops of high commercial value. If we are successful, we will expand our technology globally."
This article first appeared on Triple Pundit (https://www.triplepundit.com/story/2022/deep-tech-water-scarcity-uae/753746). Image credits: Manhat
Rebound, a subsidiary of International Holding Co. based in Abu Dhabi, United Arab Emirates, has launched Rebound Plastic Exchange (RPX), a global business-to-business digital trading platform for recycled plastics.
As part of the launch, Rebound says world leaders from government, business and civil society gathered to discuss how trading plastics presents an untapped opportunity to enable global circularity and fill demand gaps while growing opportunities for investments.
Maryam Al Mansoori, general manager of Rebound, delivered the keynote, saying, "RPX was envisioned to bring trust and quality assurance amongst buyers and sellers. Our digital platform provides companies and nations with a vital benchmark for their capacity to adopt and trade quality-assured plastics, equip them with frameworks to facilitate exchange and highlight the tangible benefits of transparent plastic trading. Overall, the platform inherently complements governments' commitments to the Basel Convention's amendments on the trade of plastic and enhances the responsible participation in recyclable plastic trade."
To ensure transparency and to facilitate cross-border trading, RPX says it will use specification sheets endorsed by U.K.-based RECOUP, a nonprofit organization that says it is committed to securing sustainable, circular and practical solutions for plastic resources in the U.K. and worldwide, that are tailored to each listing on the RPX B2B marketplace.
Stuart Foster, CEO of RECOUP, said, "We welcome Rebound's extremely thorough plastic specification standards, essential to achieve quality which enables recycling to be done in an effective and ethical way and develop a universal standard for plastics to be traded on an international scale. These standards are extensive but easy to follow, and they promise to be a great start to ensure that material is compliant with shipment criteria such as the recent changes to the Basel Convention and EU shipping regulations."
Foster added, "These specifications help to bridge the gap between the known limitations of recycling infrastructure and the need for responsible exports to achieve higher recycling rates and targets in both developed and developing markets."

As the technical expert leading the development of material specification sheets for RPX, Edward Kosior, managing director of London-based consulting firm Nextek, said, "Unless current practices change, it is estimated that 108 million [metric tons] of plastic waste will be landfilled, dumped or openly burned in 2050, especially in under-developed and developing countries. There is clearly a growing imperative for plastic circularity, and with the increasing demand for high-quality recycled plastic feedstock, the key trading factors of quality, standardization, transparency and trust are paramount. With this backdrop, RPX has invested in a world-class certification protocol incorporating industry best practices for material specification. Buyers and sellers of feedstock can now transact with greater efficiency and peace of mind. We are leading the movement beyond an era of informal, closed-door material trading and towards a more integrated, efficient and quality-assured system."
He added, "Worldwide, stakeholders are now facing huge pressure from investors and policymakers to ensure that we can shift plastics from regions that have inadequate recycling facilities to regions that are short of feedstock. In this way we address the two problems facing the planet of reducing plastic waste in areas plagued with abandoned plastics and creating high-quality recycled plastics that will be used in new packaging thereby reducing the need for virgin plastics."
To this end, RPX says it will implement a passporting system for end-to-end digital certification.
Rebound and Abu Dhabi Global Market (ADGM) have joined forces to accelerate the mobilization of private capital toward low-carbon, environmentally sustainable and climate-resilient investments. Rebound and ADGM say they plan to further advance sustainable finance during Abu Dhabi Finance Week, Abu Dhabi Sustainable Finance Forum and across the curricula of the School of Sustainable Finance.
Dhaher bin Dhaher Al Muhairi, CEO of ADGM Registration Authority, said, "Abu Dhabi is well on its way to becoming a hub of sustainable financial solutions. With the potential of facilitating the recycling of 5 million tons of plastics by 2025, Rebound stands at the core of such solutions. It will bring significant impacts to global business models and financial practices."
He added, "As a financial center and a catalyst for growth, ADGM will continue to work with like-minded partners to advance the sustainability agenda to address the development and growth needs of our country and the wider region."
Rebound has joined the panel of 73 public and private sector signatories to the Abu Dhabi Sustainable Finance Declaration.
Rebound also says industry members in the Middle East, North America, Latin America, India, Southeast Asia and Europe already have subscribed to the RPX.
"Scaling up circular activities worldwide has now become a timely necessity," said David Bourge, general manager, Veolia, Thailand. "Through trust and visibility, RPX is set on increasing the recycled volume of plastics, and we are proud to be part of this journey."
Rodolfo Lacy, director for Climate Action and Environment for Latin America and special envoy to the United Nations from the Organization for Economic Cooperation and Development, said, "We need to close the carbon cycle again by seeking the circularity of goods and even services that depend on fossil fuels or their substitutes. … Rebound's digital solution is an example of how to effectively accelerate the implementation of a global circular economy and international development through sustainable trade."
Source: https://www.recyclingtoday.com/article/rebound-plastic-exchange-launches/
Dubai Electricity and Water Authority (DEWA) has received 4 bids from international companies for consultancy contract for the sixth phase of the Mohammed bin Rashid Al Maktoum Solar Park, the largest single-site solar park in the world using the Independent Power Producer (IPP) model, with a production capacity of 5,000 megawatts by 2030. The production capacity of the sixth phase of the Solar Park will be 900 MW.
"We work in line with the directives of His Highness Sheikh Mohammed bin Rashid Al Maktoum, Vice President and Prime Minister of the UAE and Ruler of Dubai, to achieve the Dubai Clean Energy Strategy 2050 and the Dubai Net Zero Emissions Strategy 2050 to provide 100% of the total power capacity from clean energy sources by 2050. Since its launch, the Mohammed bin Rashid Al Maktoum Solar Park's projects have received considerable interest from global developers, which reflects the confidence of investors from around the world in DEWA's major projects in collaboration with the private sector using the Independent Power Producer (IPP) model. DEWA's total production capacity of energy is 14,117 MW. The current production capacity of the Solar Park is 1,627 MW using photovoltaic solar panels. DEWA is implementing other projects at the Solar Park with a total capacity of 1,233 MW using photovoltaic solar panels and concentrated solar power technologies, which raises the share of clean energy production within Dubai's energy mix to 11.5%. This is expected to reach 14% by the end of this year," said HE Saeed Mohammed Al Tayer, MD & CEO of DEWA.
"We seek to put Dubai and the UAE at the forefront of producing renewable and clean energy. DEWA has achieved world records for the lowest solar energy prices (Levelised Cost of Electricity), for five consecutive times, making Dubai a global benchmark for solar power prices," added Al Tayer.