RIYADH: Saud Arabia has been recognized as a water sector growth hotspot on the back of its considerable private sector opportunities, according to a report released ahead of the World Future Energy Summit, to be held from Jan. 16-18 in Abu Dhabi.
With a focus on the Kingdom, the business event for future energy and sustainability is set to discuss desalination, wastewater treatment and digitization as key growth opportunities for the Middle East's water sector.
As Saudi Arabia is addressing the increasing water demand caused by economic diversification, population growth and urbanization, the report highlights the Kingdom's potential to drive private sector growth in the water sector.
The Kingdom is investing greatly in wastewater treatment infrastructure to allow the recycling and reuse of water.
Desalination capacity is expected to increase to 7.5 million cubic meters per day by 2027 in the Kingdom, up from its current capacity of just over 3 million cubic meters daily.
The Saudi government is also investing in 147 sewage treatment plants all around the country, as well as almost 15,000 km of wastewater collection networks.
The World Future Energy Summit report also highlighted the UAE and Türkiye for effectively reusing water.
The report identifies the UAE's strong water sector project pipeline and its support of the country's long-term growth.
Investments worth $2.8 billion are expected to take place in the desalination segment as the region advances to achieve treated water reuse to 95 percent, the report added.
As for Türkiye, its struggle with water stress from ineffective water usage is expected to drive demand for water and wastewater treatment products and systems forward.
"Demand for recycling systems based on ZLD and RO technologies is predicted to meet the country's development plan target of boosting wastewater reuse to 5 percent by the end of 2023," stated the report.
With Vision 2030 at the heart of its growth, Saudi Arabia is targeting to increase the private sector's contribution to the gross domestic product from 40 percent to 65 percent by 2030.
The operating revenues of the business sector in Saudi Arabia during 2022 alone surpassed SR4 trillion ($1 trillion), according to official data released by the General Authority for Statistics.
GASTAT data further revealed that the highest revenue-generating activities were registered in manufacturing, mining and quarrying, as well as wholesale and retail trade.
Compared to 2021, operating revenues of business establishments rose substantially, supported by an increase in many economic activities, reaching 26 percent.  
Source: https://arab.news/96e5y
The Water Regulator has issued an updated version of the Water and Wastewater Services Guide in the Kingdom of Saudi Arabia.
The Guide is a reference for service providers, stakeholders, and beneficiaries. It includes rules, rights, and duties that define the relationship between service providers and service consumers.
It also explains the principles that regulate the relationship between them for all consumers.
The Water Regulator has launched an awareness campaign themed "Your Guide" to educate beneficiaries and service providers about their rights and duties through the updated version of the Water and Wastewater Services Guide.
The Guide is available for further information and updates via the official website www.wr.gov.sa or social media accounts @Water Regulator.
It is noteworthy mentioning that the Water Regulator is an official governmental body tasked to regulate services providers of the water sector, based on the provisions of the water law, except for cogeneration services.
Source: Press release
It's one of the most far-reaching sustainability programmes on planet Earth - The Saudi Green Initiative. In the coming months, the Independent will bring you articles, videos, audio and events where we speak to the scientists and researchers, while looking at the impact on everyday lives in the desert kingdom.We begin with an overview. What is the scale of the challenge and how is it being met?
By 2030, 30% of Saudi Arabia will be protected land. Decades of soil erosion and desertification will be reversed. Trees will be planted: 10 billion of them. They will be fruit trees, agricultural trees, but also 100 million native species.
In the desert fringes, species like ghaf and acacia, which have adapted to the arid conditions over generations, will reappear in huge numbers. At the other extreme, millions of mangroves will be grown to protect the marine environment
There will be ten protected areas within the country, including seven royal reserves.
In the coming weeks and months, the Independent will delve deeply into the changes the Saudi Green Initiative (SGI) will bring – cultural change, ecological change, the reintroduction of native animals, the preservation of desert habitats, the regeneration of reefs in the Gulf and Red Sea.
The man at the heart of this unprecedented act of environmental renewal is Dr Muhammad Ali Qurban, chief executive of the National Centre for Wildlife.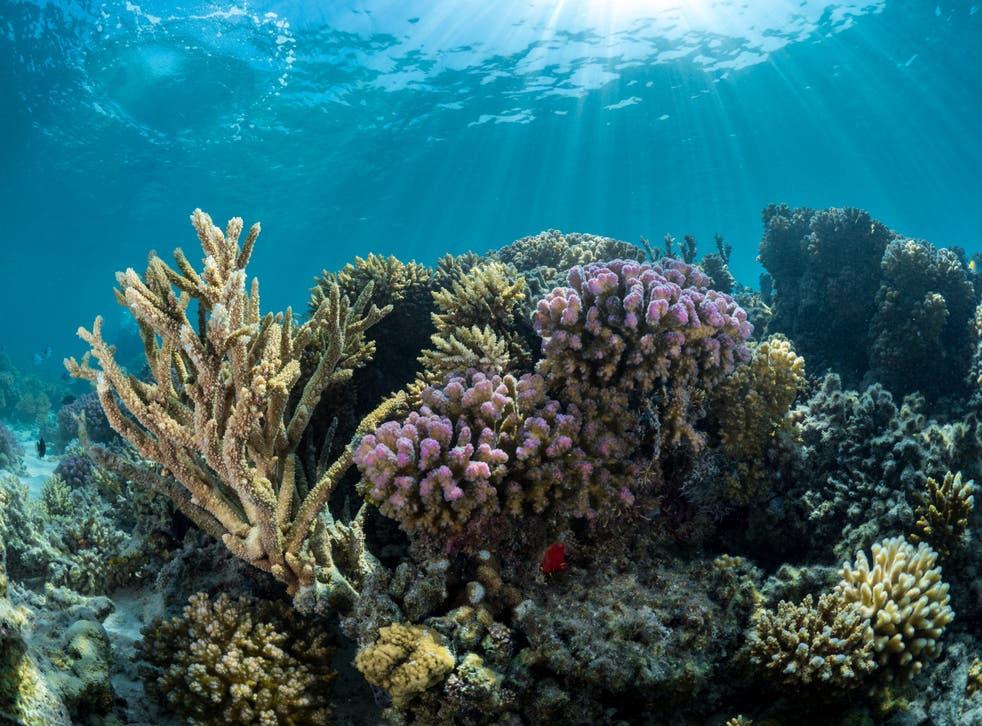 The protected areas may be fenced off. That does not mean they are out of bounds.
"The protected areas will have three parts," says Dr Qurban. "There's an area reserved for biodiversity. There will be areas for graziers, organised with a plan and a model. And an area for tourism. We want visitors to visit and enjoy these locations on safari."
The SGI is part of the wider, dramatic diversification the Saudi economy is going through as part of its Vision 2030 plan. The country is opening up in more senses than one. Allowing the rest of the world to experience its extraordinary and surprisingly diverse natural environment is very much part of it.
As the land recovers and the vegetation returns, so will the species that feed on it: ibex and oryx among them. Herds of goats and camels too, but their grazing areas will be strictly controlled: industrial levels of grazing is one of the reasons the land becomes barren. The arid, featureless desert of popular imagination is not a 'natural' state for much of Arabia beyond the heat and dunes of Rub' Al Khali, the fabled Empty Quarter.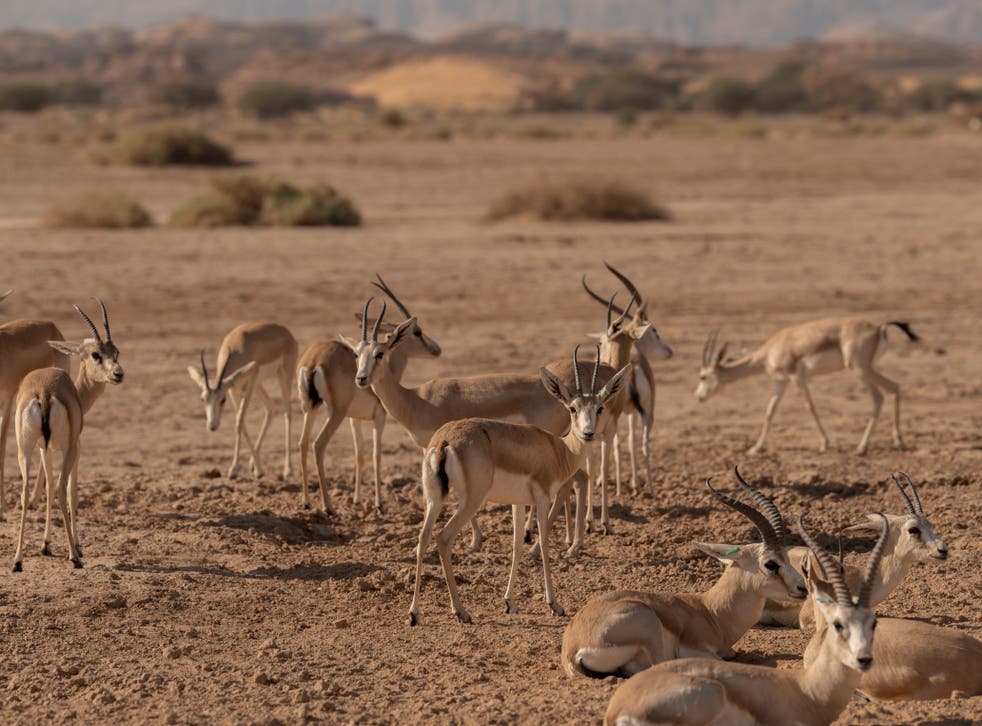 Wild ungulates can overgraze too, stopping young shoots and trees from getting established. Think of the Highlands of Scotland, where uncontrolled and unfearful deer populations create the barren hills and valleys we see today.
What if you reintroduce the fear and flight factor, then the herds move on before the land becomes degraded?
In Arabia, the time is drawing near when hyenas, cheetahs and, above all, leopards will be reintroduced to a land where they roamed freely until the 20th century.
The facts, and the objectives of the SGI are as follows. There are 60 separate initiatives costing a total of 700bn Riyals. Even beyond the protected areas (currently 16% of the country), there will be strict new measures to stop overgrazing and uncontrolled development.
As for the seas around Saudi Arabia, the Red Sea and the Gulf, 30% will become Marine Protected Areas and 100 million new mangroves will protect those ecosystems.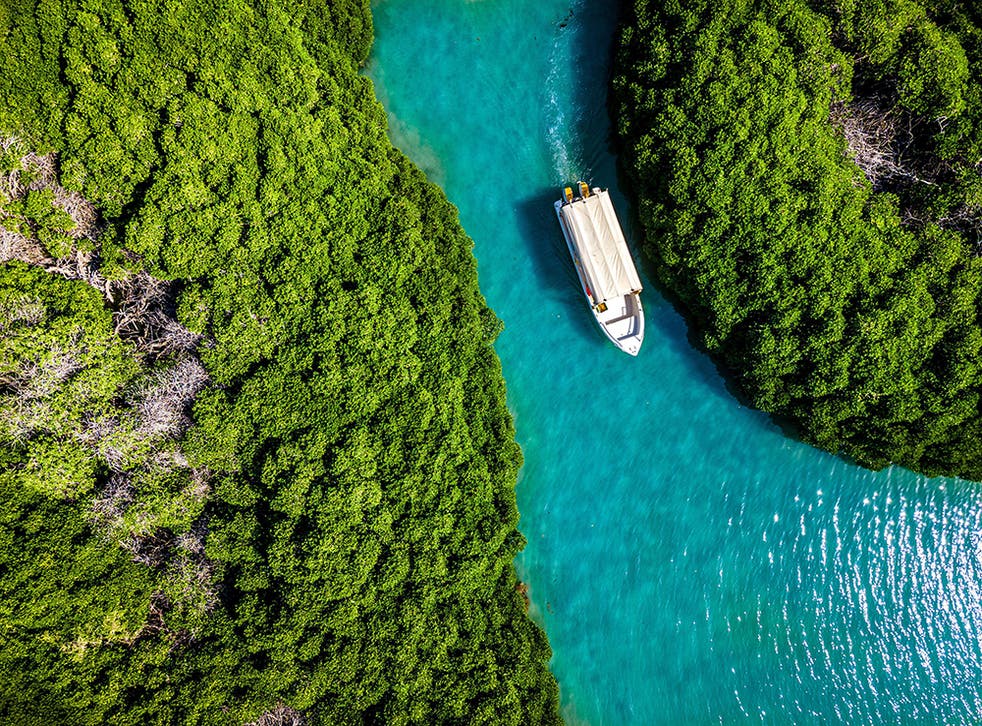 In 2025, one of the world's largest urban green projects, King Salman Park, will be opened. On energy, perhaps the most eye-catching headline is that the world's biggest oil producer intends to become the world's leading producer and exporter of hydrogen fuels.
Conferences, like the forthcoming COP27, are a time for presentations, plans and promises. But as Muhammad Qurban says, the facts are already on the ground. Saplings are planted within it.
In fact, the Wildlife Centre thinks they may arrive at their targets well before 2030 – "we are planning for 2025, 2027," says Dr Qurban.
There are now three generations of oryx in the wild in Saudi Arabia: a remarkable transformation for an animal that was declared extinct in the wild 50 years ago.
This year more leopard cubs have been born in the AlUla breeding centre. Reintroducing the most magnificent and elusive of Arabian predators to the wild will take time. But it will happen.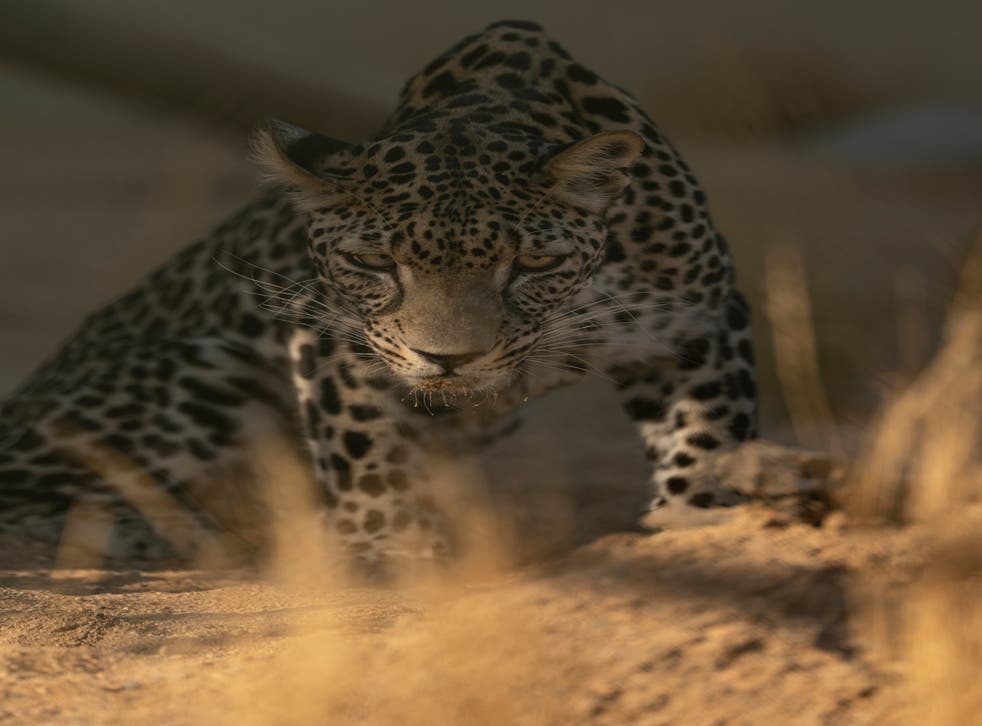 Yet away from the slide presentations and the benchmarks, these are measures that will profoundly change lives of Saudis – for urban dwellers, as well as coastal and rural communities, as cities embark on their own journeys. As part of its own green plan, Riyadh, the capital, will, for example, divert 94% of its waste away from landfill by 2035. New job opportunities are opening up as tourists and scientists come to the country in ever greater numbers and experience the national parks, and their extraordinary natural and human heritage, for themselves.
There is no question that graziers, pastoralists and hunters will need to adjust to a new reality where the natural environment and the creatures that inhabit it become a natural resource that is very strictly protected.
Only it isn't exactly a 'new reality'.
For 2000 years, and probably longer, the Arab lands were managed between different tribes by a system known as himā. The himā protected land on behalf of the community; but it also protected the earth, as areas were set aside to prevent overgrazing and ensure they were regenerated.
For Arab peoples living in a land of scarce resources, it was a tradition that preserved both livelihoods and fragile ecosystems.
Indeed, it sounds very like some of today's most fashionable agricultural and rewilding theories. But in the last century, nation states were born, motor vehicles arrived and the demand for food, especially meat, increased with growing populations. The himā system was no longer seen as fit for purpose.
The scholar Lutfallah Gari takes up the story in the Muslim Heritage website:
The period between the banning of the himā system and the start of constructing national parks and protected areas was a period characterised by severe destruction of the plant cover through overgrazing and felling of trees as well as over-hunting of wild animals. That period extended the tasks of the governmental agencies, not only to conserve the continuity of the plant cover which was depleted, but also to restore part of it.
That article was written in 2008. Much work has been done in the intervening period. But the Saudi Green initiative is an exponential change. Yet in other ways, it is founded in a long tradition: of harmony between people and nature.
Find out more about the MGI summit and SGI forum here: greeninitiatives.gov.sa
Published by The Independent in partnership with the Saudi Green Initiative
Averda, the leading end-to-end waste management and recycling company in emerging markets, and King Abdullah University of Science of Technology (KAUST), a graduate research university in Saudi Arabia, announced the signing of a new contract for a waste management facility and services that will provide sustainable waste management solutions for the University, with zero-waste goals projected by 2025.

Averda will manage all aspects of solid and hazardous waste, including recycling, sorting, waste transfer and disposal.

Since 2015, Averda has worked with KAUST to design and deliver an integrated waste management service for its campus facilities and residential neighborhoods that matches the needs and sustainable goals of the university. During this time, over 3,500 tonnes of waste has been recycled, including 1,332 tonnes of cardboard, 227 tonnes of paper, 357 tonnes of plastics, 614 tonnes of metals and 243,000 litres of different types of oil.

Averda's new 10-year contract with KAUST will support the university's zero-waste-to-landfill target even further, recycling and recovering 100% of unavoidable municipal waste by-products with a one-stop, integrated materials recovery facility (MRF) and streamlined processes for collecting, sorting and bundling waste. The arrangement will be further strengthened by the introduction of an all-electric fleet of Averda waste collection vehicles (previously diesel). In addition to energy savings, the use of electric vehicles will eliminate emissions, minimize noise, and reduce maintenance, among other benefits.

KAUST Vice President of Facilities Management Matthew Early said: "KAUST is proud to continue our relationship with Averda in this transformational zero-waste journey. The overall endeavour of waste management — from the facility where the waste will be sorted into various recycling streams, to the all-electric collection fleet — will allow KAUST to meet its goal of zero-waste by 2025 and elevate KSA's quest for environmental sustainability by preserving the environment and contributing to improving quality of life."

The new bespoke facility, designed to complement KAUST's contemporary campus, will include an administrative space, depot and parking for vehicles, and storage for containers and other operating equipment. Averda's specialised waste collection services across the KAUST campus and five residential areas will ensure the correct collection and handling of each waste type. Recyclable material will be sorted and sold to the market, and organic material will be composted by KAUST's composting facility.

The more than 7000 KAUST residents will play an important role in separating recyclables at the source. To this end, KAUST and Averda are developing an environmental awareness campaign for residents to ensure total participation in the zero-waste effort.

The use of information technology to record, monitor, analyse and report waste management data will be a vital component to support this program and ensure that KAUST meets its sustainability targets. Technological provisions will be made to collect data at granular level, including bin management, dynamic weighing system, fleet tracking and management. A sustainability plan for operations will track and measure progress against targets to maximise emission reductions and keep KAUST fully informed of the environmental footprint of the activities and services delivered by Averda both on and off site.

Averda Chief Growth Officer Mazen Chebaklo commented: "Sustainable practices are an integral part of KAUST's campus. For over a decade, Averda has provided KAUST with an exemplary sustainable waste management service, that has evolved with the growth and feedback of the community. We are delighted to help KAUST on the next stage of their sustainability journey, as they commit to reduce emissions and achieve zero waste to landfill. KAUST is a clear leader in the implementation of circular economy principles. We are proud to support an institution that continually strives to improve the sustainability of their operations.
Petro Rabigh launched on Tursday its initiative to plant 10 thousand Mangrove saplings in conjunction with the "Saudi Green Initiative" and the United Nations global sustainable development goals (Working for the Sake of the Climate - Life Underwater - Life on Earth). The first phase of the initiative targeted the plantation of 1000 saplings along the Kharar Bay in Rabigh Governorate, covering an area of over 70 thousand square meters. Company employees and their family members took part in planting the saplings.
Petro Rabigh's President & CEO, Engineer Othman bin Ali Al-Ghamdi, emphasized that the mangrove trees plantation initiative is part of the Company's commitment to reducing carbon dioxide emissions in order to mitigate pollution and support the goals of the Kingdom Vision 2030. The initiative aims to increase plant diversity, improve climate conditions, lower temperatures, and educate Company personnel and their families and raise environmental awareness. the President & CEO pointed out that Petro Rabigh is collaborating with the Ministry of Environment, Water and Agriculture and utilizing several scientific studies and researches to carry out this strategic direction.
Al-Ghamdi stated that the Company, as part of its keen interest in nature conservation, signed last March a 20-year term partnership and strategic cooperation agreement with Gulfcryo covering the extraction of 100,000 metric tons of carbon dioxide emissions annually from the Mono Ethylene Glycol (MEG)Plant, located in the Petro Rabigh Industrial Complex, with the aim of contributing to a sustainable economy and the replacement of fossil fuel burning plants. This agreement is aligned with the Kingdom's Carbon Circular Economy concept, the ambitious Vision 2030 programs, the Green Saudi Initiative, and the United Nations Sustainable Development Goals.
According to Engineer Mohammed Farsi, the Company's Vice President of Engineering and Support, planting mangrove trees has both a biological and a cultural significance, and it contributes to achieving several objectives, including educating the society about plant preservation and providing a healthy and natural environment. Farsi confirmed that the Kingdom is on its way to achieve a qualitative leap in environmental protection and landscaping, unmatched by any other country in the Middle East. As a result of such pioneering and ambitious initiatives, desertification will be reduced, biological diversity will be enhanced, and a cleaner, more sustainable future will improve human wellbeing and the quality of life.
Furthermore, Farsi stated that the Petro Rabigh initiative is part of the Company's social responsibility to expand the plant landscape in the coastal environment. He pointed out that Mangrove trees are among the most important natural resources in the Kingdom, which we are seeking to intensify and multiply through plantation projects to achieve Saudi Green Initiative goals. The Mangrove trees have many advantages, such as protecting the coasts from rising water levels, reducing the effects of climate change by storing substantial amounts of carbon in soil, providing wildlife with a habitat, absorbing toxins, storing carbon over the long term, and delaying the effects of climate change. "We have launched this initiative to contribute to a greener future that helps in improving the quality of life and in protecting the generations to come", he added.
Crown Prince Mohammad bin Salman bin Abdulaziz, Prime Minister and Chairman announced the launch of Ceer, the first Saudi electric vehicle brand that will contribute to Saudi Arabia's automotive manufacturing sector.
The launch is in line with PIF's strategy to focus on unlocking the capabilities of promising sectors locally that can help drive the diversification of the economy, to help achieve the objectives of Vision 2030. In addition, the company will contribute to Saudi Arabia's efforts towards carbon emissions reduction and driving sustainability to address the impact of climate change.
Mohammed bin Salman said: "Saudi Arabia is not just building a new automotive brand, we are igniting a new industry and an ecosystem that attracts international and local investments, creates job opportunities for local talent, enables the private sector, and contributes to increasing Saudi Arabia's GDP over the next decade, as part of PIF's strategy to drive the economic growth in line with Vision 2030."
Ceer is the first Saudi automotive brand to produce electric vehicles in Saudi Arabia, and will design, manufacture and sell a range of vehicles for consumers in Saudi Arabia and the MENA region, including sedans and sports utility vehicles. A part of PIF's strategy to diversify Saudi Arabia's GDP growth by investing in promising growth industries, Ceer will attract over US$150 million of foreign direct investment, and create up to 30,000 direct and indirect jobs. Ceer is projected to directly contribute US$8 billion to Saudi Arabia's GDP by 2034.
The company, which is a joint venture between PIF and Hon Hai Precision Industry Co. ("Foxconn"), will license component technology from BMW for use in the vehicle development process. Foxconn will develop the electrical architecture of the vehicles, resulting in a portfolio of products that will lead in the areas of infotainment, connectivity and autonomous driving technologies. Each vehicle will be designed and manufactured in Saudi Arabia, and tested to the highest global automotive quality control and safety standards. Ceer vehicles are scheduled to be available in 2025.
Chairman of Hon Hai Technology Group, Young Liu, said: "Foxconn is excited about our partnership with PIF to create a new automotive company that will focus on designing and manufacturing electric vehicles in and for Saudi Arabia. We will leverage Foxconn's technological expertise to support Ceer's vision of creating a range of iconic electric vehicles that are built around the themes of connectivity, infotainment and autonomy. We want to make electric vehicles mainstream, and that is what Ceer is going to achieve in Saudi Arabia and the wider region."
ESG factors can have a significant impact on the attractiveness of commercial assets to occupiers, as well as investors
Dubai: Aging office buildings in Dubai and Riyadh present a unique investment opportunity as occupier expectations start turning increasingly green, according to a new report, The ESG Imperative – The View From The Middle East - https://bit.ly/3ehxPwC, by global property consultancy, Knight Frank.
As sustainability issues take centre stage globally, environmental, social and governance (ESG) considerations are growing in importance. With 40% of global greenhouse gas emissions traced to the buildings we occupy, the imperative to go green has never been stronger. Furthermore, ESG factors can have a significant impact on the attractiveness of commercial assets to occupiers, as well as investors.
WINNING THE WAR FOR TALENT
Faisal Durrani, Partner – Head of Middle East Research, Knight Frank, explained: "Occupying best-in-class office space is no longer a nice-to-have, but a need-to-have. Businesses are quickly discovering that to win the battle against the global talent shortage, a key tool is occupying world-class office space that effectively doubles as a showroom. This allows a business to showcase itself to potential clients as well as future talent, while offering a workspace that employees are proud to work in. This will be critical as we emerge from the pandemic."
Knight Frank's report points to Dubai's office market, where there has been a sharp return to rental growth for locations that have higher concentrations of new, or relatively modern stock. Submarkets such as Business Bay, the DIFC and the Dubai Design District have all seen rents surpass pre-COVID levels, while older parts of the city where there is a higher concentration of older, more secondary stock are still struggling to return pre-pandemic lease rates. This is not necessarily due to a lack of demand in the market, says Knight Frank, but a lack of demand for older offices.
Durrani continued, "The flight to quality and sharpened focus on Grade A space is reflected in the fact that Grade A buildings in Dubai have occupancy levels in the high 80's to low 90's per cent, while in Riyadh, Grade A occupancy levels are hovering around the 97% mark.
"While the DIFC retains its position as Dubai's financial heart and commands the highest office rents in the city, its buildings are rapidly aging. Indeed, 51% of the precinct's 6 million square feet of office space was completed before 2010. The same is true for some other popular locations such as Dubai Internet City and Dubai Media City, where the average age of office buildings is 15 years across the 10.3 million square feet of office space in these areas. Similarly, in Riyadh 50% of office space on King Fahd Road and 84% of office space on Olaya Road is over 5-10 years old."
ESG-LINKED REFURBISHMENT
Inevitably there will have been some refurbishment activity across these markets, but without extensive refurbishment that is ESG compliant, some buildings may start to see increasing voids and falling rents as occupiers gravitate towards more modern and green buildings.
Ben Walker, Partner – Head of Project and Building Consultancy, said: "All is however not lost for older buildings. Grade B buildings are often better located in that they are completed communities, with supporting infrastructure already in place. Clearly it will not necessarily be financially viable to refurbish all Grade B buildings, but the traditional demolish-and-rebuild approach in the region may soon be difficult to achieve as banks scrutinise the carbon footprint of new schemes before awarding development financing. Indeed, the carbon footprint of a refurbishment is far lower than the demolish and rebuild route".
According to Knight Frank, average renovation or refurbishment costs for office buildings in Dubai currently range from approximately AED 280 psf and can be as high as AED 580 psf.
Walker added, "For refurbishment projects, a 40-50% uplift in the cost of the contract is the norm when attempting to achieve a LEED Silver rating. Clearly it may not always be possible to achieve a Platinum LEED rating as the cost may far outweigh any expected benefit and some older buildings may not be suitable to accept the retrofit needed.
"Overall, however, the message from businesses is clear: ESG credentials are quickly becoming a must have, especially for international blue-chip businesses. And this is not necessarily just LEED. It also includes WELL certification, which is focused on the experience of the occupants of a building, but also WiredScore Certification.
"Landlords may view this as lost cap-ex, but we have evidence from mature cities such as London where we have evidence to show clear rental premia associated with ESG-badged office buildings. There is no reason why we cannot expect to see the same in Dubai, particularly while internationally accepted, green-rated buildings remain in short supply".
INVESTOR APPETITE
Knight Frank also highlights the investor appetite for green-rated buildings, with over US$ 120 trillion worth of real estate assets managed by funds that are signed up to voluntary climate-change disclosures.
"The region is yet to successfully attract global institutional capital in a meaningful way. The key reasons have been around the lack of assets of scale and market transparency. All that being said, investors are abandoning brown assets in favour of green-rated buildings. So, we have a clear opportunity to create these assets, attract strong covenants and deliver these green assets right into the hands of ESG-hungry funds.
"A significant test will come in the form of the US$80 billion 2024 IPO planned by the US$500 billion Saudi super-city NEOM, which has placed sustainability at the heart of its development objectives", concluded Durrani.
Plans for the development on Teesside of a huge waste to sustainable aviation fuels (SAF) project by the Saudi Arabian business 'alfanar' have moved forward.
Last year the company secured support from the UK government worth £2.4 million under the green fuels Lighthouse project for its proposed plant in north east England.
Alfanar has plans for a £1 billion Teesside sustainable aviation fuels plant taking in one million tonnes of waste a year. The technology to be used is described as an "innovative waste-to-liquid (WtL) process utilising gasification and Fischer-Tropsch technology to convert household and commercial waste, otherwise destined for landfill or incineration, into approximately 180 MM litres of SAF and naphtha".
Targets
SAF is becoming important within the airline industry as governments, which includes the European Union, are setting targets for the use of SAF in aircraft fuels to reduce the carbon emissions from aircraft.
There is competition to be the front-runners for such projects and earlier this Summer alfanar announced that its Teesside SAF plant had entered the Front-End Engineering and Design stage which could see it producing "green fuel" by 2027.
However, to help ensure the viability of the plant, alfanar said it was calling on the UK government to introduce a "price stability mechanism for early SAF projects".
Contractor for the FEED phase is Worley and the company said of the appointment: "this milestone makes the project the most advanced SAF facility in the UK today, and is due online in 2027."
The plant is to be built in Teesside's net zero industrial cluster and, claimed alfanar, has the potential to utilise the East Coast Cluster's carbon capture and storage (CCS) infrastructure, due to be available from the mid-2020s, to further reduce the SAF's carbon intensity.
alfanar has also said that it is "actively evaluating other UK sites for its second and third SAF plants to be built by 2030 and 2035 respectively, and plans to develop further green projects in the UK and beyond utilising CCS and hydrogen infrastructure".
Potential
Mishal Almutlaq, chief investment officer of alfanar said:"With the third largest aviation network in the world, and with one of the world's largest potential offshore CO2 stores, the UK has the industrial and geological advantages to become a global leader in developing green aviation fuel with the lowest possible emissions using CCS technology. That is why we want to build our first ever SAF plant in the UK by 2027 and two further plants by 2035.
Mr Almutlaq continued: "To deliver net zero aviation, the Government has already established the Jet Zero Council, has announced grant funding for SAF projects, and is consulting on a Jet Zero Strategy. To continue this leadership, and to enable alfanar's first SAF project and other similar early projects to progress, price certainty is also needed. We are therefore today calling on the UK Government to progress the SAF mandate and introduce a price stabilisation mechanism such as a Contract for Difference for SAF."
Greener flying
Aviation Minister Robert Courts MP said: "Aviation will be central to our future growth, so it's essential we deliver greener flying. Thanks to alfanar's investment the UK could be producing cleaner fuel in a few years, not only making us more sustainable, but also creating more jobs and strengthening our economy."
Tees Valley
Mayor of Tees Valley Ben Houchen said: "Whether it be in hydrogen, CCUS, offshore wind or sustainable aviation fuel, Teesside has established itself as a global centre for developing the green technologies that will mean we can achieve our ambitious net zero targets."
Mayor Houchen continued: "This milestone by alfanar is another first, and further strengthens our region's position as the number one place to develop new clean energy tech. alfanar's sustainable aviation fuel plant will create 700 good-quality well paid jobs during construction and 240 full time roles when operational, fuelling our economy whilst reducing the emissions from a huge number of flights."
THUWAL — King Abdullah University of Science and Technology (KAUST) has announced that Edama Organic Solutions, an organic waste recycling KAUST startup, officially opened its new recycling facility.

Located in the KAUST Research and Technology Park, the facility is the first of its kind in Saudi Arabia to feature technology that provides waste processing and desert agriculture solutions — innovations in support of Vision 2030 sustainability goals.

All waste currently generated in Saudi Arabia is sent to landfills, where it represents a threat to the environment and public health, and is an economic burden on public administrations and businesses. Organic waste constitutes about 65% of the country's discarded matter.

Waste buildup produces hazardous greenhouse gasses like methane that pollute the air and react with other waste types, creating harmful byproducts such as leachate, a contaminated liquid that pollutes underground soil and water sources.

Edama's technology combats this, mastering the delicate biology in the composting process to transform organic waste into high-value products for desert agriculture, tree plantation and land restoration projects.

The new facility, developed in collaboration with KAUST Facility Management, will recycle 100% of the university's food and green waste, producing about 4,500 m3 of high-quality soil improver with great benefits for local sandy soils. The facility positions Edama as the only local company with hands-on, in-depth industry knowledge and experience in organic waste recycling.

"We're delighted to see the growth and scale of Edama Organic Solutions since their inception at KAUST and this milestone of their first facility opening," said Dr. Kevin Cullen, vice president of KAUST Innovation. "This will change how KAUST recycles organic waste and reshape the future of waste management in the Kingdom."

By transforming organic rubbish into valuable input products for desert agriculture, landscaping and gardening, the startup aims to address both environmental pollution and plant cultivation in arid regions. Edama can reduce ecological threats and public health by diverting organic waste from landfills, a shift that will aid the sustainable development of Saudi Arabia's growing cities, mega-projects andVision 2030 recycling targets while also providing soil improvers, which are in high demand due to the recently established Saudi Green Initiative (SGI).

SGI will require massive amounts of high-quality soil improvers, as the government plans to plant 10 billion trees in desert soils.

Dr. Sabrina Vettori, Edama Organic Solutions CEO and co-founder, stated, "At Edama, we believe that sustainable development of our cities can be achieved through efficient management of our resources. By turning organic waste into a resource for restoring our soils, we contribute to improving water management, increase desert agriculture productivity and enable the realisation of land restoration and tree plantation projects."

Saudi Investment Recycling Company (SIRC) has recently awarded Edama the opportunity to design, build and operate their next organic waste recycling facility on a much larger scale. Along with the new facility, Edama will expand upon its critical work as they help prepare the Kingdom and MENA region to respond to significant growth and food demand over the coming decades.

KAUST's support and mentoring throughout their various initiatives has helped Edama grow from a lab-based startup into a leading provider of organic waste recycling solutions for arid environments. As a world leader in sustainable technologies, KAUST remains focused on cutting-edge solutions to diversify the economy in KSA while contributing to a more sustainable future.
Source: Saudi Gazette
Saudi Arabia accounts for close to 40 percent of Japan's crude oil imports as the largest supplier.
RIYADH — Saudi Arabia and Japan signed a memorandum of cooperation (MoC) on Sunday in the fields of the circular carbon economy, carbon recycling, clean hydrogen and fuel ammonia.
The MoC was signed by Energy Minister Prince Abdulaziz Bin Salman and Japanese Industry Minister Yasutoshi Nishimura, who is visiting the Kingdom currently.
The two ministers held the first ministerial meeting of the Saudi-Japanese energy dialogue in Riyadh, the Energy Ministry said on Twitter.
Saudi Arabia accounts for close to 40 percent of Japan's crude oil imports as the largest supplier.
Under the two memoranda of cooperation, the two countries will accelerate the use of hydrogen in transport, promote research and development of hydrogen and fuel ammonia technologies and their use at the local, bilateral, regional and international levels.
The two countries will also explore possibilities of conducting a joint study or pilot project that accelerates the deployment of such technologies as direct air capture, carbon capture, utilization and storage (CCUS)/carbon recycling and low carbon fuels such as e-fuel, gaseous fuels, methane, fuels derived from CO2 and methanol.
© Copyright 2022 The Saudi Gazette. All Rights Reserved. Provided by SyndiGate Media Inc. (Syndigate.info).
Source: Zawya.com