AI-driven global cleantech company Sparklo has announced installing 1,000 reverse vending machines (RVMs) – known as Sparklomats – in popular public areas throughout the MENA, leading a sustainability wave in the region.
The company said its innovative solutions have inspired users to place 1 bottle every 3 seconds and 30,000 plastic bottles and aluminum cans daily in MENA.
The company said Sparklomats have already been installed in parts of Abu Dhabi and Dubai in the UAE as well as Saudi Arabia and Qatar, and thousands of such machines will be installed in more cities and countries in the next few years.
Sparklo's reward app incentivises recycling
In the UAE, Sparklo said its reward app already hit the 6thspot on the top 10 most popular lifestyle apps.
The company's RVMs allow people to easily recycle plastic bottles and aluminum cans. Users also receive rewards in the mobile app whenever they place an empty bottle or a can, which can be exchanged for discount vouchers for food, delivery services and other special offers.
"Our goal is to collect all the plastic bottles and recyclables in the MENA region," said Maxim Kaplevich, owner and CEO of Sparklo.
Kaplevich said the company aims to revolutionise recycling and integrate it into the fabric of society's lifestyle by incorporating elements of education and entertainment.
Sustainability wave in the MENA
The company said its commitment to sustainability and innovation has already garnered support from key industry leaders in the MENA region, enabling it to install its RVMs at retail chains, shopping centers, gas stations, and hotels.
The company began operating in the MENA region in the UAE's 'Year of Sustainability' with its game-changing software and hardware solutions for waste management on a worldwide scale. With plans to tackle the ever-pressing challenges of plastic and aluminum waste head-on, the company is creating groundbreaking global infrastructure and paving the way for a sustainable and eco-friendly future in the Middle East.
The company has also developed an AI-powered software system for the Sparklomats which utilises machine learning algorithms to optimise the recycling process.
By leveraging artificial intelligence, the reverse vending machine can accurately identify and sort recyclables, improving efficiency and reducing contamination. This technology enables the maximisation of the recycling potential of each item.
Globally, with the help of the machine, the company has collected 35 million recyclables, 26 million plastic bottles and 8.6 million aluminum cans, making a significant positive impact on the environment.
According to recent data, 4 billion plastic bottles are consumed annually in the UAE and about 40 percent of all plastic in the country is single-use.
Source: Arabian Business
"We look forward to holding the Sustainable Development Goals Summit next September, and we see it as a unique and important milestone in our collective efforts," Sheikha Alya Ahmed bin Saif Al-Thani, Qatar's permanent representative to the UN, said during the Economic and Social Council Forum on Financing for Development Follow-up 2023.
She highlighted Qatar's continued efforts to offer help and conduct development initiatives to benefit millions of people worldwide during the meeting, Qatar News Agency reported on Sunday.
Qatar contributed more than $551 million for development projects and humanitarian aid in 2021, she added, while it was reiterated that in implementation of the goals of sustainable development, partnership for development was a top priority.
Sheikha Alya hailed the strategic partnership between Qatar and the UN, which culminated in the opening of the UN House in Doha, in March.
She went on to say that Qatar was honored to host the fifth UN Conference on the Least Developed Countries that month, during which Emir Sheikh Tamim bin Hamad Al-Thani offered a financial contribution of $60 million.
Qatar is the founder of the UNDP Accelerator Lab Network, into which it has invested $30 million.
Sheikha Alya added that Qatar has signed more than 50 bilateral agreements to encourage investment in developing countries, with the goal of revitalizing global partnerships for sustainable development through supplying financial resources to developing countries through remittances for expatriate workers.
Source: Arab News
Hilton, in partnership with the United Nations Environment Programme (UNEP) West Asia, Winnow and Goumbook, has announced the launch of Green Ramadan, an initiative which will see food waste reduction efforts implemented at hotels across several key markets in the Middle East, including Waldorf Astoria Lusail Doha in Qatar, Conrad Dubai in the UAE, and Hilton Riyadh Hotel & Residences in Saudi Arabia.
With reports from UNEP West Asia showing that food waste increases by 25% – 50% in the region during religious and social festivities, Hilton is introducing measures to minimise waste during the holy month of Ramadan and drive awareness around local sourcing and food waste. The initiative is in line with Hilton's Travel with Purpose 2030 Goals to reduce food waste sent to landfill by 50%.
The partnership will combine Hilton's drive towards a net zero future, UNEP's 'Recipe of Change' food waste reduction campaign, Goumbook's local sustainability expertise, and Winnow's AI technology – allowing for digitally-led tracking of food waste throughout Ramadan. In doing so, Hilton will gather data to predict future procurement and production needs while also minimising its long-term environmental impact.
As part of the initiative, participating Hilton hotels across Qatar, the UAE and Saudi Arabia will compost excess food waste, prioritise local food sourcing within a 50-mile radius, promote plant-based dishes, restrict plastic use across operations, and partner with food banks.
In Qatar, Waldorf Astoria Lusail Doha will offer guests a tasteful dining experience at Bywater Restaurant with breathtaking views of the stunning Arabian Gulf. The restaurant takes pride in serving locally sourced produce from the Al Wabra Farm, showcasing a meticulously crafted menu that plays an active role in reducing food-related emissions. The hotel has also partnered with the Hifz Alnaema Food Bank to reinforce charitable giving during the holy month.
In the UAE, Al-Wāha by Conrad Dubai will feature local produce from Fresh on Table, and an innovative plant-based section with a thoughtfully curated menu that helps to significantly cut food-related emissions. The hotel is also partnering with the UAE Food Bank to reinforce charitable giving by donating 100 meals per day throughout Ramadan. Conrad Dubai will also compost food waste from Al-Wāha through The Waste Lab.
Meanwhile in Saudi Arabia, Hilton Riyadh Hotel & Residences will take guests on a gastronomic journey at Amara, its Ramadan tent, which will feature local produce from Nadec and Pure Harvest Smart Farms as part of a thoughtfully curated menu that helps to significantly cut food-related emissions. The hotel is also partnering with the Ita'am Food Bank to reinforce charitable giving and will donate 100 meals per day throughout Ramadan. Additionally, the hotel will collaborate with Black Cow to collect and compost Iftar buffet leftovers to be used as organic fertilisers locally.
Emma Banks, vice president, F&B strategy & development, EMEA, Hilton, said, "As a global hospitality brand, Hilton has a responsibility to lead the industry in the pursuit of sustainable solutions. We are delighted to embrace the holy month of Ramadan with the introduction of the Green Ramadan initiative. Our partner, Winnow, will play a crucial role in this digital-first approach by collecting food waste data and using it to inform our local procurement requirements while working closely with our partner Goumbook to ensure an educated approach towards the implemented sustainable practices. We're also aligning closely with UNEP West Asia's ongoing 'Recipe of Change' campaign aimed at reducing food waste across the value chain".
"We hope that Hilton's Green Ramadan initiative will set the standard for years to come by encouraging local food sourcing and reducing food waste," said Banks.
Mr. Sami Dimassi, UNEP representative and regional director, West Asia, said, "We are very pleased to collaborate with Hilton to activate this campaign across its key markets in the Middle East. Reducing food waste is not only about saving food, but also about saving resources. The only way forward is to work hand-in-hand by engaging the local community, private sector, and influencers. Today, every plate counts and so does every wasted plate. Let us all fight food waste and work towards a more sustainable future".
Marc Zornes, CEO and co-founder, Winnow, said, "Winnow is delighted to partner with Hilton, Goumbook and UNEP West Asia on this initiative during Ramadan. Food waste is an important area of interest for the region from a social and environmental perspective. Our intention is for this collaboration to be underpinned by real-world data and behavioural science, offering a playbook for the industry to tackle food waste".
Tatiana Antonelli, founder and managing director, Goumbook, said, "We are thrilled to collaborate with Hilton on their Green Ramadan initiative alongside UNEP West Asia and Winnow. With food waste almost doubling in the holy month of Ramadan, there is a great opportunity to raise awareness and spotlight the benefits of local sourcing and food waste management. As we look forward to COP28 happening in the Middle East later in 2023, this is our chance to address the need to instill change and drive action".
Source: Hilton
Qatar has kickstarted a proactive drive to strengthen the domestic debt market in light of the "encouraging" potential for local bonds and Sukuks, announcing $75 billion in investments in sustainable finance this year.
"There is an active drive in Qatar to strengthen the domestic debt capital market to diversify sources of funding and expand sustainable finance solutions," Qatar Financial Authority chief executive officer Yousuf Mohamed al-Jaida Monday told Qatar Financial Market Forum.
"It is a part of a broader strategy to enhance the county's capital market infrastructure and create a greener future in line with the Qatar National Vision 2030."
Experts from around the world were in the Qatari capital for the Qatar Financial Market forum on Monday to take on the most pressing economic and banking issues.
Under the theme 'From Sustainable Financing to Debt Capital Markets, Uncovering Solutions for the Future of Banking in Qatar,' the forum is a collaboration between Bloomberg Intelligence, the research division of Bloomberg LP, and the Qatar Financial Centre.
Leaders and important stakeholders from private businesses, governmental organisations, and financial institutions landed in Doha for a day of discussion on important issues like bank funding, debt capital markets, and sustainable finance.
During the conference, Al-Jaida emphasised that the nation is drawing more and more foreign investors to its expanding equity market and that local bond and Sukuk issuances have an encouraging future.
"In general, Qatari issuers have been accessing the international debt capital market since the inaugural sovereign issuance in 2003 of $700mn Sukuk, marking the first-ever sovereign Sukuk issuance from the region," he added.
In addition, the official said major banks and financial stakeholders in the country are launching initiatives that promote sustainable banking and financing. He cited QNB's 2020 issuance of the nation's first-ever green bond, worth $600 million, as an important milestone for the development of sustainable finance in Qatar.
He also said Masraf Al Rayan recently made history by becoming the first Islamic bank in Qatar to introduce a sustainable finance framework, providing investors with the environment, social, and governance (ESG)-linked funding opportunities and using the money raised to fund sustainable projects that adhere to ESG standards.
At Qatar Development Bank, borrowers who meet sustainability goals are offered a three-year grace period and a 20-year repayment period with discounted interest rates.
Meanwhile, Dukhan Bank and the Gulf Organization for Research and Development signed a memorandum of understanding to launch a Shariah-compliant green and sustainable real estate financing program at COP27.
Al-Jaida said this trend suggests significant efforts are placed in developing the local capital market and a commitment to adhering to ESG and sustainability principles to meet the growing need for sustainable financing. He said that by 2023, sustainable finance in Qatar is expected to offer $75 billion worth of investment opportunity.
He added that QFC collaborates with important government organisations like the Qatar Central Bank and Qatar Financial Markets Authority to ensure regulatory alignment and the seamless execution of national financial development priorities.
QFC and its regulator have played a significant role in Qatar's capital market development journey over the years.
Additionally, he said, the QFC is continually enhancing its regulatory, legal, and tax frameworks to draw in and keep specialised financial players that both support and supplement the services provided by local banks.
Qatar is working to create a capital market that is more diverse.
The nation is poised to establish a niche sustainable finance market, which is expected to reach a global value of more than $22tn by 2031. This is thanks to established regulations for the governance of existing and new financial investments and ongoing efforts to adopt comprehensive approaches to capital market development.
Source: Doha News, Menatalla Ibrahim
With the Middle East at the forefront of innovation in the buildings and construction industry, companies around the region are using various tools to optimise waste, carbon emissions and the use of resources across project lifecycles.
Among them is HBK Contracting. The Qatari construction firm and the contractor behind the first fully demountable football stadium in FIFA World Cup history is a recent participant in the Living Business programme.
Living Business advises and supports corporate organizations on sustainability and on operating without negatively impacting the environment, community, or society as a whole.
Construction is a major contributor to global carbon emissions. According to the 2020 Global Status Report for Buildings and Construction, the sector accounted for 35% of final energy use and 38% of energy and process-related carbon dioxide (CO2) emissions in 2019.
Not only is the construction industry one of the top users of natural resources, but construction also creates an estimated third of the world's overall waste.
For organisations such as HBK, sustainability is therefore a major imperative. The Qatar-based construction giant has been an active member of the Qatar Green Building Council for over a decade and its participation in the Living Business programme has confirmed the importance of embedding sustainability throughout its processes.
With a growing sustainability department supporting the strategy and roll out of better environmental practices across the organization, HBK Contracting has implemented sustainable design, engineering, and construction practices powered by relevant data to track, measure, and reduce emissions and waste.
"A waste is not a waste unless you waste it," said Engr. Tushar Mondal, HBK's Workshop Manager. "At HBK, we worked with this motto for our general waste management for years. Our main goal was optimum reduction, best possible reuse, systematic disposal and maximum recycling. By identifying our waste at the point of generation instead of at the disposal area, we were able to segregate and categorise our waste process properly."
With help from the Living Business team, HBK Contracting was able to create a comprehensive waste management roadmap followed by a job safety analysis, an aspect-impact analysis and an intensive action plan. This project was mentored by Engr. Raid Hasan, Operation Manager (PMV Affairs) at HBK.
Recycling waste to generate new revenue streams
The firm's PMV Division collected all the used filters from its construction projects across Qatar, and was able to recycle 100% of them at one of the largest state-of-the-art PMV logistics hubs in the Middle East and North Africa. The 120,000-sq-m PMV hub is located at Al Wakra Logistics Park in Qatar.
Filters comprise the largest quantity of hazardous waste products from construction operations, according to a detailed waste management study by HBK.
"Over 4,500 filters – for oil, fuel, air, and hydraulics – were recycled, thus reducing the quantity of hazardous waste stored at our facilities. This monthly waste disposal process used to cost us QR40,000, however, we are now making almost QR4,000 per month by selling recyclable steel extracted from the filter body after dismantling and segregating into three parts: steel body, strainer and filter paper," added Mondal.
Among its initiatives to reduce its environmental footprint, the company has recycled several tonnes of hydraulic hoses, wood, aluminium, copper, scrap steel, and thousands of lead acid batteries. It has also implemented digital fleet route optimisation techniques. These efforts have won HBK the 2022 Living Business Award for Best ESG Project in Qatar in the general waste management category.
Mondal said: "We are truly honoured to win this valuable prize alongside prizes for the Best General Waste Management project and Best Employee Wellbeing project. Awards and accolades from authoritative entities only confirm that we are on the right track."
HBK also has numerous achievements to its credit. The construction firm recently earned the ISO 29001 certificate. Other distinctions include the Green Award by Public Works Authority- ASGHAL and the International Safety Award by the British Council.
For HBK, sustainability is a journey, not a destination, Engr Raid said. Now the company is looking at new ways to further its environmental goals.
"Practising sustainability is a continuous and collective effort. We are currently closely monitoring the technical benefit, and cost-effectiveness, and refining our processes all over our workshop. We are expecting further improvements in this area by December 2023 and are actively putting effort to replace generators at our workshops with electricity supplied by Kahramaa only until we install solar panel grids to completely power our office and workshops," Engr. Raid concluded.
GAC Qatar has opened a new sustainably-built 27,000 m2 multi-user contract logistics facility and office building in Ras Bufontas Free Zone, in partnership with Qatar Free Zones Authority (QFZA), adding to the company's existing infrastructure and boosting customer services and offerings in local and international markets.
The new facility features up to 40,000 pallet positions, as well as four temperature and humidity-controlled chambers, to meet the requirements of a wide range of sectors, including food and beverages, fast-moving consumer goods, retail and telecommunications. It also features 500 m² of dedicated value-added services space and 2,000 m² of mezzanine storage to meet customers' requirements and international quality standards.
Sustainability
GAC Qatar's newest contract logistics facility and office building has been built with sustainable materials and methods, as well as the latest technology to ensure the company remains consistent with the wider GAC Group's commitment to sustainability and innovation.
The facility has attained the Global Sustainability Assessment System (GSAS) certification and boasts several energy-saving features, such as environmentally friendly controlled thermal insulation, thermal transmittance technology, advanced building management systems and LED lighting with motion sensors. It is also partly powered by solar energy and uses 100% recycled water from in-built storage building air coolers.
Plans are also in the pipeline to improve the facility further with the installation of solar panels, a sanitary wastewater treatment plant for irrigation, and a plantation and irrigation system that requires low water consumption.
Strategic location
GAC Qatar's newest facility is set to benefit from the Middle Eastern country's advanced infrastructure, as well as its position within Qatar Free Zones. It is strategically located in Ras Bufontas Free Zone, next to Hamad International Airport and close to the Umm Al Houl Seaport Free Zone, placing the company in the ideal position to meet the growing demand for efficient and timely delivery of goods.
GAC Qatar General Manager Henrik Althen at the warehouse inauguration ceremony
"The purpose-built contract logistics facility is designed to maximise operational efficiencies and achieve higher productivity to provide quick turnaround time in a lean and agile manner to help customers achieve their supply chain goals," says Adrian Peiris, Business Manager for Contract Logistics at GAC Qatar.
Henrik Althén, GAC Qatar's General Manager, adds: "We are excited to reach this latest milestone in our expansion. The opening of the new facility and office building signifies our continued commitment to delivering end-to-end shipping and logistics support from a strategic location for our customers locally, regionally and internationally."
GAC Qatar's operations are ISO 9001, 14001 and 45001 accredited, and its latest site will ensure the company continues to deliver world-class services built on quality, safety and sustainability.
Sustainability
GAC Qatar's newest contract logistics facility and office building has been built with sustainable materials and methods, as well as the latest technology to ensure the company remains consistent with the wider GAC Group's commitment to sustainability and innovation.
The facility has attained the Global Sustainability Assessment System (GSAS) certification and boasts several energy-saving features, such as environmentally friendly controlled thermal insulation, thermal transmittance technology, advanced building management systems and LED lighting with motion sensors. It is also partly powered by solar energy and uses 100% recycled water from in-built storage building air coolers.
Plans are also in the pipeline to improve the facility further with the installation of solar panels, a sanitary wastewater treatment plant for irrigation, and a plantation and irrigation system that requires low water consumption.
Qatar's World Cup Stadium 974 made history even before its first match by setting new standards in the building and usage of sustainable venues.
This year's FIFA's tournament will have the most compact footprint in history thanks to the first fully demountable stadium in its history and all stadiums within a 50-kilometre radius of central Doha.
According to the FIFA World Cup 2022 Greenhouse Gas Accounting Report, total greenhouse gas emissions from the preparation, FIFA World Cup and post tournament phases, between April 2011 and June 2023, are estimated to be 3.631 million tonnes of carbon dioxide equivalent.
However, organisers of the event aim to offset all tournament-related greenhouse gas emissions, while furthering low-carbon solutions in the country. Several key initiatives, including renewable energy solutions, reduced water consumption at operational stadiums and sustainable landscaping have been undertaken.
Stadium 974
Qatar's Stadium 974 is a big win for innovation and sustainability. As the first-ever FIFA-compliant stadium that can be fully dismantled and re-purposed post-event, 974 set new standards in the building and usage of sustainable venues.
The stadium was developed by the Supreme Committee for Delivery and Legacy which is responsible for overseeing all the construction and infrastructure projects for the 2022 FIFA World Cup. Constructed entirely from shipping containers and modular steel, it demonstrates Qatar's commitment to cost-effective sustainability and bold design.
Located near Doha's port and opposite the West Bay shoreline, the stadium is a nod to the city's maritime history. It was built on a former industrial land that belonged to Qatar Petroleum. The planning process for the stadium was carried out in 2015 where an assessment of the location was done.
The team also had to carry out removal works of all previous utilities before breaking ground on the project. The project involved extensive decontamination for the soil and water before construction commenced which was carried out based on the regulations and the permits mandated by the Ministry of Environment in Qatar.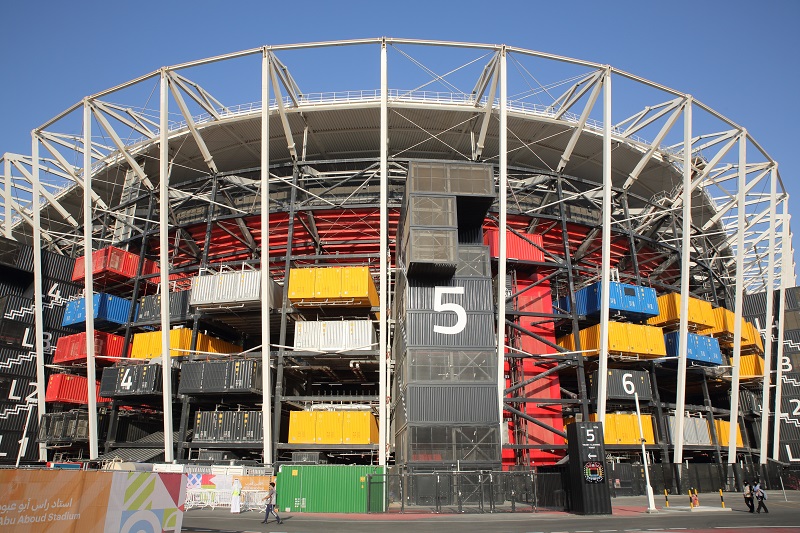 Not only is 974 the international dialling code for Qatar, but it is also the exact number of shipping containers used in its construction. The stadium needed 30,000 tonnes of steel to erect the entire structure.
The shipping containers were used due to their low carbon impact, cost-effectiveness, and flexibility, and were newly fabricated by the world's largest container manufacturer in China – China International Marine Containers.
The idea was developed with Fenwick Iribarren Architects, the lead designer of the stadium. The stadium was managed by TiME Qatar with Hamad Bin Khaled (HBK) Contracting Company as the main project contractor along with HBK Engineering, a subsidiary of HBK Contracting, as the MEP contractor. Louis Berger International was the construction supervision consultant, while Prime Qatar served as the project management consultant.
Other stakeholders who also worked on the stadium included Hilson Moran, who delivered engineering services together with sustainability consultancy acoustics, vertical transportation, and security consultancy.
Complete fit-out works were carried out by Medtel WN, and BIMTEC was assigned to manage and provide solutions to the Building Information Modeling (BIM) and co-ordination-related scope of the project.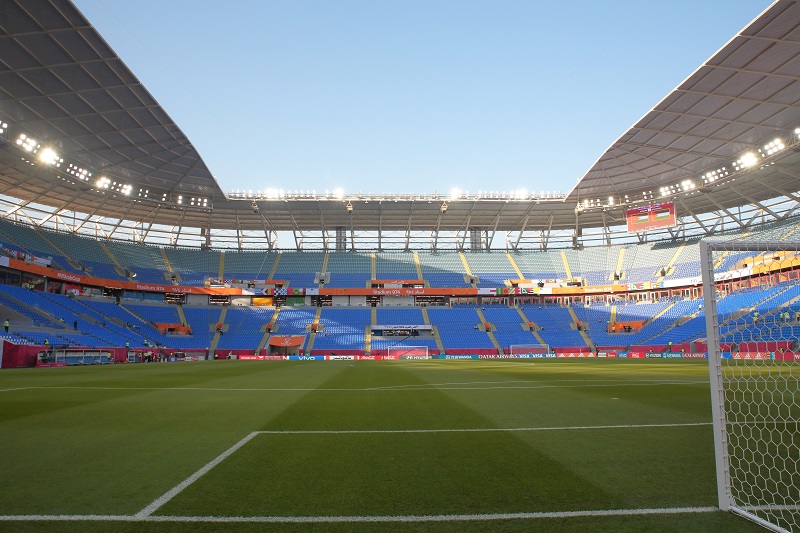 The stadium's bowl seating avoids the need for air conditioning as it is designed for natural ventilation. This is in line with the project's sustainability goals. Situated in the portside area and in sight of Doha's coastal cityscape, fans at Stadium 974 feel the cool breeze as it rolls in from the Arabian Gulf.
Efficiency methods ensured that the football ground cut its water use by 40 per cent compared to a conventional stadium development.
GSAS Certification
Engineer Ghanim Al Kuwari, deputy director general, technical services, Supreme Committee for Delivery & Legacy, says: "Sustainability has been the primary focal point with Stadium 974. To receive top GSAS certification marks from GORD is further confirmation of our efforts to establish new, sustainable concepts of stadium design and construction that we hope will be adopted worldwide. It is a proud example of the legacy we intend to leave from Qatar's hosting of the FIFA World Cup."
Under the rating system administered by the Gulf Organization for Research and Development (GORD), Stadium 974 recently received a five-star GSAS design and build classification and category A* construction management grading.
Sustainability communications manager, Jassim Al-Jaidah, says: "We thank all our contractors and stakeholders, including the stadium management team, for helping us to make Stadium 974 become a proud symbol of our sustainability objectives. This award is an important recognition of our goals to stage a carbon-neutral FIFA World Cup."
The World Cup is expected to leave a sustainable legacy, backed by a strong intent to deliver a carbon neutral tournament.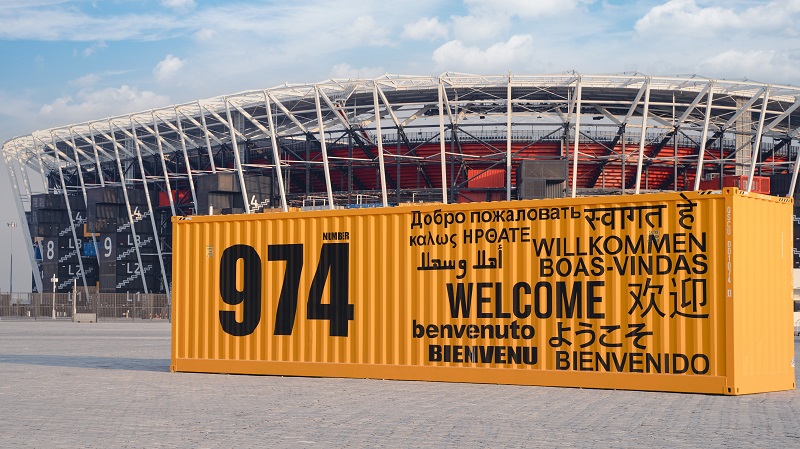 Repurposing the superstructure
Upon completion of the tournament, the containers and superstructure will be repurposed. A waterfront development boasting fabulous facilities for the local community will spring to life, as well as a dynamic hub for business.
This new concept in venue development ensures that while Stadium 974's physical presence may be temporary, its legacy will be everlasting.
Ths stadium is set to be dismantled after the last match scheduled in the stadium takes place on Monday, December 5. The dismantled stadium could be shipped to countries that need infrastructure, according to several reports.
Several Gulf states are experimenting with blue ammonia and carbon capture technology, which has energy-related potential but a mixed impact on the environment.
Qatar's state-owned energy company announced a new blue ammonia energy project Thursday.
QatarEnergy affiliates agreed to develop the roughly $1 billion Ammonia-7 project. The facility will be able to capture and sequester 1.5 million tons of carbon dioxide (CO2) per year, supply 35 megawatts of renewable electricity via solar panels, and market the product as blue ammonia, the official Qatar News Agency reported.
What is blue ammonia? Blue ammonia is derived from hydrocarbons such as crude oil. The key criteria is that the carbon dioxide emitted during the ammonia formation is captured and stored, as opposed to being released into the atmosphere, according to the Texas-based tech company KBR.
Why it matters: Blue ammonia has the potential to be less harmful to the environment due to the carbon capture. However, the process itself typically only removes 90% of the carbon dioxide, according to the International Energy Agency. Blue ammonia also requires a relatively large amount of carbon to produce, according to the US Department of Energy.
Know more: The QatarEnergy announcement follows other oil and gas-rich Gulf countries experimenting with blue ammonia and related energy projects. In June, the Abu Dhabi National Oil Company (ADNOC) sent a type of blue ammonia to Japan. The following July, ADNOC signed a partnership with France's TotalEnergies to work on carbon capture.
This week, the Saudi electric company Alfanar signed a deal to develop a green ammonia facility in Egypt. Green ammonia is produced using renewable energy.
The Omani startup 44.01 also launched a blue ammonia project in March.
Doha: With proper implementation of a circular economy (CE), Qatar is set to generate an additional $17bn by 2030, corresponding to 10 percent of its GDP, as well as create an estimated 9,000-19,000 jobs by 2030, increase disposable income, and attract more greenfield foreign direct investment (FDI), according to the Investment Promotion Agency Qatar (IPA Qatar). In its policy paper on Circular Economy published recently, IPA Qatar highlighted that as the world gravitates towards sustainable investing, a circular model helps countries like Qatar achieve a balance between economic growth and environmental stewardship.
Investors worldwide are becoming sustainability-conscious, which has partially motivated many countries to implement circular strategies to attract greenfield FDI and create quality jobs for their citizens. Therefore, targeting sustainability-conscious investors is crucial for achieving economic, social, and environmental objectives set by the Qatar National Vision 2030, said IPA Qatar.
In the study, IPA Qatar noted that the current pandemic has expedited the shift towards CE by bringing to the fore many of the inherent risks and dysfunctionalities of the linear economy. In June 2020, more than 50 global leaders and chief executives endorsed the circular model as a viable solution to build back better and achieve green and sustainable recovery from the COVID-19 crisis. As a result, since the beginning of the pandemic, assets in public equity funds with a CE focus have increased from $300m to over $2bn, a sixfold jump.
In Qatar, the building blocks of CE are already in place, said IPA Qatar in the study. It added that Qatar's efforts to transition to a more sustainable model stem from the country's National Vision 2030 and include climate change strategy, green cities, and national targets for resource efficiency and waste management. Taken together, these place Qatar in an excellent position to further advance its work on resource efficiency and the CE.
"Furthermore, ongoing sustainability projects with guidance from QNV2030, such as hosting the first carbon-neutral FIFA World Cup ever in 2022, are clear manifestations of the government's commitment to maintaining harmony between economic development and environmental sustainability. The national climate change strategy also aims to reduce the carbon intensity of the liquefied natural gas facilities by 25 percent the same year. And as the world's largest liquefied natural gas producer, Qatar also plans to expand LNG production to 126 million tonnes annually by the end of 2027. LNG production helps countries shift from other high-polluting fuels like coal and oil to meet carbon emission targets," IPA Qatar added.
Circular economy is a trillion-dollar opportunity with great potential for job creation, economic growth, and innovation. Globally, CE can generate $4.5 trillion of additional economic output by 2030 and as much as $25 trillion by 2050. At a regional level, the GCC can save up to $138bn by 2030 with the circular model, equivalent to almost 1 percent of the region's total GDP between 2020 and 2030.
"The most circular economies stand to reap the most benefits by boosting their competitiveness, resilience, and innovative capabilities. CE also promotes economic diversification by facilitating private sector expansion by developing circular sectors and activities such as logistics, service economy, manufacturing, and advanced recycling. Furthermore, as sustainability becomes a high priority worldwide and businesses face an increasing ESG scrutiny, countries that promote circular policies through economic and regulatory instruments are 10-40 percent more likely to attract greenfield FDI. Thus, Qatar will be well-positioned to capture these economic prizes by moving towards circularity," said IPA Qatar.
Sustainable development is becoming a determining factor of IPAs sector promotion and FDI targeting strategies worldwide. IPA Qatar, which was established to play a vital role in accelerating the economic development of Qatar, reiterated that it pursues targeted, sector-specific investment promotion strategies with a firm focus on sustainable investing, while showcasing opportunities in promising sectors here that could catalyse the sustainable transition process.
Education City Stadium is a leading example in green buildings and the first FIFA World Cup Qatar 2022 venue to receive the five-star GSAS certification from GORD.
Activism breeds in a fertile land when built on grounds willing and accepting of change; and change is often associated with youth – their curiosity and drive for leadership.
It took only 45 young voices to jet-start one policy in motion: banning single-use plastic bags in Qatar.
This call reverberated through the hallways of Qatar Academy Doha (QAD), as the students joined the global advocacy campaigns in taking sustainable action towards curbing environmental threats and spreading awareness.
Through the Activists in Action programme which was launched in 2020, amassing the support of 130 students representing the student leadership at QAD, they covered the walls and floors of the school with plastic bags and bottles collected by students, parents and teachers to shed light on the amount of plastic waste consumed by society.
"I decided to join this initiative in grade four when we were assigned to write a speech about global warming. During this period I researched about the many causes that affect our environment," Khalid Al Shaibei, currently a grade eight student at QAD told Doha News.
Upon realising the importance of climate change and sustainability promotion, Khalid said: "I realised I want to commit to securing a better future for myself and future generations and that is when I decided to join the ban on single use plastic initiative."
"I decided to join Activists in Action and become a leader in [promoting] sustainability."
WATCH: Qatar's amir responds to young climate activists urging ban on single-use plastic
Wanting to lead a better future for his generation, Khalid believes in the key role of sustainability activism and power in spreading the message beyond the bounds of his school.
"Our effect on the community has already started to show with the recent ministerial order that, starting from 15 November, single use plastic bags will be banned from the retail industry in Qatar," Khalid said.
Young hope for a greener Qatar
In late June, the Ministry of Municipality announced the executive decision to ban the use of single-use plastic bags as of 15 November in all institutions, companies and shopping centres.
When Khalid speaks of hope, he wishes for a greener tomorrow for Qatar, believing that his hometown is on the right path to achieving a more sustainable future. "I hope to see that continuing on further than just single-use plastic cars but a greener environment overall for a safer and greener future for Qatar."
The students involved had pledged to collect as many names as 10,000 in a petition to be presented before the government, in a bid to urge the country to join the global effort to reduce single-use plastic waste.
Ghalia Al Darwish, currently in grade five at QAD, has been a part of the Activists in Action team since second grade, where she first became aware of her responsibility towards "saving" the environment.
"The group Activist in Action gave me the opportunity to fulfil my duty and purpose to work towards making Qatar clean and ban single-use bags and spread awareness," Ghalia told Doha News.
Sustainability activism has been cultivated for many students at QAD at a young age with students like Ghalia carrying on the message even outside her school.
Starting at such an early stage in life, Ghalia participated in beach cleaning as well as in a podcast episode to further spread green awareness.
Harbouring the leader within her, Ghalia went to multiple locations such as Msheireb, Qatar Foundation, and other campaigns to reach a wider audience during environment day and "even during the FIFA football games we were around the football club explaining our cause and why everyone should join and take action," she told Doha News.
Speaking about the recent governmental developments on banning single-use plastic bags, Ghalia said: "It wasn't easy to get everyone's attention but the ones who did were really helpful and understanding. I'd like to thank everyone who signed the petition and made this happen. It felt special, empowering and a great achievement to cause the change and for our voices to be heard."
Government recognition
Last year, the Amir Sheikh Tamim bin Hamad Al Thani sent a personal letter to the student-led group expressing his appreciation for the young activists in uniting their voices for concerns on environmental issues.
"Dear Qatar Academy-Doha students, I followed the campaign that you launched during the past year aimed at reducing the use of single-use plastic bags. I would like to express to you my thanks and appreciation for this important initiative, wishing you all the success," the amir's letter read.
"This encourages us to carry on," Ghalia said.
Going plastic-free will allow our planet a chance to breathe
The QAD-nurtured Activist in Action cemented the notion of change in the students involved, with Ghalia transforming her outlook "on day to day activities like transportation and shopping consumption."
Another such activist is 11-year-old Sara Al Dosari who was inspired by her older sister, one of the founding members of Activist in Action.
Detailing other reasons behind wanting to join the team, Sara told Doha News that she wanted to push for a cleaner environment where safety becomes inevitable "even if people come [to Qatar] from outside the country, we want to always make them feel safe."
Carrying on her call for a ban on single-use plastic bags, Sara said "it's a really important message."
"No matter how old you are, you still need to know everything about keeping your environment clean".
Qatar Foundation's green efforts
Qatar Foundation leads other such sustainability efforts such as hosting one of Qatar's eco-school, QAD, and the EcoCampus programme through the Earthna member organisation.
Launched in March 2022, Qatar Foundation-born green project Earthna is a non-profit policy research and advocacy centre, focusing on informing and influencing national and global sustainability policy. Amongst other initiatives, Eco-schools – the largest global sustainable schools programme as per the Foundation of Environmental Education (FEE) – now operate as legacy programmes within the green organisation.
"The creation of Earthna Centre for a Sustainable Future is at the heart of this vision to both focus and address sustainability priorities in Qatar, and to be part of a collaborative effort to enhance climate action and innovation in Qatar," Nihal Mohamed Al Saleh, programme manager at Earthna told Doha News.
Earthna's predecessor, the Qatar Green Building Council, was one such entity to adopt environmental and building accreditation in Qatar early on, creating various initiatives and accreditation schemes for the eco schools as well as the hospitality sector.
"As a proud Eco-Schools member, we aim to cultivate a sustainable mindset in all our students," Elizabeth Kennedy, Primary School Assistant Principal at QAD, told Doha News.
Eco-schools and Qatar Foundation Pre-University have "inspired and supported our school community to nurture youth activism," she added.
Teachers at QAD have cultivated the culture of sustainability into the school's curriculum and "class conversations as a key component of [the] school practices and values."
"The Eco-school programme provides our children with sustainability education through a unique 'real-world' experience, which makes it very valuable. When they understand the results of environmental policies, at a school level, and at that young age, they will grow up to be effective members of a community that protects the environment," Dr Soud Al Thani, Director of Climate Change and Carbon Management at Qatar Foundation told Doha News.
"It is my hope that the programme circulates as many schools in Qatar as possible so that engrains in younger generations the values of sustainability."
Another exemplary green effort at Qatar Foundation was acknowledged with the Qatar Foundation headquarters, the 2015 building at Education City, being awarded the Global Sustainability Assessment System (GSAS) Operations Certificate from the Gulf Organisation for Research & Development (GORD) for proving that a building could also operate in an environmentally-friendly manner.
Pointing out Qatar Foundation's ongoing green efforts, Dr Soud Al Thani said: "We have an ongoing carbon accounting programme that details greenhouse gas emissions from various activities that take place in Education City.
The information collected is regularly analysed to examine opportunities of optimisation in areas of transportation, facilities management or any other operation. We continually strive to enhance the programme and elevate our environmental sustainability goals."
The Education City Stadium is also a leading example in green buildings. It was the first FIFA World Cup Qatar 2022 venue to receive the five-star GSAS certification from the GORD.
On a national level, Qatar Foundation coordinates closely with their relevant public and private sector partners.
"With the aid of QF institutions like Hamad Bin Khalifa University, Qatar Environment & Energy Research Institute and Earthna, the Ministry of Environment and Climate Change leads efforts formulating policies that collectively drive Qatar towards the larger sustainability goals," Dr Soud Al Thani said.
"On the governance side of sustainability, aligning our organisational strategy to embed sustainability across everything we do, from our tenders to our procurement methods, to the content of our programmes to our logistics and synergies across the organisation, there is much to be celebrated and a lot that we are improving on daily," Al Saleh noted.
Hand in hand, the different programmes at Qatar Foundation offer a variation in the green palette, each stemming from different angles towards one goal: fostering a greener Qatar.