Regional authorities in Egypt, the host country of the 2022 UN climate conference (COP27), are ramping up initiatives designed to improve the country's environmental credentials, and speed up its transition to a low carbon economy. The event will begin on 4 November, in the Egyptian resort city of Sharm El-Sheikh.
Several COP27-related initiatives are underway in Egypt: they include projects related to sustainable transport, waste recycling, women's health, the transition to clean energy, sustainable cities, adaptation measures in the water and agriculture sector, and the links between peace and climate.
"The Egyptian Government recognises the huge responsibility of organising a successful conference", says Dr. Samir Tantawy, a climate change expert at the United Nations Development Program (UNDP). "The summit needs to demonstrate the damage caused by the climate crisis, particularly in developing countries. For example, the Aswan , in southern Egypt, has experienced storms, snow and heavy rain for the first time. Developing countries need to be properly compensated".
Beyond COP27, Egypt is working towards a 2050 national climate strategy, which is based around the reduction of emissions in all sectors, and adaptation to potential changes in the climate – in agriculture, water resources, coastal areas, and health.
The national strategy also aims to bring civil society, the government, and citizens together, at the local, regional, and national levels. A number of civil society organizations are participating in workshops and seminars to raise awareness of the summit, in the hope that it will help Egypt to achieve its climate strategy goals.
In preparation for the Climate Summit, the regional authorities in the Red Sea Governorate, in cooperation with a number of other state organisations, is holding a series of events aimed at raising awareness of environmental and sustainability concerns. These workshops will continue through to November, and the opening of the Conference.
Egypt's hosting of COP27 in Sharm El-Sheikh is seen as a great opportunity to promote international climate action, and to unify the demands of African and developing countries, particularly when it comes to issues of financing, and adaptation to the effects of climate change.
UN News will provide full coverage of COP27, including news and features, and a daily episodes of our flagship news podcast The Lid Is On. Subscribe on all major podcast platforms.
Lafarge Egypt teamed up with Ostool for Land Transportation, a subsidiary of Raya Holding for Financial Investments (RAYA), to convert all fleet trucks serving Lafarge to operate on natural gas.
The move will reduce carbon footprint and promote sustainable development, according to a recent press release.
Commenting on this, CEO of Lafarge Egypt, Jimmy Khan, said: "We are part of this world, live its daily challenges, share the responsibility for finding solutions and implementing them through our work. We strongly believe in the vitality of environmental sustainability as well as fighting climate change, where we contribute to achieving Holcim's vision––the vision for a future that builds progress for people and the planet."
CEO of Ostool Logistics, Tamer Badrawi, noted: "We acknowledge our responsibility towards the current and the future. Ostool promotes green initiatives in its plans for the near future. Likewise, the company works on converting all its 300 trucks in all fields to operate on natural gas, integrating the environmental aspect is our top priority."
The new collaboration, which is a continuation to the two firms' fruitful and long-lasting partnership, offers a safer, healthier, and greener business model, and reflects the two companies' adoption of sustainable development goals, green initiatives, as well as Egypt's 'Vision 2030'.
Powered by more than 1,500 employees, Lafarge Egypt is a member of Holcim Group and a key player in the construction materials industry.
Source: Zawya
Following L'Oréal Group's announcement of its new sustainability program "L'Oréal for the Future" in 2020 and the latest set of ambitions for 2030, L'Oréal Egypt today holds the closing ceremony of the 2nd edition of L'Oreal Supplier Sustainability Summit in Egypt, in attendance of Mr. Benoit Julia, L'Oreal Egypt Managing Director, and virtual attendance for H.E Dr. Rania Al Mashat, as well as numerous suppliers who exchanged sustainable manufacturing technologies in achieving sustainable development objectives.
In her speech, Dr. Rania Al-Mashat, Minister of International Cooperation, said: "Ensuring a comprehensive and effective economic growth requires adherence to sustainability standards, especially by the private sector, which is one of the main drivers of growth. By this means, the Egyptian government is working on many aspects to expand private sector's role in achieving sustainable and inclusive development and promoting innovation, as it believes that the private sector is a key partner in unlocking the potential of the Egyptian economy." She highlighted that Egypt places green transformation at the top of its priorities, and integrates climate action into all development aspects, as it is not possible to achieve sustainable development without taking into account the promotion of climate action. She explained that in light of Egypt's hosting and presidency of the COP27, Egypt launched the National Climate Change Strategy 2050. It also announced its Nationally Determined Contributions (NDCs), to reduce emissions, within the framework of achieving the National Development Vision 2030 to ensure a green, fair and inclusive transformation.
Al-Mashat indicated that, for this purpose, the Ministry of International Cooperation is working with multilateral and bilateral development partners to encourage the private sector to follow environmental, social and governance standards (ESG), through development financing and technical support, in a way that stimulates impact investment, enhances the sustainability of value chains, and creates stimulating partnerships for inclusive growth between the public and private sectors. She pointed out that in 2020 and 2021, the private sector received $4.7 billion in development funds from development partners, representing 23% of the total development funding settled by the ministry for development projects.
L'Oreal Egypt launched its 1st Supplier Sustainability Summit in Egypt last year, uniting all suppliers to join L'Oréal's sustainable journey and adapt more sustainable practices in their business model. As a pioneer company to tackle the topic of the point of sales production materials (POSM) and its transformation towards sustainable practices.
There was a series of diversified online and offline activities carried out since 2021 in order to open up the path for insight, interaction, co-creation, and engagement with the suppliers. To lead the change in Egypt and to onboard L'Oréal Egypt eco-system, focusing on suppliers as phase 1.
In April 2021, L'Oréal Egypt launched its first "Supplier Sustainability Summit" to onboard and empower its suppliers and strategic partners to achieve the 2030 vision, and L'Oréal's ambitious targets.
-     To share "L'Oréal for the Future" vision & KPIs
-     Raise awareness, upskill, and share expertise with suppliers
-     Onboard suppliers towards more sustainable practices
During his speech, Mr. Benoit Julia, L'Oréal Egypt's Managing Director, stated: "We are proud today to celebrate the suppliers early adapters through our second edition of the Supplier Sustainability Summit, who joined L'Oreal journey and interest in implementing eco-friendly approaches and utilizing environmentally friendly materials in their products.
Benoit highlighted L'Oréal focuses its efforts on implementing sustainability in all the countries in which it operates. And its role in supporting Egypt's efforts in environmental sustainability through targeted initiatives that are in line with L'Oréal's strategy "L'Oreal for the future" and which they work to be a catalyst for change by empowering suppliers aiming for a better environment.
At the Supplier Sustainability Summit, L'Oréal introduced a new platform for suppliers to publicly discuss the implementable change that could make the entire POSM production process more sustainable, through respecting the 14 Golden Rules that reflect "How L'Oréal Is Pushing POSM Suppliers to Become More Sustainable".
During the 1st L'Oreal Supplier Sustainability Summit, which was attended by more than 80 suppliers, L'Oréal shared its vision to reach 100% eco-design for its "POSM – Point of Sales Merchandising Materials", and become the pioneer company in introducing eco-design concepts in Egypt, with the aim of reducing resources' usage and waste.
The L'Oréal Egypt Supplier Sustainability Summit is also aiming at creating a platform to develop and discuss the different stakeholders' efforts that contribute to achieving the SDGs, hammering on the challenges faced by the environment, and its impact on climate action; most importantly, the crucial need to engage the private sector and onboard their eco-system to achieve tangible changes.
The 2nd edition of the Supplier Sustainability Summit took place in March 2022, and was dedicated to the early adapters who strive to join the sustainability journey. Furthermore, the summit was led by the L'Oréal team and Mr. Hesham El Essawy Founder and CEO of HEDS Designs & HEDS Academy, and it was divided into three parts: theoretical sessions, practical execution, and evaluation. The aim was to support and join the suppliers' transformation journey towards becoming more sustainable. During the closing ceremony, the suppliers had the opportunity to showcase their sustainable operations and methods for implementing their transition, and they were commended for their efforts.
Hesham El Essawy Founder and CEO of HEDS Designs & HEDS Academy commented, "L'Oreal is an example of a true Sustainability partner of success, not only with us in HEDS as a sustainability-based Design Solutions consultants, but with all other business partners from suppliers and manufacturers in Egypt. We are proud this year of our success in taking part in implementing L'Oréal's vision of sustainable development through creative collaboration, training and development, to achieve impressive and sustainable results. We hope to continue the same approach locally with L'Oreal to keep pace with Egypt's 2030 strategy for sustainable development, and globally at the COP27 conference" The sustainability strategy "L'Oréal for the Future" lays down the Group's set of ambitions for 2030, taking a specific tracks approach, accelerating its internal transformation, and empowering its external business ecosystem. L'Oréal is committed to working with its partners to deal with urgent social and ecological challenges, promote more sustainable consumption, and protect the planet for a better tomorrow.
It is worth noting that L'Oréal Egypt has been committed to achieving sustainability since 2013 with the inauguration of its factory in Egypt, located at the 10th of Ramadan city. The piece of art factory with 50 million euro investment, and export hub factory to MENA region, was awarded twice by the FEI due to its sustainable practices implemented. Furthermore, L'Oréal proceeded with various initiatives, such as its efforts in developing PCR packages instead of virgin plastic in hair care products, as well as reducing the company's carbon emissions by -41%, water waste by -24%, and waste by -45%. The factory also completed the first phase of its renewable solar panel station in 2020, with a target to reach neutral energy by 2025.
Source: Press release
Karm Architecture Lab uses traditional techniques to promote airflow and cooling
As the Middle East developed, energy use driven by air conditioners has, along with carbon emissions, grown hugely.
In 1990, World Bank figures indicate, cooling internal spaces in the Middle East accounted for about 25 terawatt hours of electricity. By 2016, the figure had risen 400 per cent, to 125 TWH.
Meanwhile, the Middle East and North Africa's carbon dioxide emissions almost triple, from about 864,000 kilotonnes of carbon dioxide in 1990 to about 2,556,000 kilotonnes in 2019.
As development continues, and the planet and the region continue to heat up, there seems little prospect of anything other than ongoing increases in electricity demand to keep buildings cool.
Indeed, other World Bank statistics indicate that, by the middle of this century, the number of air-conditioning units around the globe will increase threefold, to five billion.
But some architects, such as Karim El Kafrawi and his partners at the architectural practice he co-founded, the Karm Architecture Lab (KAL), based in Egypt, are finding ways to keep buildings cool that do not depend on air-con.
Looking to the past for solutions
Thanks to shading, extra-thick walls, airflow corridors and other features, some of KAL's buildings can be comfortable without air conditioning, even during the height of summer.
What is more, Mr El Kafrawi hopes this approach offers a better experience for those inside the building and makes housing more affordable to the less well off.
"We've forgotten the ancient methods or historic methods of how to deal with passive cooling or passive heating," he says.
"With the adoption of technology through air conditioning, everybody said, 'We don't need to worry about that any more.' That was at a time when we thought energy availability was infinite. Of course now we've realised this is not the case."
Medieval Cairo is one place where the old-style methods, such as wind towers to create airflow, were used. Where wind towers were impractical because of the high density of buildings, designers used other simple ways to create positive or negative air pressure and keep air moving.
"If you walk through the entrance you get this gradual flow that the deeper you go in, the cooler it gets," Mr El Kafrawi says.
"The way they did that was positioning openings for daylight and for air to come in certain places, so that when the door opens ... suddenly hot air is in one place and cool air comes and moves where hot air is."
Ceiling height could also be adjusted to promote airflow, while having a large thermal mass ― thick walls ― was another approach.
Methods embraced by five-star hotel
KAL designed much of Wadi Sabarah, a boutique five-star hotel in Marsa Alam on Egypt's Red Sea coast. At this property, thick walls help to keep temperatures down.
Coral limestone, discarded by developers and available locally (thereby reducing carbon emissions for transport), was tested for its structural properties and used to form 80-centimetre-thick walls in the three-storey, 10-metre-tall building.
These are thick not just to reduce heating, but for structural reasons, because reinforced concrete was not used in the parts of the hotel designed by Mr El Kafrawi's practice.
Guest rooms are protected from direct sunlight, yet have views of the sea, while a wind tunnel effect is created by the organisation of passageways and guest rooms.
"We're able to use those rooms, even in the summer ― we're talking about temperatures that go up to 45ºC, 46ºC ― and I can state for a fact that those rooms in the summer, around July, August, all you need is a ceiling fan. You don't need air conditioning," Mr El Kafrawi says.
"That means that the operator will have a dramatic reduction in air-conditioning use, and people are getting to enjoy natural ventilation and natural cooling, passive cooling in the building, which is transformative.
"It's not just a matter of reducing the electricity and saving the environment and reducing energy consumption … it's about really trying to have people experience things on a natural level.
"There's a big difference between a space that is conditioned by mechanical cooling or heating and one that is natural. It feels different. It changes the way you feel about yourself, your experience."
Committed to sustainability
An architect since 2005 (and the son of an architect, Kamal El Kafrawi, who designed Qatar University), Mr El Kafrawi co-founded a solar power company, KarmSolar, in 2011, before his architectural/construction practice, Karm Architecture Lab (KAL), was founded the following year. Mr El Kafrawi says the company has achieved success through its "collaborative team-oriented approach" to design and construction.
"We came together on this idea: wouldn't it be interesting to develop a holistic approach where we could combine renewable energy plus using traditional techniques that existed in Egypt, such that communities could be completely self-sufficient or self-reliant on what they have," he says.
While KAL's focus is on using traditional modes of cooling in a modern context, Mr El Kafrawi says the UAE has buildings with more high-tech approaches, such as shades that close when the sun is overhead. An example is Al Bahr Towers in Abu Dhabi. While such designs use "very interesting, fascinating ways" to prevent heating, his approach is "very different".
"We're really focusing on mixing old and new, so solar technology, using new building materials and combining them with old materials. That's a pretty unique thing in Egypt." he says.
"There are only a handful of architects that I know that are attempting to do the same thing and who are doing some really nice work as well. They are really on the fringes, but it's growing."
Another KAL project is the Grove Residential Complex in Cairo, where a mix of apartments are integrated around one another's green spaces. A connecting courtyard offers "a natural cooling environment".
"It helps ventilate all the apartments naturally," he says. "At the same time, it also created a safe public space, or semi-public space, for the residents to use. So it has this sense of community.
"We hoped it would encourage the idea of community integration, which is not that common in a lot of the new developments here in Egypt."
As well as being more environmentally friendly, the approach Mr El Kafrawi and his practice have adopted should also, he says, put affordable housing within reach of more people.
Solar panels on the roof of a standard building may provide only 10 per cent or 15 per cent of energy needs. But if the building is much more efficient because it employs natural ways to keep temperatures down, this figure may be as high as 60, 70 or 80 per cent. At Wadi Sabarah, solar power provides 100 per cent.
"Everyday people can re-adopt those traditional solutions in their own housing. If they adopt those traditional solutions it will reduce their impact on the environment while making their living standards better, because they're living under better conditions," Mr El Kafrawi says.
Source: The National News
Delivery Hero, the world's leading local delivery platform and the parent company of MENA's leading brand "talabat", announced that it has joined the United Nations Global Compact initiative ("UNGC"), in line with its intention to build a company that future generations can be proud of. The UNGC is a voluntary leadership platform for the development, implementation and disclosure of responsible business practices. In becoming a participant, Delivery Hero proudly joins more than 15,000 companies and 3,800 non-business entities, based in over 160 countries worldwide, that actively commit to taking responsibility for their environmental and social impact. With the decision to join the UNGC, Delivery Hero is committing to uphold the UNGC principles, and contribute to the development of a more sustainable environment through its CSR & Sustainability initiatives, including its existing sustainable packaging program and global food donation scheme. This participation is driven by one of the company's core values: "we are Heroes because we care."
Jeffrey Oatham, Senior Director of CSR, Sustainability and Safety at Delivery Hero, said: "We're very proud to be putting our name to the UN Global Compact, underlining our ongoing commitment to making responsible choices in all areas of our business. We recognise that this comes with greater responsibility to disclose and constantly improve our business activities. Keeping this top of mind, we will continue to examine our global practices in order to maximize Delivery Hero's capacity for positive impact, using the UNGC as a guide to always strive for higher standards."
Source: Zawya
Infinity and Africa Finance Corporation will acquire Lekela Power in deal that includes 2.8-gigawatt portfolio of wind power and greenfield projects
Egypt's Infinity Group will become Africa's largest renewable energy company when it, along with Africa Finance Corporation, acquires Lekela Power in an undisclosed deal that is expected to close this year, the parties said on Monday.
British private equity firm Actis and Mainstream Renewable Power agreed to sell their stakes of 60 per cent and 40 per cent respectively in Lekela.
Lekela, founded in 2015, is Africa's largest independent power producer.
The proposed acquisition includes Lekela's 1-gigawatt portfolio of operational wind power projects in Egypt, Senegal and South Africa, and a 1.8-gigawatt pipeline of projects in development across the continent. It is subject to regulatory approvals and customary closing conditions.
"The acquisition of Lekela is a milestone for us at Infinity, as it not only becomes the largest such acquisition in the history of the continent, but also signifies the continuous growth and expansion of Infinity's efforts to create a sustainable supply of clean green energy," said Infinity co-founder and chief executive Nayer Fouad.
Africa's installed renewable energy capacity is set to grow from more than 54 gigawatts in 2020 to more than 530 gigawatts by 2040, according to the International Renewable Energy Agency. Solar photovoltaic technology will rise to 340 gigawatts and wind to 90 gigawatts.
In addition to combating climate change, increasing renewable energy resources will help to drive energy access in the continent, as almost half of Africa's population does not have access to electricity.
Egypt, which is to host the UN climate change conference Cop27 in Sharm El Sheikh in November, has committed to sourcing 42 per cent of its total electricity from renewable energy by 2035. Its installed renewable energy capacity was at 31 per cent last year, surpassing its 20 per cent target.
Infinity, founded in 2014, provides solar, wind and waste-to-energy power solutions for homes, companies and cities across Egypt.
Infinity's projects include six power plants in Aswan's Benban Solar Park with a capacity of 235 Megawatt peak, a complex that covers 37 square kilometres.
Infinity EV is building the largest electric vehicle charging network in Egypt, with more than 300 points installed to date.
In 2020, Infinity and Abu Dhabi's clean energy company Masdar established the joint venture Infinity Power to develop utility-scale solar and wind power projects in Egypt and Africa.
AFC was established in 2007 as a catalyst for private sector-led infrastructure investment across Africa.
The company is developing and funding projects that take advantage of Africa's abundant solar, wind, hydro and thermal energy resources, while managing the population's urgent needs. It has financed more than 2,000MW of power generation and has beneficial ownership interests in 485MW, of which 135MW is sourced from renewable energy.
"We are focused on reducing Africa's massive energy deficit through expanding the quantum of electricity using the various energy sources available throughout the continent," said AFC president and chief executive, Samaila Zubairu.
"Working together with our partner, Infinity, we aim to more than double the capacity of our joint operating assets over the next four years, which stands at 1.4 gigawatts after the Lekela acquisition," he said.
The Lekela platform includes five operational wind farms in South Africa with a capacity of 624MW, a 252MW wind farm in Egypt and a 159MW wind farm in Senegal, as well as development opportunities in Egypt, Ghana and Senegal.
Actis and Mainstream said the planned exit "reflects the successful culmination of their partnership strategy for Lekela, following a comprehensive value creation approach".
Mainstream specialises in the development of onshore and offshore wind and solar projects.
The Actis Energy Infrastructure team has invested in more than 70 renewable energy projects to date, generating approximately 11 gigawatts of renewable energy globally.
"We're proud to leave Lekela strongly positioned for its next phase of growth as an acknowledged sustainability leader supplying much-needed clean energy to communities across Africa," said Lucy Heintz, partner and head of energy infrastructure at Actis.
Source: The National News
As part of its climate policy, the Egyptian government will put 70 electric buses on the road in the governorate of Cairo. These locally manufactured vehicles will serve the population while contributing to the fight against air pollution.
In the lead up to hosting the United Nations Conference of the Parties on Climate Change (COP27) in November 2022, Egypt is working to promote green mobility. In this context, the Ministry of State for Military Production and the Ministry of Local Development have signed an agreement for the acquisition of 70 electric buses that will be used in Cairo from October 2022.
At a total cost of 323 million Egyptian pounds (more than $17 million), these electric buses called "Setibus" are produced locally in the factory of the Egyptian manufacturer Manufacturing Commercial Vehicles (MCV) based in Salheya, in the governorate of Ach-Sharqiya. With a maximum speed of 70 km/h, the "Setibus" can carry up to 73 passengers, or 49 seats. According to the Egyptian authorities, the electric bus is equipped with automatic air conditioning and an intelligent system for internet services.
Towards more sustainable transport
The acquisition of these new vehicles contributes to the reduction of pollution in Egypt. The Egyptian government plans to accelerate the construction of electric car charging stations.  "It's about promoting local industrialisation in the field of modern transport using natural gas and electricity," says Mahmoud Shaarawy. According to the Egyptian Minister of Local Development, some of the 70 electric buses ordered will also be deployed in the seaside city of Sharm-el-Sheikh for the duration of COP27.
Earlier in April 2022, the European Bank for Reconstruction and Development (EBRD) provided the government of Egypt with a €250 million loan under its Green Cities programme. The funding will be used to upgrade and electrify a railway line between the port city of Alexandria and the city of Abu Qir in the north-east of the country.
Source: Afrik 21
The Egyptian company Taqa Arabia is commissioning a solar photovoltaic plant in Soma Bay, a resort on the Red Sea in Egypt. In the wake of the plant's inauguration, Taqa has signed an agreement to build a solar-powered desalination plant.
In Egypt, the resort of Soma Bay is now powered by solar energy. A clean energy plant was recently commissioned by Taqa Arabia, a Cairo-based company. The inauguration ceremony was attended by officials from Taqa Arabia, which owns the solar power plant, as well as Ibrahim El-Missiri, the chairman and CEO of Abu Soma Tourism Development Company (ASDC).
The solar power plant, which has a capacity of 5 MWp, was built by Taqa Power, the subsidiary of Taqa Arabia Group. The clean electricity is sold to ASDC under a 30-year power purchase agreement. "Our main objective is to generate the required energy using solar to reduce electricity and seawater desalination costs. This project aligns with Egypt's vision to explore and diversify the country's energy resources," says Ibrahim El-Missiri.
The Taqa solar project required an investment of $4 million. The two companies will strengthen their partnership in the water sector. ASDC has also agreed with Taqa to build a seawater desalination plant. The facility will provide drinking water to Soma Bay's tourist facilities using renewable energy to reduce the carbon footprint associated with seawater desalination.
According to Pakinam Kafafi, Taqa Arabia's managing director, the future desalination plant will be equipped with "the latest energy saving technologies to rationalise the consumption of energy resources and thus achieve energy efficiency of the facility." The capacity of the future plant is not yet known. This will undoubtedly be known after the feasibility study phase.
Source: Afrik21
As part of its "Future in Action" strategy for sustainable development, the Egyptian subsidiary of the Mexican company Cemex, which specialises in construction materials, has joined forces with the VeryNile initiative to collect the solid waste responsible for polluting the Nile. This river is the main source of water for the country.
As the pollution of the Nile impacts on agriculture and the supply of drinking water, the Egyptian subsidiary of the Mexican construction materials company Cemex has signed a partnership with VeryNile, a project that fights against the pollution of this 6,671 km long river. The partnership aims to expand solid waste collection operations in the river, whose resources are needed especially by the fishing community of Qursaya Island in the Cairo metropolitan area.
"We will co-treat the waste that is dumped to contribute to the 'zero waste in landfills' challenge, with a view to protecting the Nile from behaviours that lead to its pollution," says Fernando Gonzales, Cemex's CEO. The company, based in San Pedro Garza García, Mexico, is mainly active in the cement, concrete and aggregates sector in Egypt.
According to Khaled El-Farra, Director of the Environment and Sustainable Development Department of the Egyptian Ministry of Foreign Affairs, this partnership will last for three years and will allow the collection of approximately 20 tons of waste per month. In addition to financial support, Cemex will strengthen the equipment used for waste collection and contribute to the promotion of the circular economy in the Cairo governorate.
Ridding the Nile of solid waste
The second longest river in the world after the Amazon (6,692 km) in South America, the Nile is polluted by sewage, waste, and pesticides used for agriculture, especially in its delta. According to the Egyptian Ministry of the Environment, the Nile is also the outlet for 549 million m3 of liquid industrial waste every year. The chemicals and heavy metals it contains come directly from the 345 industrial complexes located along the Nile between Aswan and Cairo.
In this context, VeryNile is setting up a sustainable ecosystem to recycle plastic and other fishermen's waste collected from the river. The initiative was launched in 2018 by start-ups Bassita, which specialises in cyber awareness and fundraising for positive initiatives, and Greenish which designs and implements sustainable environmental solutions.
The platform also raises awareness against the use of single-use plastic. "VeryNile was created with a strong commitment to preserve the Nile by removing plastics and harmful waste from the river while empowering local communities," says Alban de Menonville, founder of VeryNile based in the Egyptian city of Giza.
Source: Afrik21
1.1GW wind project will be located in the Gulf of Suez and Gabal el Zeit area of country
A consortium led by ACWA Power has announced the signing of a project agreement to develop a 1.1GW wind project in Egypt, at an investment value of $1.5bn. The consortium, comprising of ACWA Power and Hassan Allam Holding, will work together during the development phase to complete the site studies and secure the financing of the facility.
According to a statement, the wind project is the largest single contracted wind farm in the Middle East region, and is one of the largest onshore wind farms in the world. It is located the Gulf of Suez and Gabal el Zeit area.
The project will be designed to use state-of-art wind turbines with blade heights of up to 220m, which helps in achieving the best use of the designated land plots in the most efficient way. When complete, the project will mitigate the impact of 2.4mn tonnes of carbon dioxide emissions per year and provide electricity to 1,080,000 households, it continued.
"This milestone wind project falls within the framework of the Egyptian government's strategy to diversify its energy sources and leverage the country's rich natural resources, especially in renewable energy. The Ministry of Electricity and Renewable Energy is taking concrete actions to ensure the resilience of our energy strategy, because of the escalating changes that the world is witnessing, which aim to increase the contribution of renewable energy to up to 42% by 2035," said Dr. Mohamed Shaker El-Markabi, Egypt's Ministry of Electricity and Renewable Energy.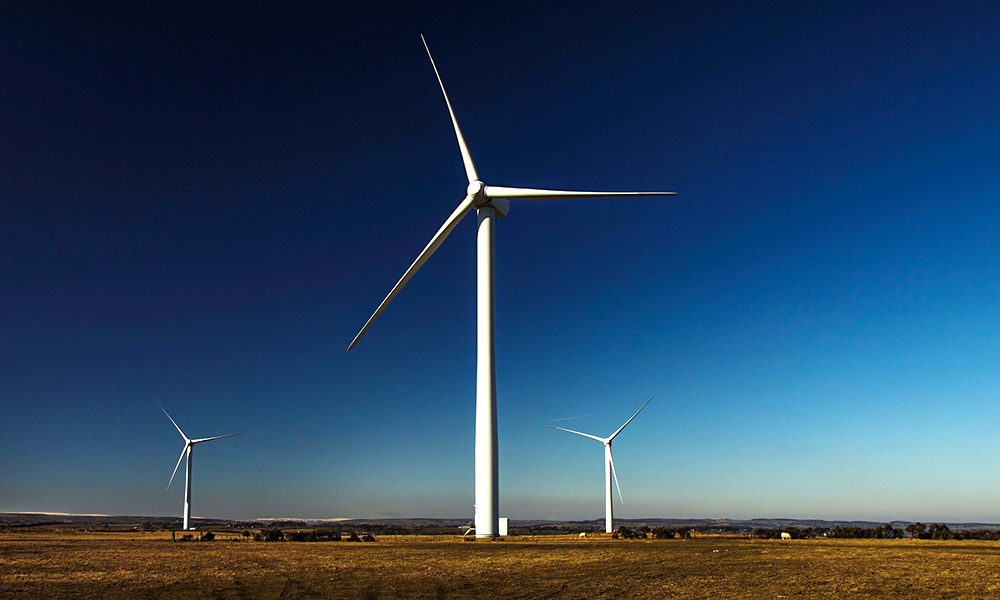 He added the 1.1GW wind project confirms Egypt's commitment in spearheading the use of renewable energy sources to reduce the impact of carbon emissions produced by conventional energy sources, as Egypt gears up to host the United Nations Climate Conference (COP 27) in November 2022.
The project is a leading example of the Egyptian government's efforts to increase the participation of the private sector in implementing green energy projects in Egypt as well as attracting investments from international, Arab and local companies into the country, the minister said.
"We are honoured to contribute to the strengthening ties of Saudi Arabia, our home, and Egypt via this milestone wind project, and extend our sincerest gratitude to the leaders of both countries in entrusting their faith in our abilities to realise their renewable energy mandates," said Mohammad Abunayyan, ACWA Power Chairman.
"With sustainable development at the top of the agenda for both states, progress cannot be made without concerted efforts in expanding infrastructure that is underpinned by renewables. This wind project demonstrates a commitment to realising a greener tomorrow, despite global economic volatility, and we look forward to working with like-minded partners for a positive future,"  he added.
This is ACWA Power's third project—and first wind farm—in Egypt, after the 120MW Ben Ban solar independent power projects in the Aswan region and the 200MW Kom Ombo solar plant.
Hassan Allam Utilities, the investment and development arm for Hassan Allam Holding, currently operates a 50MW solar plant in Benban solar park cementing its position as one of Egypt's leading green energy producers. The 1.1GW wind project is forecasted to reach financial close by the third quarter of 2024. The plant will be commercially operational by the end of 2026.
"The project marks an important milestone in Egypt's plans to decarbonise the energy sector and meet its targets under the country's Intended Nationally Determined Contributions (INDCs). We are proud to be part of this flagship project and look forward to a fruitful partnership," said Dalia Wahba, Deputy CEO and Chief Investment Officer of Hassan Allam Utilities.
"Egypt has embarked on a serious economic reform programme sending a clear invitation to the private sector to support in building a greener and brighter future. As a group, Hassan Allam Holding is committed to be a positive contributor to the environment. We are adopting sustainability principles and expanding our investments into large scale green energy projects," she concluded.
Source: ME Construction News