Arla Foods, recognized as one of Denmark's largest food producers and a global leader in the industry, aims to bring its transformative initiatives to the forefront of the international stage at COP28 in Dubai.
Emphasizing their main highlights on the COP28, Mr. Kim Villadsen, Senior Vice President and Head of MENA, said, "At Arla, we continuously try to accelerate our sustainability actions and engagements, and for that, we were present at COP27 blue zone and will also be present in COP28 blue zone within the Danish Pavilion. Our main focus areas at COP 28 will revolve around scope three emission reductions in collaboration with key customers, methane emissions, and how the industry is coming together on this, and finally, regenerative farming practices."
Also, he shed light on Arla's commendable sustainability initiatives and its commitment to reducing its carbon footprint. 
"We are working across our entire operation to reduce our carbon footprint, and we have ambitious targets in place that are approved by The Science Based Targets Initiative and in line with the Paris Agreement to limit global warming to 1.5 degrees. In our scope 1 and 2, we plan to reduce emissions by 63 % by 2030 (compared to the 2015 baseline). For example, by using renewable energy at sites and offices and switching to fossil-free alternatives in our logistics. In scope 3, which includes on-farm emissions, the target is a 30 % reduction in emissions per kilo of milk by 2030 (also compared to the 2015 baseline). Most recently, we have implemented a point-based model by rewarding farmers who engage the most in sustainable actions on farms and motivating them not just to continue but to accelerate their efforts in creating a better future for the dairy industry. Arla Foods aims to be carbon net zero by 2050." Mr. Villadsen stated.
In the Middle East and North Africa (MENA) region, Arla Foods manufactures 70% of its products within GCC markets, reflecting a strong commitment to localized production. Mr. Villadsen explained, "With the presence of our two Dairy manufacturing sites in Bahrain and Saudi, we are proud to have 70 % of the products we sell in MENA being produced within the GCC markets. MENA as a region stands for approximately 7 % of total Arla group revenue in 2022."
He added, "In 2022, Arla's total group revenue was 13.8 billion euros. The Danish market accounted for approximately 8.8 % of that." As a global leader, Arla Foods is not only contributing to Denmark's economy but also spearheading sustainability efforts that resonate on a global scale.
As for future expansion, Mr. Kim Villadsen said, "We are continuously monitoring the possibilities and have big growth ambitions for the MENA region. It started with the establishment of our two dairy sites in Bahrain and Saudi Arabia, where we are always looking into production line expansion, followed by our recent acquisition of the Kraft cheese portfolio in MENA, which is another good example."
Arla Foods' relentless efforts towards sustainability are driven by a dedication to creating a better future for all. The company's goal to be carbon net zero by 2050 resonates with its commitment to environmental responsibility and sustainability on a global scale.
Visit Bahrain, a leading destination management company in the kingdom, has highlighted the crucial role being played by the firm in advancing sustainable development and safeguarding the environment, natural and cultural heritage, ecosystems and habitats.
Emphasizing the significance of promoting environmentally conscious and sustainable tourism, Visit Bahrain said it serves as a foundation for striking a harmonious equilibrium between tourism progress and the preservation of the environment and natural resources.
"This supports the efforts of the Ministry of Tourism and the Bahrain Tourism Authority in developing the tourism sector as a whole," remarked Visit Bahrain CEO Ali Amralla.
Furthermore, Amralla stressed the importance of bolstering Bahrain's tourism offerings and future travel destinations to boost competitiveness.
"This approach also aims to achieve economic, social, and environmental growth in tourist regions. He affirmed the necessity of adopting policies and strategies that focus on sustainable tourism and the integration of biodiversity into Bahrain's tourist destinations," he noted.
Amralla also called for the formulation of sustainability guidelines tailored to the tourism sector and the establishment of reference standards for consultation.
He highlighted the critical role of implementing sustainability criteria across diverse tourist facilities, and advocated for the adoption of a comprehensive guide for all tourism sector entities and representatives, outlining the finest practices in the field of sustainable tourism, as featured in International Tourism Planning & Development.
Amralla highlighted the crucial nature of backing environmentally conscious endeavors within hotel establishments and embracing forthcoming global trends that emphasize responsible tourism and sustainability.
"This process aims to ingrain these values within local tourist destinations and amenities, motivating them to heighten their dedication to sustainability benchmarks. Encouraging initiatives are being taken to amplify sustainable awareness within the sector and among tourists, along with a focus on innovation and digital transformation within the industry," stated the top official.
"These actions seek to boost revenues, foster growth, and create opportunities for SMEs. These efforts align with Bahrain's Vision 2030 and the objectives of its economic agenda," he added.
According to him, the transition to sustainable tourism represents a strategic move towards positioning the Kingdom of Bahrain as a premier destination for global travellers seeking high-quality sustainable experiences.
This entails an advanced tourism product crafted through innovative environmentally friendly practices, which not only limit carbon emissions but also foster sustainable advancement. This aligns with the future aspirations of the tourism and travel sector, marked by its commitment to promoting sustainable, economically prosperous, and environmentally responsible tourism," added Amralla.
Visit Bahrain CEO urged tourist establishments, tourist attractions and hotels to allocate resources towards the adoption of sustainable technologies, with the aim of cultivating a more ecologically viable tourism sector.
Such endeavors would not only enhance the industry's sustainability but also play a pivotal role in realizing the United Nations' Sustainable Development Goals by 2030 and reaching a state of net-zero emissions by 2050, noted Amralla.
Furthermore, these efforts are instrumental in furnishing a well-defined pathway for local tourism enterprises, travel agencies, tour operators, and similar entities to align their operations with principles of sustainability, he added.
Source: Trade Arabia
Manama, Bahrain: Bapco Energies, the integrated energy company leading the energy transition in the Kingdom of Bahrain, has launched its Sustainability-Linked Finance Framework. The Framework will allow the Company to link its financing with decarbonisation goals in line with Bahrain's commitment to sustainability and climate action as pledged by His Royal Highness Prince Salman bin Hamad Al Khalifa, the Crown Prince and Prime Minister of the Kingdom of Bahrain, at COP26.
As part of the Framework, Bapco Energies has disclosed detailed Scope 3 absolute emissions targets. Unlike Scope 1 and 2 emissions which are related directly to the operations of Bapco Energies, Scope 3 refers to emissions that the Company is indirectly responsible for – a measure that is critical in the fight against climate change. The Framework was developed in close collaboration with Standard Chartered, which acted as the Company's ESG advisor in the process.
Under the Framework, Bapco Energies will be able to tap into the emerging ESG investor and lender base in a robust and transparent manner. With Standard Chartered's support, the Framework received a Second Party Opinion from ISS confirming its alignment with the ICMA Sustainability-Linked Bond Principles (SLBP) and the LMA Sustainability-Linked Loan Principles (SLLP).
Mr. Mark Thomas, Group Chief Executive Officer, Bapco Energies said, "We are proud to have published our Sustainability-Linked Finance Framework and Second Party Opinion from ISS. Disclosing our detailed and ambitious decarbonisation targets, makes us the first national energy company to implement this practice setting a global benchmark in the energy sector. Transparency in sharing these targets allows us to play our part in addressing the global climate crisis more effectively, and we are committed to actively contributing to global and local sustainability agendas. This announcement underlines our commitment to deliver a commercially viable energy transition to support the Kingdom's efforts of achieving Net-Zero by 2060."
Dr. Boutros Klink, Standard Chartered CEO, Bahrain and Middle East (excluding the UAE)said: "We are delighted to have built on our longstanding relationship with Bapco Energies and our support for the Kingdom's ambitions by creating its Sustainability-Linked Finance Framework, which is testament to our market-leading sustainable finance capabilities. We are proud to have been part of Bahrain's economic growth for the last 100 years and hope to continue to be for the next 100 years and beyond." He added: "We commend Bapco Energies for its undertaking of this Framework and for leading the way among national energy companies in setting ambitious emission reduction targets that will contribute to efforts that seek to mitigate climate change. At Standard Chartered, we are committed to supporting our clients across our dynamic footprint as they venture into the sustainable finance market to meet their ESG ambitions."
In the Framework, Bapco Energies lists its Scope 1 and 2 net emissions intensity reduction targets, using 2017 as a baseline: 15% by 2025, 25% by 2030, 50% by 2040, 75% by 2050; and by 2060, reaching net zero Scope 1 and 2 emissions. Bapco Energies is also committed to reducing absolute Scope 1 and 2 emissions by 30% from 2017 levels by 2035. For its landmark Scope 3 targets, Bapco Energies will reduce absolute Scope 3 emissions within the Kingdom of Bahrain by 30% from 2017 levels by 2035; and by 2060, reach Net-Zero Scope 3 emissions.
Standard Chartered has a long-standing commitment to Sustainable Finance which is backed by a robust framework and approach to assessing, mitigating, and managing Environmental and Social Risk. The Bank continues to make and update sustainable finance commitments and has set a number of targets, including mobilising USD300 billion in sustainable finance by December 2030; achieving USD1 billion in Sustainable Finance income by 2025; and aiming to reduce the emissions associated with financing activities to net zero by 2050.
Source: Zawya
APM Terminals Bahrain, the operator of Khalifa Bin Salman Port, has announced the launch of a ground-breaking solar power project worth approximately BHD3.8 million (US$ 10 million), which will make the port energy self-sufficient by the end of 2023. By implementing this project, the terminal will reduce its carbon emissions by 65% while also securing a reliable and sustainable source of energy.
The solar power project is part of APM Terminals' global decarbonisation plans, which aim to reduce greenhouse gas emissions by 70% by 2030 and achieve net zero by 2040. APM Terminals describes the solar power project in Bahrain as one of the main pillars in its overall decarbonisation journey.

By the end of the solar implementation project, APM Terminals Bahrain will have installed 20,000 solar photovoltaic panels capable of generating 18.5 Gigawatts of electricity per year. This renewable energy source will produce clean and sustainable energy for powering various port operations, including container handling, crane operations and lighting.
Source: The Maritime Standard
The concept for a 'green mosque' that integrates sustainable practices and smart technologies is being discussed and was recently presented by the Supreme Council for the Environment (SCE).
The sustainable mosque, as the project is called, promotes the use of renewable clean energy resources as well as a water treatment facility that recycles ablution and other grey water to be re-used irrigating a sustainable garden.
Greywater is commonly used water from bathroom sinks, showers, tubs and washing machines. It is not water that has come into contact with faeces, either from the toilet or from washing reusable nappies.
During a roundtable discussion focused on eco-friendly places of worship at the joint Bahrain-EU Conference on Freedom of Religion and Belief organised by King Hamad Global Centre for Peaceful Coexistence (KHGCPC), SCE environmental specialist Mohammed Shamlooh discussed the project, and how the model may be implemented in the future.
The concept takes a three-pronged approach. It would use solar energy to generate electricity for the mosque which, among other uses, would power the water treatment plant, providing water that would help beautify the mosque.
"The mosque is built from local materials that insulates heat to conserve energy," the SCE said, in a statement.
"It is oriented towards the north to take advantage of the wind patterns. The roof of the building is equipped with solar panels, and the whole building has energy-saving LED lights supplemented with electric sensors.
"The minaret is also designed to operate as an air catcher and a natural cooler for the mosque. These measures help in reducing the overall power consumption in the building.
"The mosque has an ablution water collection system to produce treated water that can be used for irrigation purposes, cleaning the building, and in the production of organic fertiliser."
When asked if elements of this design could be retrofitted into existing mosques, Mr Shamlooh noted that the SCE is looking into doing this, especially around the recycling of ablution water.
"The ablution water, as well as rainwater and air conditioning water, is reusable with minimal treatment for irrigation," Mr Shamlooh, who was part of the technical and environmental assessment team on the project, added.
The SCE also noted that it plans to instal tap water sensors and other water-saving equipment while using drip irrigation in the area surrounding the mosque.
The council did not reveal a firm timeline or location for the proposed mosque.
In September last year, the GDN reported that Southern Municipal councillors called on the Cabinet to allot funding in the 2023-24 national budget for special pipelines and networks to recycle the water, called wudu in Arabic.
This was in response to 'millions of gallons' of water being wasted, according to the council's then-services and public utilities committee chairman and now council chairman Abdulla Abdullatif.
According to former works, municipalities and urban planning minister Essam Khalaf, small-scale pilot schemes to recycle wudu water in an internal network were under implementation in two mosques – Safiya Kanoo Mosque in Tubli and Ali Kanoo Mosque in Hidd.
The SCE's green mosque concept was discussed, amid a conversation around how places of different faiths can drive sustainable change in their communities.
During the round table, Anglican Alliance advocacy and communication manager Elizabeth Perry also highlighted the Communion Forest initiative, being run by the Anglican Communion across the world.
Under the initiative, churches, dioceses and provinces can take on the mantle to plant trees, restore wasteland, create tiny gardens and other environmental projects, as a way to integrate environmental and spiritual life.
Ms Perry also highlighted the series of Bible studies created around the United Nations Sustainable Development Goals.
Source: Naman Arora, Gulf Daily News
Leading sustainable energy partner for businesses to deploy over $1 billion worth of projects in the Middle East, Africa and beyond.
Yellow Door Energy ("YDE"), the leading sustainable energy partner for businesses, has today announced the closing of a new equity raise to continue its development of sustainable energy projects in the Middle East, Africa and beyond. The investment also includes a purchase of current shares, enabling the company's initial investors to exit. The funding is substantially provided by YDE's newest and now controlling shareholder, Actis, with existing shareholders International Finance Corporation (IFC), Mitsui & Co., Ltd. ("Mitsui") and APICORP also increasing their equity commitments. With the closure of this landmark transaction, YDE's business plan is fully funded and the management team is now focused on executing sustainable energy solutions over the next five years, with a portfolio value expected to exceed $1 billion, which will be funded through a combination of equity and debt securities.
Jeremy Crane, CEO and Founder of Yellow Door Energy, said: "This substantial investment will enable Yellow Door Energy to rapidly expand into new countries and deploy over $1 billion in projects across the region. We whole-heartedly welcome Actis as our majority shareholder and look forward to a fruitful collaboration. We would also like to express our gratitude to our existing shareholders – IFC, Mitsui and APICORP – for their continued investment and support for our business model of providing affordable, reliable and sustainable energy to visionary companies in the MEA region and beyond."
Nalin Nayyar, CFO of Yellow Door Energy, added: "Our shareholders understand the importance of patient capital when investing in sustainable long-term infrastructure projects. With over $400 million in equity expected, Yellow Door Energy is fully funded and well positioned for the next phase of the company's growth. We look forward to leveraging our shareholders' expertise and benefiting from their continued synergies to add value to our business and customers."
Lucy Heintz, Partner and Head of Energy Infrastructure at Actis, said: "We're excited about the opportunity our partnership with Yellow Door Energy presents to contribute to the MEA region's transition away from fossil fuels by deploying new solar PV technology. We see a clear opportunity to help Yellow Door Energy continue its growth journey and to build the region's distributed solar sustainability leader."
With operations in the UAE, Jordan, Pakistan, Saudi Arabia, Bahrain and South Africa, Yellow Door Energy has one of the largest commercial & industrial project portfolios in the region, with 106 megawatts in operation and 104 megawatts awarded and under construction. The company has key existing relationships with a large customer base of over 50 companies, including multi-national businesses such as Nestlé, Majid Al Futtaim, DHL, Mondelēz and Unilever.
The company's mission is to be the sustainable energy partner of choice for leading businesses, helping them reduce costs and lower carbon emissions. This directly supports net zero emission targets set by countries and companies worldwide to mitigate the impacts of climate change.
The NBB Group, comprising of the National Bank of Bahrain (NBB) and Bahrain Islamic Bank (BisB), has completed the installation of solar energy panels across a number of its physical locations in the kingdom.
The panels will generate a sustainable source of energy for NBB's Istiqlal and Riffa Souq branches and BisB's Arad and Hamad Town financial malls.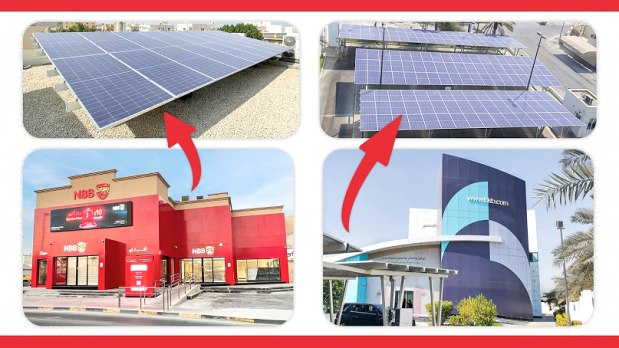 In line with its efforts to adopt sustainable practices that go beyond its financial operations, the group has set the benchmark within the banking sector through its four solar-powered branches, cementing the organisation's position in reducing its overall carbon footprint.
The branches are estimated to reduce their annual carbon emissions by 50 per cent.
Commenting, NBB Group chief human resources and sustainability officer Dana Buheji, said: "The solar panel project has been a continuous initiative led by the NBB Group to adopt environmentally-friendly solutions, reiterating our commitment to reducing our carbon footprint and enhancing our energy efficiency. Our solar panel system produces more than 350 kWp across the four branches, optimising both our energy consumption and costs.
We look forward to expanding the project to encompass a wider range of NBB and BisB locations, alongside realising the group's strategy for future environmental and sustainable practices within
BAB appreciates the role played by Alba in contributing significantly to GDP and creating rewarding job opportunities for citizens
Aluminium Bahrain B.S.C (Alba), an Environment, Social and Governance (ESG) corporate activist, is charting its journey to meet Bahrain's Net Zero Emissions by 2060," as stated by Alba's CEO Ali Al Baqali during a meeting with the Bahrain Association of Banks (BAB) at Alba's Oasis Hall on 12 June 2022.
Present at the meeting were Alba's Executive Management team, BAB's Chief Executive Officer Dr. Waheed Al Qassim as well as top C-suite executives of more than 20 national and international banks operating in Bahrain.
During the meeting, Ali Al Baqali presented the ESG Roadmap's 6 priority areas and initiatives (1) Decarbonisation, (2) Green Energy & Aluminium, (3) Circular Economy & Secondary Aluminium, (4) Employee Welfare, (5) Collaboration, Partnership and (6) Transparency, Communications & Due Diligence.
Addressing the BAB delegation, Al Baqali stated:
"We believe that small acts, when multiplied by millions of stakeholders, can have bigger impact."
Working together collectively is the Only Right Choice to realise our nation's objectives under the leadership of HRH the Crown Prince and Prime Minister of Bahrain and we believe that Bahrain Association of Banks will play an important role in Alba's ESG journey."
Dr. Waheed Al Qassim, the CEO of BAB, said:
"This visit is part of the association's commitment to providing an effective link between its members from financial and banking institutions and the various economic institutions. At the same time, BAB appreciates the role played by Alba in contributing significantly to GDP and creating rewarding job opportunities for citizens, while also supporting the economy and development in the Kingdom of Bahrain."
Adding further, Dr. Al Qassim stated: "In terms of applying the best environmental and governance models, Bahrain's financial and banking institutions have several pioneering experiences that can be shared with Alba which include sustainable development, green finance, and other objectives that have been clearly defined in the Central Bank of Bahrain's Financial Services Sector Development Strategy 2022-2026.This high-level meeting with Alba enhances the two sides' solid cooperation in ESG and other areas of joint cooperation."
After rolling-out the ESG Roadmap to the Company's employees and banks, Alba will also reach out to other stakeholder groups who would influence the sustainability of its operations.
Source: Zawya
VERTECO, the region's leading specialists in water conservation solutions, smart washroom technologies and smart water management, have been announced as the official distributors of the Smixin handwashing system, an innovative solution set to revolutionize the way we wash our hands in public places.
Smixin is the brainchild of Swiss inventor Elmar Mock, co-inventor of the Swatch watch. Recognising the considerable water-saving potential of something like handwashing, which we all do many times a day, the system was created to address not only global water shortage challenges, but to also address public hygiene concerns.
The mobile, fully automatic station makes hand washing accessible to everyone, wherever and whenever it is needed. From the counters in food courts and hotel buffets to school playgrounds and busy airport terminals, the free-standing system can be conveniently located in crowded places, promoting health and sustainability, and helping business achieve environmental and cost efficiencies at the same time.
VERTECO, regarded regionally as the pioneers of sustainability, already offer an award-winning portfolio of water saving technologies and smart washroom sensor-driven 3D IoT solutions. All of their products aim to promote responsible behaviours and lower the UAE's collective water footprint, so the addition of the Smixin system was an obvious choice.
Hand washing is, according to the Centers for Disease Control and Prevention, the most important thing you can do to prevent the spread of viruses. Bacteria and germs live on our hands and are easily transferred to the inside of our mouths, leading to illnesses and infections. Hand sanitizing before eating isn't ideal and visiting busy washrooms isn't always desirable or possible. But while handwashing remains an absolute necessity in life, it doesn't always align with a sustainable use of natural resources.
In line with VERTECO's water-saving solutions, the Smixin system guarantees the most ecological usage of water, soap and paper of any hand washing. With pre-set parameters, consumption of water, soap and paper towels is regulated, meaning only 0.2 litres of water is used, a saving of 90% water compared to the average hand wash. It also reduces soap consumption and paper towel use by 60%, compared to conventional dispensers.
The system delivers impeccable hygiene standards too, with a unique touchless handwash solution. You simply place your hands in the system and a mix of water and soap are dispensed, followed by a paper towel, with the entire process taking under 15 seconds. The highest standards of hand sanitation are delivered, with a minimum of resources, and without compromising on user experience.
James Fortier, Business Development Ambassador – APAC & Middle East, Smixin commented, "In the Middle East, one of the most water scarce regions in the world, reducing water consumption is crucial. We applaud the strategies some governments have already adapted to address this concern, including the adoption of technologies that increase water efficiency. Our systems are designed to significantly contribute to this environmental aim. But as well as focusing on limiting the impact hand washing has on the environment, we are also committed to promoting the importance of hand hygiene and making hand washing – a basic necessity – accessible to as many people, in as many places as possible. We are thrilled to partner with VERTECO to distribute our products in the region and to help us achieve a company goal of saving 10 billion litres of water by the end of 2022."
David King, Managing Director of VERTECO for the MENA Region said, "We are delighted to offer Smixin products to local businesses and to be a part of a handwashing revolution that has already had a profound effect on sustainability and improving hand hygiene within facilities around the world. Post-COVID we are more aware than ever of the importance of hand washing, and by offering such a simple, yet effective solution that aligns with our sustainably ethos, we hope to contribute to the health and wellbeing of the region's people."
With water saving a major challenge for countries around the world, the Smixin handwashing systems have won international acclaim and can be found schools, business offices and well known places such as Shake Shack, McDonalds, KFC, Carnival Cruise Lines, Virgin Cruises and Marriott Hotels
Source cbnme.com
DUBAI, United Arab Emirates (AP) — The island kingdom of Bahrain announced Sunday it would start banning the import, distribution and sale of single-use lightweight plastic bags from mid-September, the latest move by an oil-producer to advance carbon reduction goals.
The statement from Bahrain's state-run news agency did not specify how the upcoming ban would be enforced, whether by fining distributors of the ubiquitous thin bags or charging people for their use.
The ban, to come into effect September 19, "is in line with the government's plans of securing an environment that supports sustainability and reduces pollution," said Bahrain's minister of industry, Zayed bin Rashid Al Zayani. The rule exempts bags that are above a certain degree of thickness and those used for medical purposes and exports.
Bahrain's move follows those of nearby emirates Dubai and Abu Dhabi of the United Arab Emirates, which recently declared they would get rid of plastic bags in hopes of curbing litter and minimizing greenhouse emissions caused by plastic bag production.
Bahrain followed the UAE and Saudi Arabia last year in declaring it aims to achieve carbon neutrality by 2060 — a target that remains difficult to assess and, crucially, does not involve curtailing oil exports. The kingdom's economy runs on petrodollars.
Source: Associated Press